Controversial firearms ban law requires owners to submit affidavit by Jan. 1
Last week, the Illinois State Police released rules to implement part of the state's new firearms ban law. While the new law bans a variety of firearms, it allows owners of those firearms to lawfully keep possession as long as they submit an endorsement affidavit through their Firearm Owner's Identification Card account before January 1, 2024, affirming they owned the firearm(s) prior to January 10, 2023—the date in which the law took effect.
Under the controversial law, which continues to be the subject of lawsuits making their way through the federal court system, affidavits must include the applicant's FOID card number and the make, model, caliber, and serial number of each firearm.
The Illinois State Police says it will begin accepting affidavits online starting October 1, and they must be submitted online through a FOID Card account, which can be accessed through ISP's Firearms Services Bureau website or by going directly to www.ispfsb.com/Public/Login.aspx.
Outreach events continue across 33rd District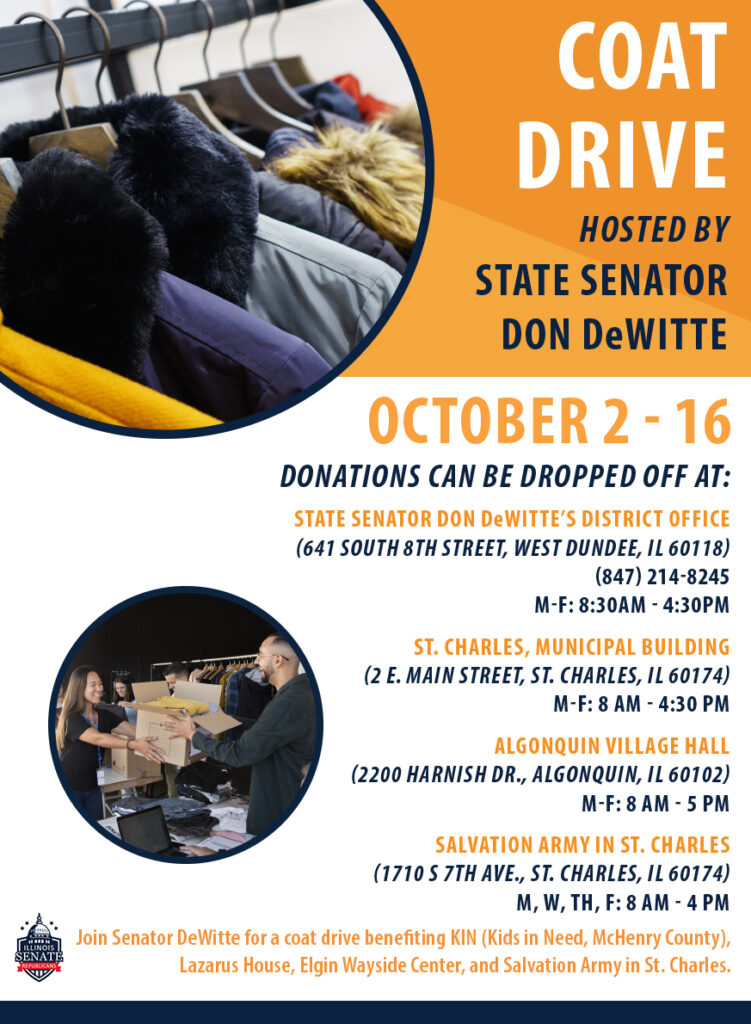 My summer and fall events continue, with several events still coming in September and October.
Please mark your calendars for the following events:
September 27, Traveling Office Hours: 10:00 AM-12:00 Noon, Pingree Grove Village Hall, 555 Reinking Road, Pingree Grove
October 2-16, Fall Coat Drive: New and gently used coats can be dropped off at four different locations that are listed in the graphic to the right.
October 14, Document Shredding Event and Non-Perishable Food Drive: 9:00 AM-11:00 AM, Elgin's Gail Borden Library, Rakow Branch, 2751 W. Bowes Road, Elgin
October 17, Senior Fair: 10:00 AM-12:00 Noon, Grand Oaks Recreation Center, 1401 IL-176, Crystal Lake
October 18, Senior Fraud Prevention Event: 10:00 AM-11:00 AM, Lake in the Hills Village Hall, 600 Harvest Gate, Lake in the Hills
October 28, Prescription Drug Drop-Off Event: 10:00 AM – 2:00 PM, Elburn Police Station, 301 E North St, Elburn
Application period for energy bill assistance to open in October
Low-income Illinois families can soon begin to apply to receive financial assistance for natural gas, propane, and electricity bills through the Low-Income Home Energy Assistance Program (LIHEAP).
The application period begins Monday, October 2, 2023, under a tiered system, allowing priority groups the first chance to receive available funds, including seniors (age 60 and older), disabled and families with children under the age of 6 years old.
Then, on November 1, 2023, households that are disconnected from their utilities/energy vendors, have a disconnection notice, or have less than 25% in their propane tank can start applying for LIHEAP assistance. All other income-eligible households can start applying on December 1, 2023.
The amount of support families can receive varies based on the needs of the applicants, but last year over 311,000 households received an average of over $1,000.
The eligible income thresholds can be found on the Help Illinois Families website. Families can also call the hotline at 1-833-711-0374 if they think they might be eligible for the program.  
Small equipment grants open for local fire departments
The Office of the Illinois State Fire Marshal announced the application period for the Small Equipment Grant Program is now open to eligible fire departments, fire protection districts, township fire departments, and not-for-profit ambulance services.
In an effort to address the financial hardships many fire departments face, the Small Equipment Grant Program provides grants of up to $26,000 for the purchase of small firefighting and ambulance equipment. Under the program, $4 million is available and qualified departments must apply by December 15, 2023.
Click here to learn more about the program and how to apply.