After an incredibly successful new and gently used coat drive last year, State Senator Don DeWitte (R-St. Charles) is bringing the coat drive back for a second year. Between October 2-16, coats will be collected that will be distributed to people in need of all ages.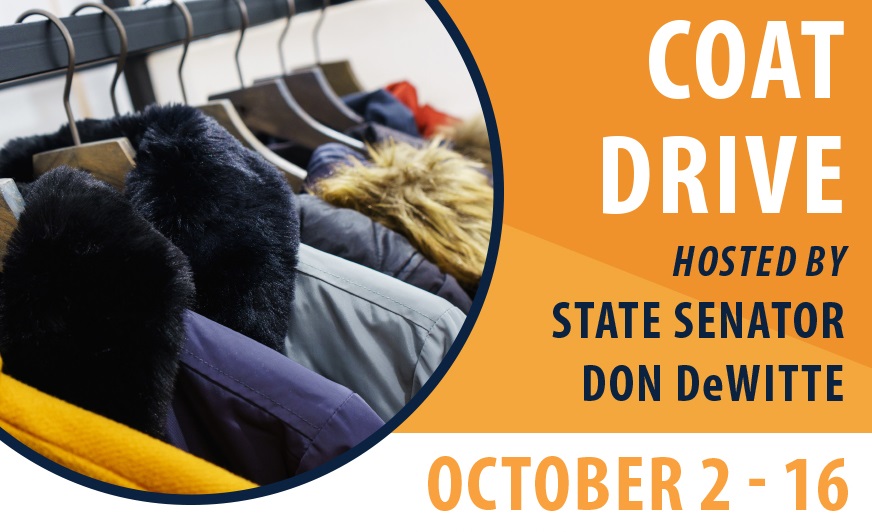 "Unfortunately, the 33rd District is home to many people who will not have adequate outerwear when the temperatures drop," said DeWitte. "As the weather turns crisp, I'm hoping people will look through their closets and donate new or gently used coats that will be given to those who could really use them this fall and winter."
New and gently used coats will be collected from October 2-16 in bins at the following locations:
Sen. DeWitte's District Office: 641 South 8th Street, West Dundee (8:30 AM-4:30 PM, M-F)
St. Charles Municipal Building: 2 E. Main Street, St. Charles (8:00 AM-4:30 PM, M-F)
Salvation Army of St. Charles: 1710 S. 7th Avenue, St. Charles (8:00 AM-4:00 PM, M-F; also open 5:00 PM-7:00 PM on Tu; 10:00 AM-12:30 PM, Su)
Algonquin Village Hall, 2200 Harnish Dr, Algonquin (7:30 AM – 4:00 PM, M-F)
"The coats we collect will be distributed to Kids in Need-McHenry County, Lazarus House in St. Charles, the Elgin Wayside Center, and the Salvation Army," added Sen. DeWitte. "All of these helpful organizations have expressed a need to provide coats to families in need, and I am glad to host an event to help replenish their supplies."
For additional information about this event, please call the DeWitte office at (847) 214-8245.