Counties within 33rd Senate District to lose approximately $12.6 million lost revenue from cash bonds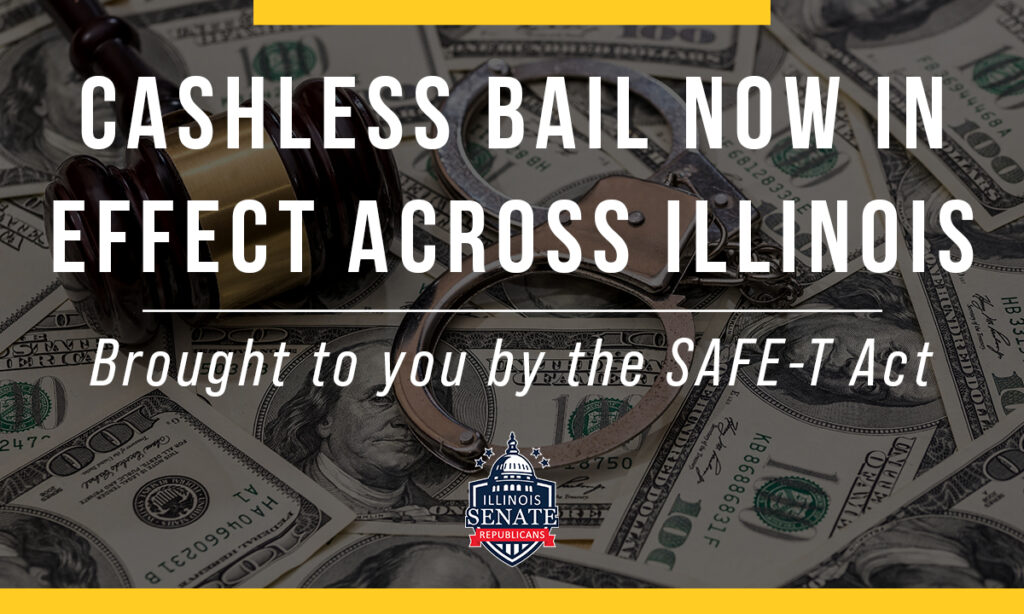 The elimination of cash bail, a key component of the SAFE-T Act officially takes effect today, September 18. Among other things, the SAFE T Act creates a standard that all defendants are presumed eligible for pretrial release. State's Attorneys must petition the court to even start the process of trying to hold a defendant behind bars pending trial. It also completely eliminates a judge's ability to require a defendant to post cash bail as a condition of pre-trial release.
Based on bond (cash bail) payments from 2021, the counties within the 33rd Senate District, Kane, McHenry, and DuPage, will lose roughly $12.6 million when cash bonds are not collected. Here is the amount of cash bond that was paid by county in 2021:
Kane: $4,663,661
McHenry: $2,263,646
DuPage: $5,714,393
The loss of bond revenue does not fully reflect how much the SAFE-T will cost counties, as other factors also play into that, such as hiring more staff and judges to fulfill the 48-hour hold/release hearing requirement.
When the SAFE-T Act was approved on the final day of the 2021 lame-duck session, those who supported it (I opposed it) completely ignored the financial hit on local court systems that are now going to have to make up that revenue on their own. Leaving a gap in funding for local courts and critical victims' services could soon force counties to reduce services, raise taxes, or both.
Lawmakers must address this issue during the upcoming fall veto session to make sure Illinois' local court systems have the financial resources they need and that victims can continue to receive the support they deserve. Transferring that financial burden to taxpayers is unacceptable.
As "no cash bail" provisions of the law take effect statewide, Illinois becomes the first state in the nation to do away with the system completely. There have already been three "fix-up" trailer bills to the SAFE-T Act, and I have no doubt there will be additional trailer bills as unintended consequences are realized.
Upcoming Events in the 33rd District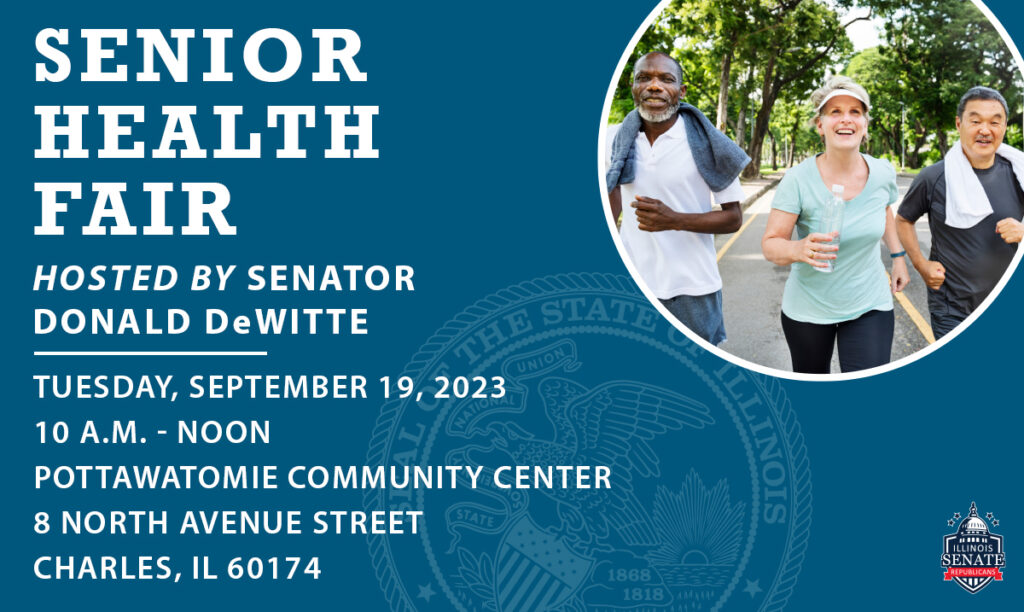 Don't forget that I am hosting a Senior Fair in St. Charles this week on Tuesday, September 19, and I have another one scheduled in Crystal Lake on Tuesday, October 17. Those who attend my senior fairs always say they appreciate having access to so much useful information, as well as flu shots and blood pressure checks, all under one roof. They really are a great resource for our seniors, their families, and those who care for the elderly. If you haven't already, I would encourage you to attend one.
Additional upcoming events include: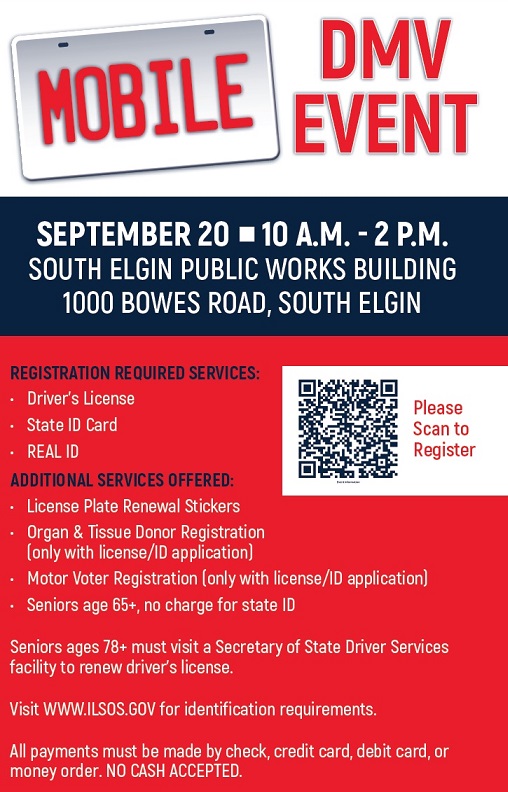 (NEW!) September 20, Mobile DMV Event: 10 AM-2 PM, South Elgin Public Works Building, 1000 Bowes Rd, South Elgin (NOTE: Please RSVP for this event, see graphic and scan from the camera on your phone, or email Hannah at hseaver@sgop.ilga.gov). REAL ID APPOINTMENTS ARE FULL FOR THIS EVENT.
September 27, Traveling Office Hours: 10:00 AM-12:00 Noon, Pingree Grove Village Hall, 555 Reinking Road, Pingree Grove
October 2-16, Fall Coat Drive: Coats can be dropped off at the DeWitte West Dundee office, 641 S. 8th Street, West Dundee, at the St. Charles Municipal Building, 2 E. Main Street, St. Charles, Algonquin Village Hall, 2200 Harnish Dr, Algonquin, or at the Salvation Army in St. Charles, 1710 S. 7th Ave, St. Charles.
October 14, Document Shredding Event and Non-Perishable Food Drive: 9:00 AM-11:00 AM, Elgin's Gail Borden Library, Rakow Branch, 2751 W. Bowes Road, Elgin
October 17, Senior Fair: 10:00 AM-12:00 Noon, Grand Oaks Recreation Center, 1401 IL-176, Crystal Lake
October 18, Senior Fraud Prevention Event: 10:00 AM-11:00 AM, Lake in the Hills Village Hall, 600 Harvest Gate, Lake in the Hills
October 28, Prescription Drug Drop-Off Event: 10:00 AM – 2:00 PM, Elburn Police Station, 301 E North St, Elburn
DeWitte speaks at Underground Contractors Association Conference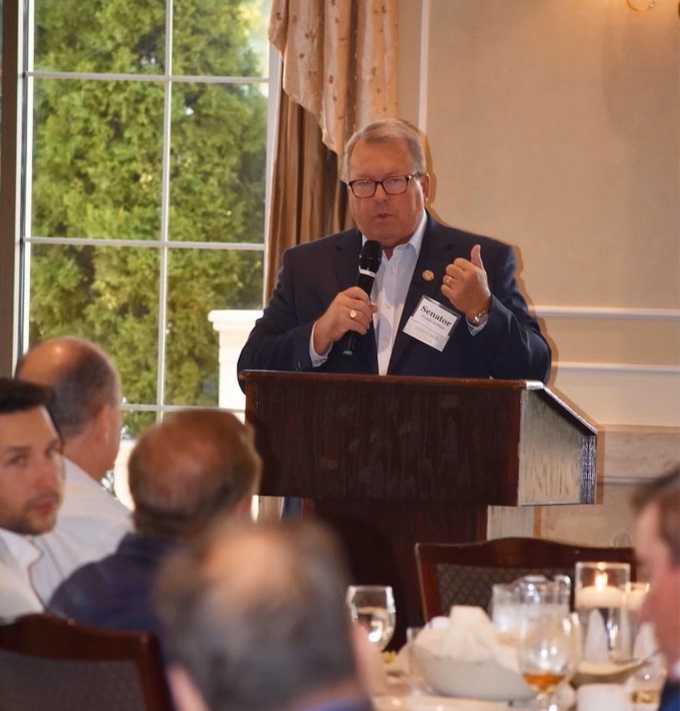 Last week I had the privilege of joining the Underground Contractors Association for their annual conference. As a guest speaker at the event, I was able to update the membership on the status of the ReBuild Illinois infrastructure program in Illinois. The Underground Contractors Association is a major player in the work being done across the state to bring horizontal (roads, bridges, etc.) and vertical (new building construction and improvements to current structures) infrastructure up to a state of good repair, as well as the expansion and modernization of existing public assets.
As you may recall, ReBuild Illinois is a $45 billion investment in the state's infrastructure. Projects are funded as follows:
Vertical funding: video gaming, lottery privatization lease, liquor and cigarette taxes, parking tax, sports betting, and casino licenses
Horizontal (transportation projects) funding: vehicle fees, license fees, motor fuel tax, and federal dollars
This capital investment helps Illinois maintain its role as a transportation hub in the Midwest and also helps attract businesses and keep our state and local roads and bridges safe for motorists.
Dialing 988 offers help for individuals in crisis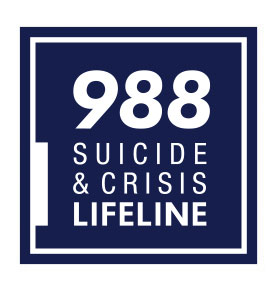 September 10-16 was National Suicide Prevention Week, and individuals in crisis can now call or text the 988 Suicide & Crisis Lifeline at any time to connect with a trained crisis counselor.
As of July 16, 2022, all calls and text messages to "988" route to a 988 Suicide & Crisis Lifeline call center, which provides free and confidential support for people in distress 24 hours per day and seven days per week. You can learn more about the 988 hotline here.
National Suicide Prevention Week is an annual campaign to inform and engage health professionals and the public about suicide prevention and warning signs of suicide.
IL State Police encourages traffic safety during harvest season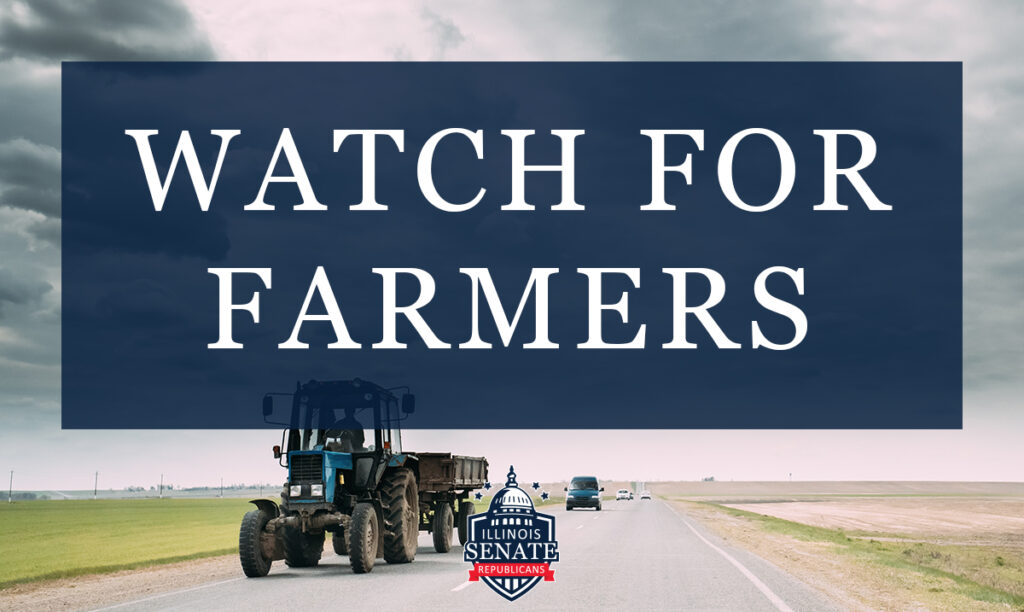 National Farm Safety and Health Week begins September 17, and the Illinois State Police (ISP) is reminding motorists and farmers about traffic safety during the fall harvest season, which typically begins in early September and can last into November.
As farmers are traveling between fields, ISP is asking motorists and farmers to share the road to help reduce crashes involving tractors, implements, and other farm equipment.
ISP is encouraging motorists to:
Allow extra travel time during harvest season.
Don't pass until it's safe and legal to do so.
Use extra caution around tractors and slow-moving vehicles.
Adjust to a greater following distance to increase sight lines when following behind wide, slow-moving vehicles.
Nominate outstanding school personnel
The Illinois State Board of Education (ISBE) wants to know more about outstanding educators, administrators, or school professionals.
ISBE will be accepting applications until Oct. 15 for the 2024 Those Who Excel & Teacher of the Year Awards.
Awards are presented in seven categories: classroom teachers, early career educators (teachers 1-4 years), school administrators, student support personnel, educational service personnel, community volunteers, and teams.
Illinois State Fair sets attendance records
According to the Illinois Department of Agriculture, the 2023 Illinois State Fair in Springfield saw more than 700,000 attendees during the 11-day event, which the Department says sets the new record.
The Department also announced the Fair had the second-highest number of Grandstand tickets sold in the last five years, and record-breaking carnival revenue ($1.58 million).
Planning is now underway for the 2024 Illinois State Fair, which is scheduled to run August 8-18.