With new appointment requirements in place at area DMVs, State Senator Don DeWitte (R-St. Charles) and State Representative Dan Ugaste (R-St. Charles) are offering their constituents the opportunity to complete a variety of driver's license facility transactions at an event they are co-hosting with the Secretary of State's Mobile Drivers Services Team on Wednesday, September 20 in South Elgin.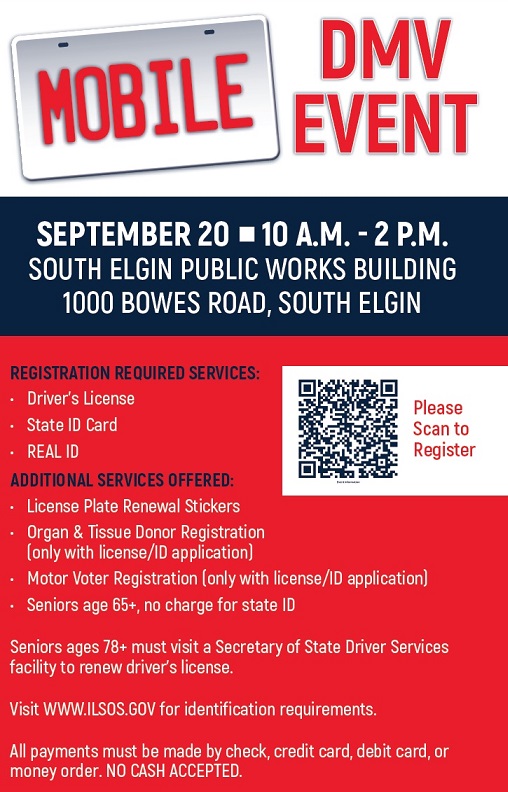 "We are happy to bring back this popular event and help people access services from the Secretary of State," said Rep. Ugaste. "I'm looking forward to seeing everybody and providing this essential resource for 65th District constituents with Senator DeWitte. Be sure to register in advance to secure your spot for obtaining a standard driver's license or stop by for other services offered at this event!"
The mobile DMV event will take place from 10:00 AM until 2:00 PM at the South Elgin Public Works Building, 1000 Bowes Rd, South Elgin. Services offered include:
Driver's license renewals and corrections
New/renewal/corrections of State ID cards (ID cards are free for seniors age 65+)
License plate renewal stickers
Voter registration with renewal of driver's license/ID
Organ donor registration with renewal of driver's license/ID
Completing change of address forms
This event has reached capacity for the maximum number of constituents for REAL ID's, but there are still openings for standard driver's license or state ID appointments. Individuals can still walk in for the possibility of an appointment should there be cancellations, but is recommended to visit a permanent DMV location to obtain REAL IDs.
"I am pleased to bring a mobile team from the Secretary of State's Office to South Elgin for a local event," said Sen. DeWitte. "Many drivers' services will be offered, and at a fraction of the time."
The Secretary of State's Office will accept checks and credit cards for transactions completed at this mobile event.
Reservations are strongly encouraged for this event. To secure a time slot or for more information, please contact Sen. DeWitte's office at (847) 214-8245, Representative Ugaste's office at (630) 797-5530 or email Hannah at hseaver@sgop.ilga.gov.