After hosting a very successful Senior Fair in Carpentersville earlier this month, State Senator Don DeWitte (R-St. Charles) will host a second resource event geared toward the needs of seniors on September 19 in St. Charles.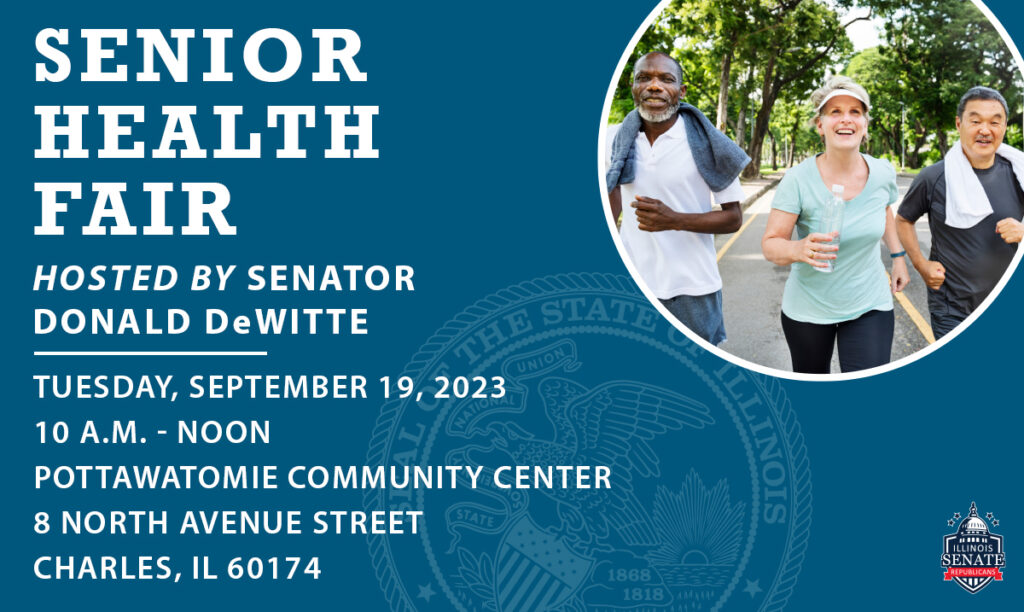 "Attendance at the Senior Fair at the Rakow Center in Carpentersville exceeded all expectations, and it is clear that seniors are looking for the kind of information we have available at these fairs," said DeWitte. "Bringing together dozens of groups that cater to the needs of older Illinoisans and having them all under one roof provides quick and easy access to information that is extremely beneficial to our seniors. It's a pleasure to host these valuable events."
Senator DeWitte's St. Charles Senior Fair
Tuesday, September 19
10:00 AM until 12:00 Noon
Pottawatomie Community Center
8 North Ave, St. Charles
Flu shots, blood pressure checks, and other free health screenings will be available, and those who attend can also learn about alternative ways to lead a happier and healthier lifestyle. A variety of local vendors will also be on hand to discuss programs and services that benefit seniors. Admission is free and refreshments will be served.
"This is a great opportunity for seniors, their families, and their caregivers to learn about services that are available in this region," added DeWitte. "If you are a senior, care for a senior, or love a senior, you won't want to miss this comprehensive fair."
Participants include (the list is likely to grow as additional vendors are added): AgeGuide, Bardwell Residences, Ardenrose, Assisting Hand Homecare, Avondale, CaptionCall, ComEd, Comfort Keepers, Community Contacts, Inc., DuPage Senior Citizens Council/Kane Senior Council, Ensign, Farmers Insurance, Harmony Homecare Services, Heritage Woods Batavia, Illinois Department of Aging, Kane County Sheriff's Office, Kane County Veterans Assistance Commission, Neuragenex, Northwestern Medicine/Living Well Cancer Resource Center, Meridian Health, Oak Street Health, Oasis Senior Advisors, Office of the IL Attorney General, Office of the IL Comptroller, Office of the IL Secretary of State, Office of the IL Treasurer, PACE, Promedica Arden Courts, Solace (Hospice), Synergy Homecare, St. Charles Fire Department, St. Charles Park District, St. Charles Township, Visiting Angels, and Walgreens.
For more information about this event, please contact Hannah at hseaver@sgop.ilga.gov.