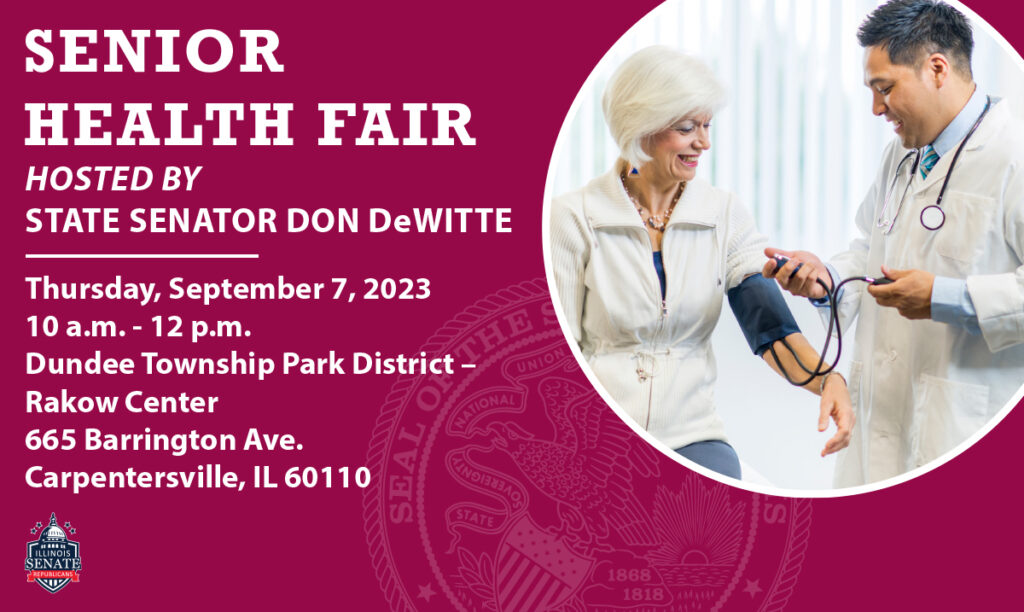 State Senator Don DeWitte (R-St. Charles) is hosting a free Senior Health Fair on Thursday, September 7 from 10:00 AM until noon at:
Dundee Township Park District
Rakow Center
665 Barrington Avenue
Carpentersville, IL
"At this free event, seniors and their families can find valuable healthcare resources and support, all at their fingertips," said DeWitte. "We are bringing together close to 30 vendors this year that provide health screenings and support from various State agencies. There should be something for everyone."
Flu shots will also be available, and those who attend can learn about alternative ways to lead a happier and healthier lifestyle. A variety of local vendors will also be on hand to discuss programs and services that benefit seniors. Admission is free and refreshments will be served.
"We expect this event to be well-attended, as we will have several not-for-profit organizations, businesses and medical professionals on hand who focus on improving the lives of senior citizens," said Sen. DeWitte. "This is a great opportunity for seniors, their families, and their caregivers to learn about services that are available in this region."
Participants include (the list may grow as additional vendors are added): Advocate Aurora Health Good Shepard, Blue Cross Blue Shield, Algonquin Public Library, Ardenrose, Associates in Behavioral Healthcare, Avondale Estates of Elgin, CaptionCall, ComEd, Comfort Keepers, Dundee Township Park District Senior Center, DuPage/Kane Senior Council, Ensign, Fox River Valley, IL Attorney General, IL Department of Aging- Office of State Long Term Care Ombudsman, IL Comptroller, IL Secretary of State, IL Treasurer, James A Lovell Federal Health Care Center, Village of Lake in the Hills, Oak Street Health, Oasis Senior Advisors, PACE Bus Service, Prairie State Legal Services, Right at Home Homecare, United Insurance Services, Walgreens, and Meridian.
For more information about this event, please contact Hannah at hseaver@sgop.ilga.gov.