DeWitte co-hosts First Responders' Roundtable Event in Burlington

Last week I co-hosted a First Responders Roundtable Event at the Elgin Community College Center for Emergency Services in Burlington. Police and fire first responders from the region were in attendance, and my fellow local legislators and I provided a legislative update. Kane County State's Attorney Jamie Mosser and 16th Judicial Circuit (Kane County) Chief Judge Clint Hull also attended, and both provided valuable information about new criminal justice laws, including the SAFE-T Act, and how they are affecting law enforcement and criminal justice in the area. I truly appreciated their insight into how Kane County has prepared for the new laws and the no-cash bail provision, and how these new rules will roll out in our region.
Tax credit information on purchase of back-to-school supplies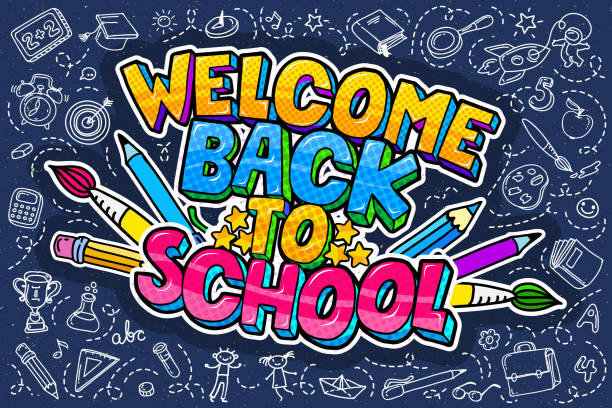 By now most kids are back in school, and because the Pritzker Administration did not extend the sales tax holiday on school supplies this year, I wanted to remind taxpayers that a tax credit may be available to offset some of those costs. Specifically, taxpayers may be able to claim school expenses for their K-12 students on their 2023 Illinois individual income tax returns.
Tax credits are available for both student and teacher expenses. Click here to learn more.
School bus safety reminder
It's back-to-school season with most Illinois public schools now back in session. With the start of school comes an increase in the number of school buses on the roadways. It's important that motorists take extreme caution when approaching a stopped school bus.
When coming to a stopped school bus, vehicles should leave a distance of at least 20 feet to allow students to safely cross the roadway. Violations for passing a school bus include a minimum fine of $300 and a three-month driver's license suspension for the first offense and a minimum fine of $1,000 and a one-year driver's license suspension for any subsequent offense.
According to the Illinois State Police, most of the children that are killed in bus-related crashes are pedestrians, ages five to seven years old, who are getting on or off the bus. However, a new law I was proud to support aims to reduce the number of incidents.
Signed into law earlier this summer, Senate Bill 2340 requires that on a route where a child must cross the road, the school bus must be equipped with an extended stop arm with flashing red lights that partially obstruct the roadway. This new law is designed to alert motorists of the stopped school bus so that students can safely make their way on and off the bus.
Learn more about the rules of the road and school bus safety at the Illinois State Board of Education's website.
Upcoming Events in the 33rd District
New events continue to be added to our summer/fall events calendar. Be sure to put these events on your calendar: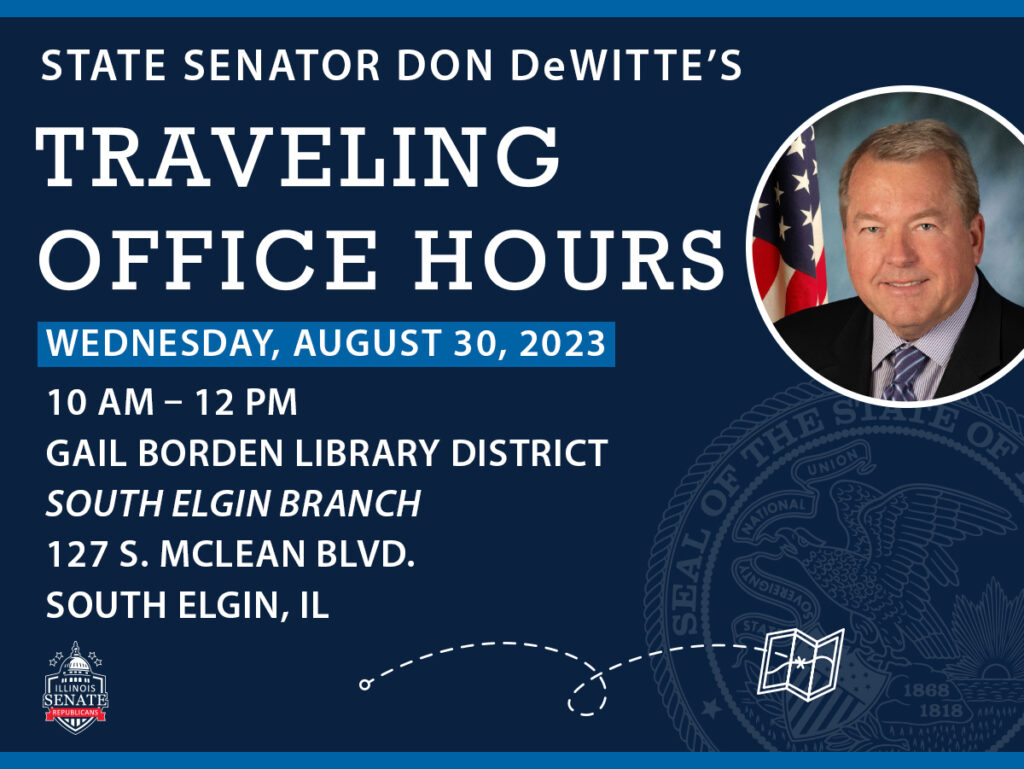 August 30, Traveling Office Hours: 10:00 AM – 12:00 Noon, Gail Borden Library District, South Elgin Branch, 127 S. McLean Blvd., South Elgin

September 7, Senior Fair: 10:00 AM-12:00 Noon, Dundee Township Park District Building, 665 Barrington Ave., Carpentersville

September 19, Senior Fair: 10:00 AM-12:00 Noon, Pottawatomie Community Center, 8 North Ave, St. Charles

September 27, Traveling Office Hours: 10:00 AM-12:00 Noon, Pingree Grove Village Hall, 555 Reinking Road, Pingree Grove

October 2-16, Fall Coat Drive (NOTE DATE CHANGE): Coats can be dropped off at the DeWitte offices, 641 S. 8th Street, West Dundee, or the new St. Charles office (406 Surrey Woods Drive, St. Charles)

October 14, Document Shredding Event: 9:00 AM-11:00 AM, Elgin's Gail Borden Library, Rakow Branch, 2751 W. Bowes Road, Elgin

October 17, Senior Fair: 10:00 AM-12:00 Noon, Grand Oaks Recreation Center, 1401 IL-176, Crystal Lake

October 18, Senior Fraud Prevention Event: 10:00 AM-11:00 AM, Lake in the Hills Village Hall, 600 Harvest Gate, Lake in the Hills

October 28, Prescription Drug Drop-Off Event: 10:00 AM – 2:00 PM, Elburn Police Station, 301 E North St, Elburn
Governor takes action on remaining bills; all but six become law
As of Aug. 18, all legislation that passed the General Assembly during the 2023 spring session has now been acted upon by the Governor. With more than 550 bills being approved by both legislative chambers, all were signed into law with the exception of six, which were either vetoed or received amendatory (partial) vetoes.
For the bills that received total vetoes, the Legislature will now have an opportunity to override those vetoes with a 3/5 majority of votes to enact the law. If a vetoed bill is not called for a vote, the veto stands, and the bill dies.
For the bills that received amendatory vetoes, the Legislature can either vote to approve the Governor's amendments to the bill with a simple majority vote, or lawmakers can override the amendatory veto with a 3/5 majority vote to approve the original bill. If the bill is not called for either vote, the bill dies.
The General Assembly reconvenes for the annual fall veto session beginning in late October, which is a period designated to take up any vetoes that have been issued.
To learn more about the bills that passed the General Assembly, check out the Senate Republican "At A Glance" document, which summarizes all approved legislation from the spring session.