Big Changes at the DMV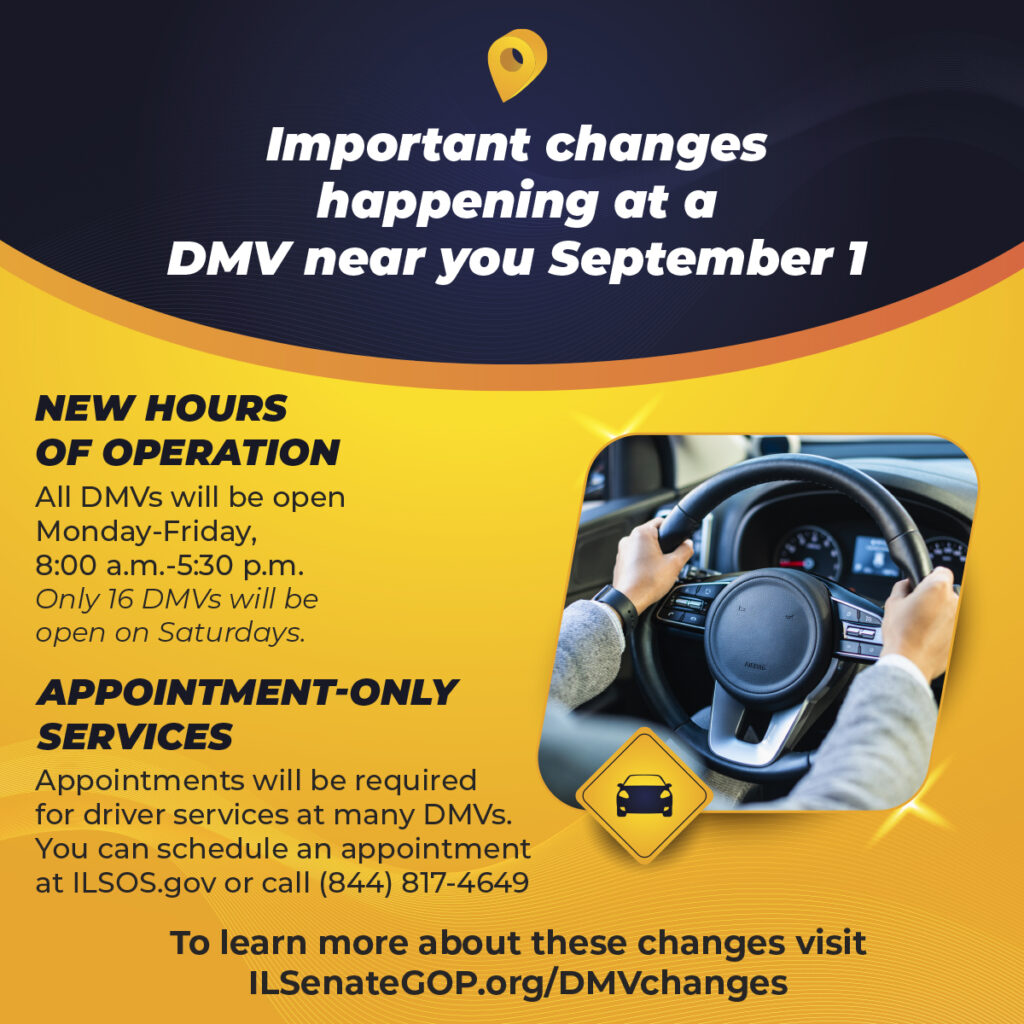 On Friday, September 1, all Secretary of State Driver Services Facilities (DMV) adopted new hours of operations, and many are moving to appointment-only for select services.
As of September 1, all DMVs will be open Monday through Friday from 8:00 a.m. to 5:30 p.m. Only 16 facilities across the state will be open on Saturdays from 8:00 a.m. to 12:30 p.m. The closest DMV facilities in this area with Saturday hours are Naperville, Lombard, Schaumburg, and West Chicago (CDL licenses only in West Chicago).
Additionally, appointments are now required for driver services at all DMVs in this area, including the issuance or renewal of drivers' licenses/State ID cards, REAL IDs, and in-car driving tests. Vehicle-related services, such as titles, registrations, or license plate renewals, do not require an appointment. Appointments can be made by visiting ILSOS.gov, or by calling (844) 817-4649.
Please visit ILSenateGOP.org/DMVchanges for more information and to view a full list of appointment-only facilities and a list of DMV sites that have Saturday hours.
DeWitte: Out and About in the Community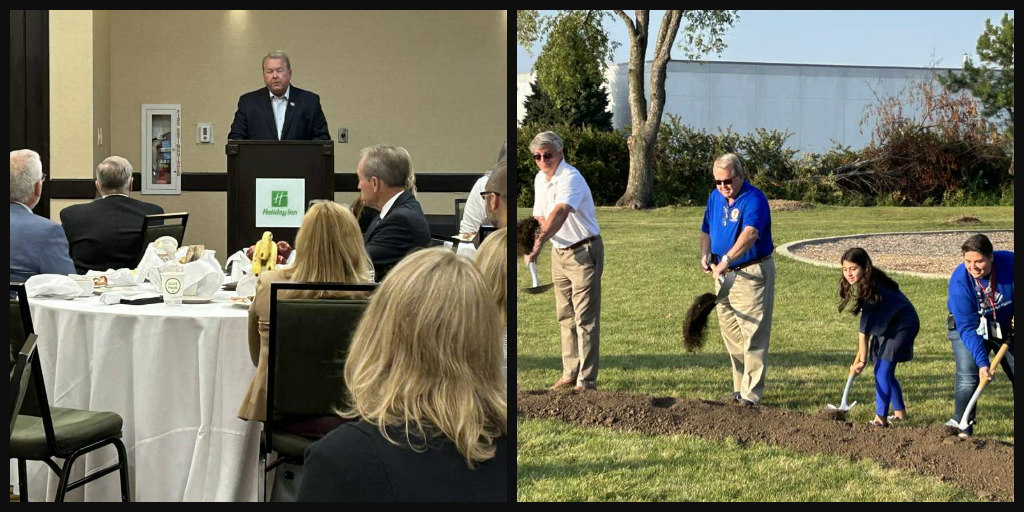 This time of year when the Legislature is not in session, I enjoy spending time at local events and meeting/talking with constituents. Last week it was my pleasure to speak before the Fox Valley Credit Union at their annual legislative breakfast. I also had an opportunity to throw one of the first shovels of dirt for the Sperry Park redevelopment in South Elgin. Congratulations to Executive Director Kim Wascher and the entire South Elgin Park Board for being recipients of an Illinois Department of Natural Resources Open Space Land Acquisition and Development (OSLAD) grant to fund this project.
Madigan Ally Found Guilty of Perjury, Obstruction of Justice
On August 24, Tim Mapes, often referred to as the gatekeeper to former House Speaker Mike Madigan, was found guilty in Federal Court of lying to a federal grand jury and obstructing the federal investigation into his former boss.
Jurors deliberated for five hours before bringing forth a "guilty on all charges" verdict. Mapes could face up to 25 years in prison for his crimes and will be sentenced in January. Madigan goes on trial for a long list of charges that include racketeering, bribery, wire fraud, and attempted extortion in April 2024.
I will continue to advocate and push for measures that bring about meaningful ethics reform to root out political corruption in Illinois and believe this case is just another example of why reforms are needed.
Upcoming Events in the 33rd District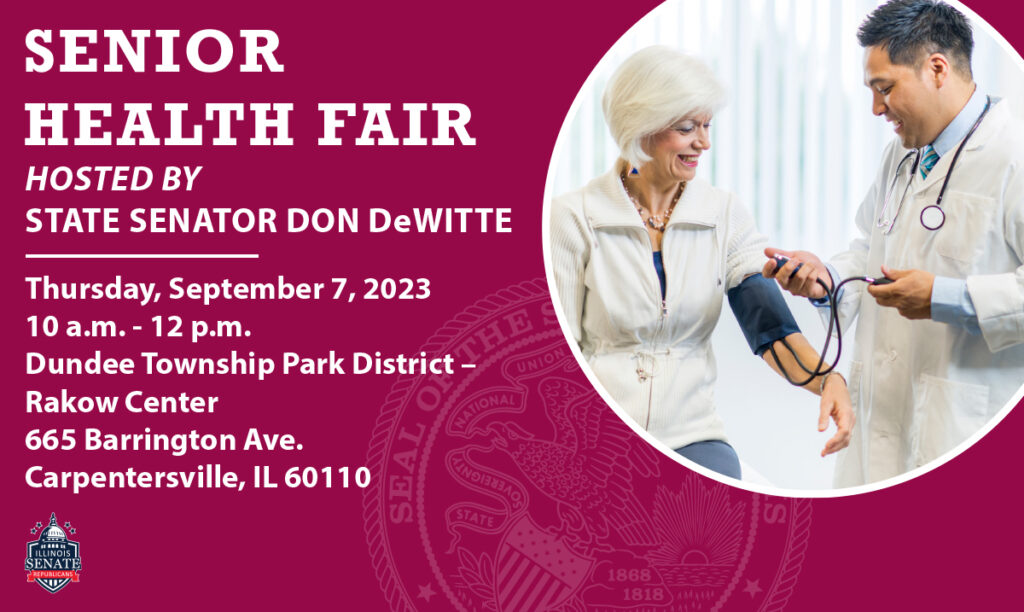 The first of three Senior Fairs I'm hosting this fall is set for this week on Thursday, September 7. Please make sure the following events are on your calendar:
September 7, Senior Fair: 10:00 AM-12:00 Noon, Dundee Township Park District Building, 665 Barrington Ave., Carpentersville

September 19, Senior Fair: 10:00 AM-12:00 Noon, Pottawatomie Community Center, 8 North Ave, St. Charles

September 27, Traveling Office Hours: 10:00 AM-12:00 Noon, Pingree Grove Village Hall, 555 Reinking Road, Pingree Grove

October 2-16, Fall Coat Drive (NOTE DATE CHANGE): Coats can be dropped off at the DeWitte offices, 641 S. 8th Street, West Dundee, or the new St. Charles office (406 Surrey Woods Drive, St. Charles)

October 14, Document Shredding Event: 9:00 AM-11:00 AM, Elgin's Gail Borden Library, Rakow Branch, 2751 W. Bowes Road, Elgin

October 17, Senior Fair: 10:00 AM-12:00 Noon, Grand Oaks Recreation Center, 1401 IL-176, Crystal Lake

October 18, Senior Fraud Prevention Event: 10:00 AM-11:00 AM, Lake in the Hills Village Hall, 600 Harvest Gate, Lake in the Hills

October 28, Prescription Drug Drop-Off Event: 10:00 AM – 2:00 PM, Elburn Police Station, 301 E North St, Elburn
Mental Health Grant Program for Rural Farmers Expanded
Following the great success of a six-county pilot program in Fiscal Year 2023, a state grant program that provides funding for mental health services for farmers has now been expanded to all 102 counties in Illinois. Through the Farm Family Resource Initiative (FFRI), farmers and farm families can access a telehealth helpline and access six free telehealth mental health sessions.
The program is also funding up to 20 grants of $1,000 each to support Illinois FFA chapters that put local initiatives in place that encourage access and increase awareness of mental health resources and overall personal wellness. Schools will be able to apply for these grants in the fall of 2023.
The funding for the program was obtained from a grant application to the Farm and Ranch Stress Assistance Network, which is funded by the U.S. Department of Agriculture. The Farmer Assistance Helpline is available 24 hours a day 7 days a week at 1-833-FARM-SOS.