Illinois Supreme Court Rules to Uphold Gun Ban
On Friday, the Illinois Supreme Court ruled against plaintiffs in a case challenging the constitutionality of the state's recently enacted "assault weapon" ban. The justices voted 4-3 in favor of the gun ban, with one Democrat joining two Republican judges in dissent.
Notably, the ruling focused only on the constitutionality of whether individuals who own banned weapons (before the ban was passed) would be treated differently than those who wish to purchase weapons after the ban.
The court did not rule on whether or not the ban violates the Second Amendment of the United States Constitution.
This ruling is not the final word on whether the ban will be overturned. Multiple federal lawsuits are ongoing with many legal experts saying that the federal court system is more likely to result in a ruling against the new law.
Federal Judge Halts Illinois Law Targeting Crisis Pregnancy Centers
On Thursday, August 3, a federal judge issued a preliminary injunction to halt enforcement of Illinois' newly signed Deceptive Practices of Limited Services Pregnancy Centers Act (Senate Bill 1909).
The lawsuit brought by the National Institute of Family Life Advocates asserts that this law was designed to target pregnancy help ministries solely because of their pro-life message.
When issuing the injunction, the judge stated that "the bill is painfully and blatantly a violation of the First Amendment," and "there's no doubt who the Attorney General wants to win or lose in the marketplace of ideas, but the government doesn't get to decide that. The people do."
I opposed Senate Bill 1909, believing that it was an attempt to silence the voices of people on one side of an issue, while empowering the opposite viewpoint. I believe the new law goes against the foundations of free speech that our country was founded on.
The next court date is scheduled for August 21. The injunction will remain in place until the federal judge lifts the injunction order, makes their final ruling, or the injunction is appealed and overturned by a higher court.
Upcoming Events in the 33rd District
The outreach events keep coming across the 33rd District, and summer/fall events include three senior fairs, a winter coat drive, traveling office hours, a document shredding event, and a prescription drug drop-off event. Be sure to put these events on your calendar: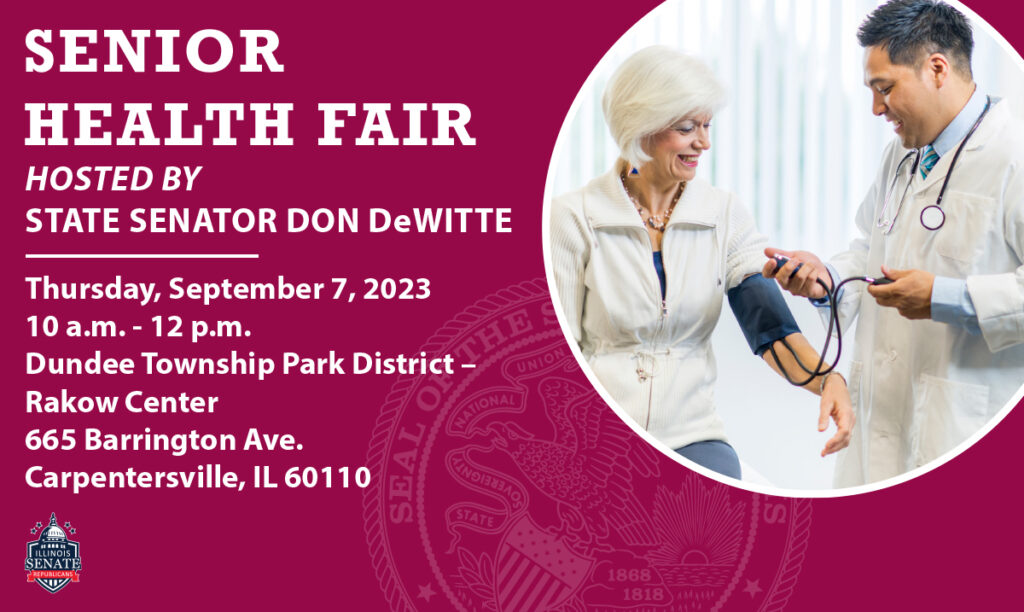 August 30, Traveling Office Hours: 10:00 AM – 12:00 Noon, Gail Borden Library District, South Elgin Branch, 127 S. McLean Blvd., South Elgin


September 7, Senior Fair: 10:00 AM-12:00 Noon, Dundee Township Park District Building, 665 Barrington Ave., Carpentersville


September 19, Senior Fair: 10:00 AM-12:00 Noon, Pottawatomie Community Center, 8 North Ave, St. Charles


September 26, Fall Coat Drive: Coats can be dropped off at the DeWitte offices, 641 S. 8th Street, West Dundee, or the new St. Charles office (406 Surrey Woods Drive, St. Charles)


September 27, Traveling Office Hours: 10:00 AM-12:00 Noon, Pingree Grove Village Hall, 555 Reinking Road, Pingree Grove


October 14, Document Shredding Event: 9:00 AM-11:00 AM, Elgin's Gail Borden Library, Rakow Branch, 2751 W. Bowes Road, Elgin


October 17, Senior Fair: 10:00 AM-12:00 Noon, Grand Oaks Recreation Center, 1401 IL-176, Crystal Lake


October 28, Prescription Drug Drop-Off Event: 10:00 AM – 2:00 PM, Location TBD
Senate Republicans Call for More Information on $5.2 Billion Lost by IDES
Members of the Senate Republican Caucus are calling for answers after a recent audit showed that Governor Pritzker's IDES (Illinois Department of Employment Security) lost $5.24 billion through illegitimate unemployment payments during the pandemic, due primarily to fraud and identity theft.
Noting the audit showed that the administration has only been able to recover roughly $500 million, about a tenth of the money lost, Senate Republicans sent a request for more information from the agency.
The legislators are specifically requesting information on what has been done so far to recover money from the illicit payments, as well as what efforts are currently underway to claw back more of the taxpayers' money.
Two New Laws Cap Costs for Life-Saving Drugs
Illinois has two new laws on the books designed to lower costs for two potentially life-saving medicines, insulin, and epi-pens, offering a lifeline to people across Illinois with diabetes or serious allergies.
House Bill 2189 lowers the current cap on a 30-day supply of insulin from $100 to $35. Insulin is a vital hormone used by the body to regulate blood sugar. For individuals diagnosed with diabetes, access to insulin treatment can be a matter of life and death.
House Bill 3639 caps the cost of 2-packs of epinephrine, often referred to as epi-pens, to $60. Epinephrine Auto-Injectors are typically used to stave off anaphylaxis, which is a severe allergic reaction that can be fatal.
I was proud to support both of these bills, which were signed into law on August 4th.
Legislation to Enhance Parental Rights Signed into Law
If a parent has to consent for their child to receive a medical procedure or test, then they should be able to access the resulting records and results. That's the idea behind a new law that I was proud to support.
Under prior Illinois law, parents have access to medical records for children under the age of 12; however, they may be denied access to records and test results for children 12 -17 years of age, even if the records are from tests and/or procedures that required parental consent to be performed. Once the child turns 18, if they are declared a developmentally disabled adult, parents can once again get access.
Senate Bill 188 closes the glaring loophole for special needs children aged 12–17 and allows parents access to these important records of their child, who often aren't physically able to provide consent. The bill was signed into law by the Governor on August 4th.