Governor Signs Several Senate Republican-Sponsored Bills into Law
As the 60-day deadline approaches for some of the Legislature's passed bills, the Governor officially signed over 130 bills into law on July 28, and another large batch of bills on Friday, August 4. Several of those bills were sponsored by Senate Republicans.
Here are some notable ones that I was proud to sponsor/co-sponsor or support:
House Bill 2579 amends the Retailers' Occupation Tax Act by allowing the Department of Revenue to deny the registration application of any business filed by an individual who is delinquent on their taxes.
House Bill 3203 – Expands the availability of fentanyl test strips, allowing them to be sold over-the-counter and enables county health departments to provide them for free.
Senate Bill 1072 – Officially recognizes the Honor and Remember Flag as the State symbol of concern for and commitment to honoring and remembering the lives of all members of the United States armed forces who have lost their lives while serving or as a result of service and their families.
Senate Bill 1875 – Allows out-of-state residents to apply for police officer positions at Illinois universities. Previously, non-Illinois residents could only apply if all Illinois applicants were deemed unqualified.
House Bill 2245 – Establishes a 24-hour, every day of the week vehicle theft hotline in Cook County to facilitate the location of a stolen vehicle and provide police with more information in the case of those cars being used to commit additional crimes.
House Bill 1342 – Transportation omnibus that among other things allows local transit agencies such as Metra, CTA, PACE, and others to suspend riding privileges or confiscate fare cards, establishes more support for youth employment opportunities within transportation service providers, and requires reporting on safety statistics.
Sen. DeWitte & Rep. Ugaste Host Successful New Office Open House

Thank you to the more than 100 people who came out last week to celebrate the official opening of my new shared legislative office with State Rep. Dan Ugaste. The turnout exceeded all expectations! I will continue to staff my West Dundee Office Monday through Friday from 8:30 to 4:30, and this new office, located at 406 Surrey Woods Drive in St. Charles, will have a member of my staff on-site Tuesdays, Wednesdays, and Thursdays from 9:00 to 3:00. My staff is available to help constituents with all kinds of issues involving state agencies and departments, so please never hesitate to reach out if we can help.

DeWitte 2023 End of Session report lands in District 33 mailboxes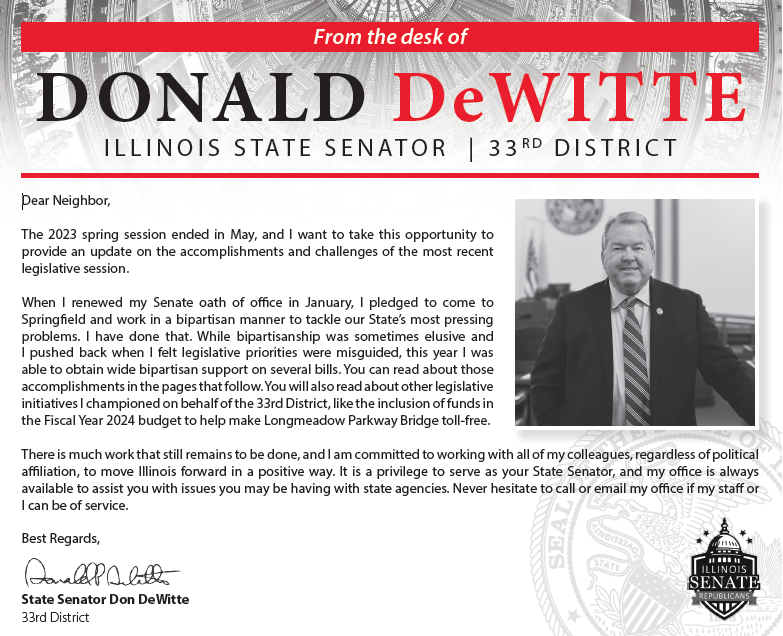 My 2023 End of Session report landed in mailboxes across the 33rd District last week. The report summarizes important legislation from the spring session, and also highlights my personal legislative initiatives on behalf of my constituents in Kane, McHenry, and DuPage Counties.
I hope you take a few minutes to read through the report, and that you find the information helpful and enlightening. If you did not receive a copy, please call me office at (847) 214-8245, and we will mail you a copy.
DNR Applications for OSLAD Program Grant Application Open
Applications are now being accepted for the Open Space Lands Acquisition and Development Grant (OSLAD) program. The OSLAD Program through the Illinois Department of Natural Resources is a state-financed grant program that provides funding assistance to local government agencies for acquisition and/or development of land for public parks and open space.
All local governments must be authorized by Illinois law to spend public funds for those purposes. School districts are ineligible. These projects can vary from smaller neighborhood parks to larger community or county parks or nature areas.
Under this program, most grants will only cover up to 50% of approved project costs. However, for those in economically distressed communities the amount can be increased to 100% of costs. A list of those communities can be found online. Grants for acquisition projects can be awarded up to $1.725 million, while development or renovation projects are limited to a maximum of $600,000. All applications must be submitted prior to 5:00 p.m. on Aug 31. There are multiple steps to completing an application, however it can be started online.
2023 State Fair to kick off in Springfield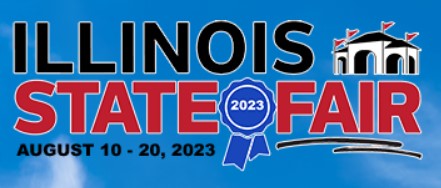 The first official day of the 2023 Illinois State Fair is this Thursday, August 10. The opening night Twilight Parade is set for 7:00 PM Thursday, and the Fair runs for 10 days through Sunday, August 20.
Entertainment at this year's Illinois State Fair includes concerts by Old Dominion, the Doobie Brothers, Alanis Morrisette, REO Speedwagon, Tim McGraw, Nelly, and Maren Morris, just to name a few. Click here for more information about performances and other entertainment.
Just some of the themed days for the 2023 State Faire include:
Upcoming Events in the 33rd District
The outreach events keep coming across the 33rd District, and summer/fall events include three senior fairs, a winter coat drive, traveling office hours, a document shredding event, and a prescription drug drop-off event. Be sure to put these events on your calendar: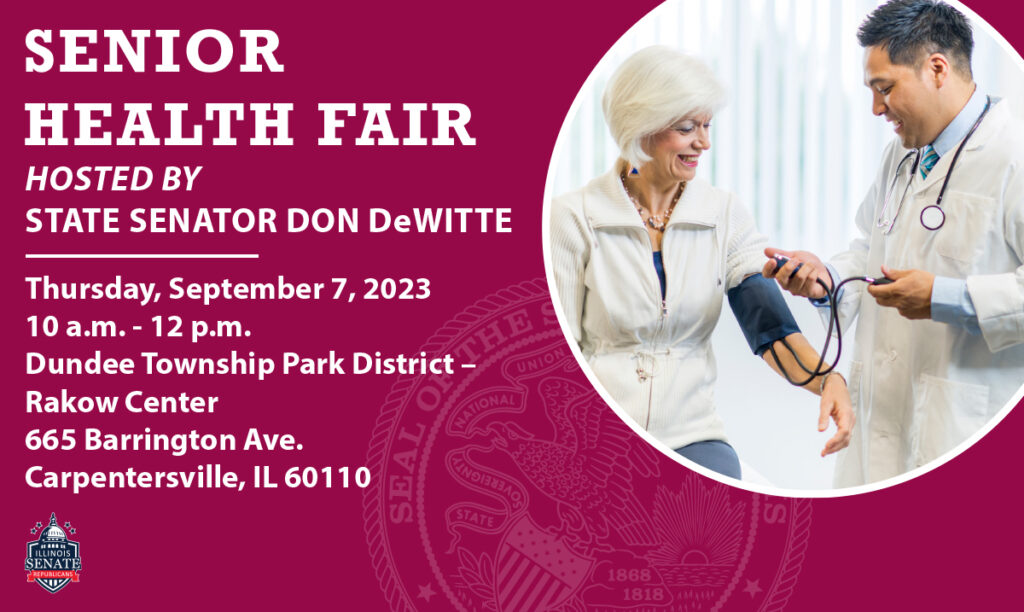 August 30, Traveling Office Hours: 10:00 AM – 12:00 Noon, Gail Borden Library District, South Elgin Branch, 127 S. McLean Blvd., South Elgin


September 7, Senior Fair: 10:00 AM-12:00 Noon, Dundee Township Park District Building, 665 Barrington Ave., Carpentersville


September 19, Senior Fair: 10:00 AM-12:00 Noon, Pottawatomie Community Center, 8 North Ave, St. Charles


September 26, Fall Coat Drive: Coats can be dropped off at the DeWitte offices, 641 S. 8th Street, West Dundee, or the new St. Charles office (opens July 1), 406 Surrey Woods Drive, St. Charles


September 27, Traveling Office Hours: 10:00 AM-12:00 Noon, Pingree Grove Village Hall, 555 Reinking Road, Pingree Grove


October 14, Document Shredding Event: 9:00 AM-11:00 AM, Elgin's Gail Borden Library, Rakow Branch, 2751 W. Bowes Road, Elgin


October 17, Senior Fair: 10:00 AM-12:00 Noon, Grand Oaks Recreation Center, 1401 IL-176, Crystal Lake


October 28, Prescription Drug Drop-Off Event: 10:00 AM – 2:00 PM, Location TBD