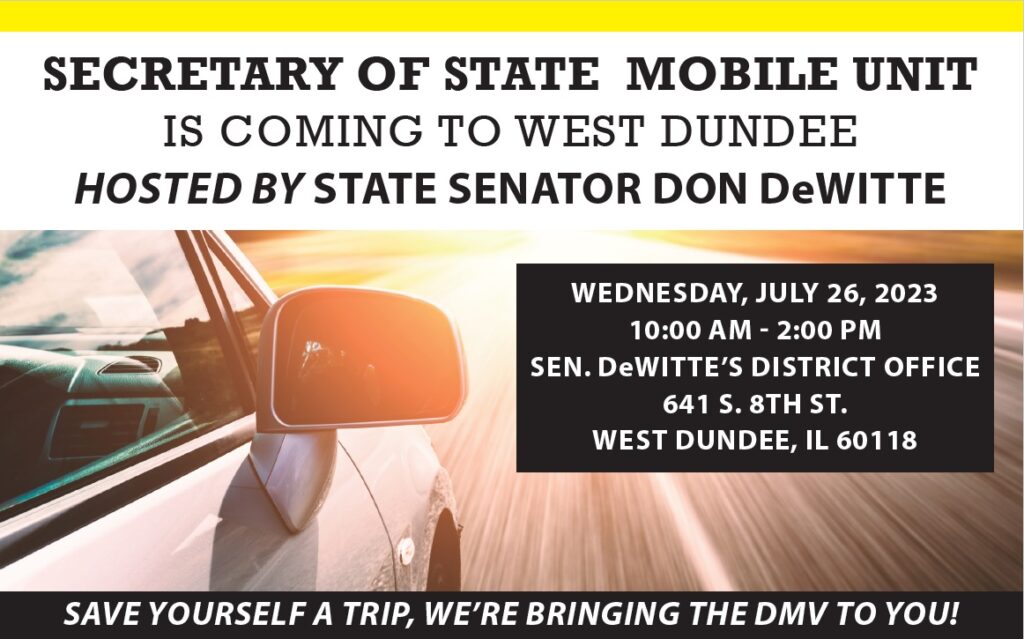 While lines at the DMV remain long, State Senator Donald DeWitte (R-St. Charles) is offering his constituents in the 33rd Senate District the opportunity to skip the long lines and complete a variety of driver's license facility transactions at a mobile event that will be held at his district office in West Dundee on Wednesday, July 26.
The mobile DMV event will take place from 10:00 AM until 2:00 PM at Sen. DeWitte's office, located at 641 S. 8th Street, West Dundee. Services offered include:
Driver's license renewals and corrections (Real IDs now available!)
New/renewal/corrections of State ID cards (ID cards are free for seniors age 65+)
License plate renewal stickers
Voter registration with renewal of driver's license/ID
Organ donor registration with renewal of driver's license/ID
Completing a change of address forms
Several identifying pieces of information are needed for the processing of a REAL ID. Click here to view a list of documents that must be brought to the event by those seeking a REAL ID.
"I am pleased to bring a mobile team from the Secretary of State's Office to West Dundee for a local event," said Sen. DeWitte. "Many drivers' services will be offered, and at a fraction of the time."
The Secretary of State's Office will accept checks and credit cards for transactions completed at this mobile event.
Reservations are strongly encouraged for this event. To secure a time slot or for more information, please contact Sen. DeWitte's office at (847) 214-8245, or email Hannah at hseaver@sgop.ilga.gov.