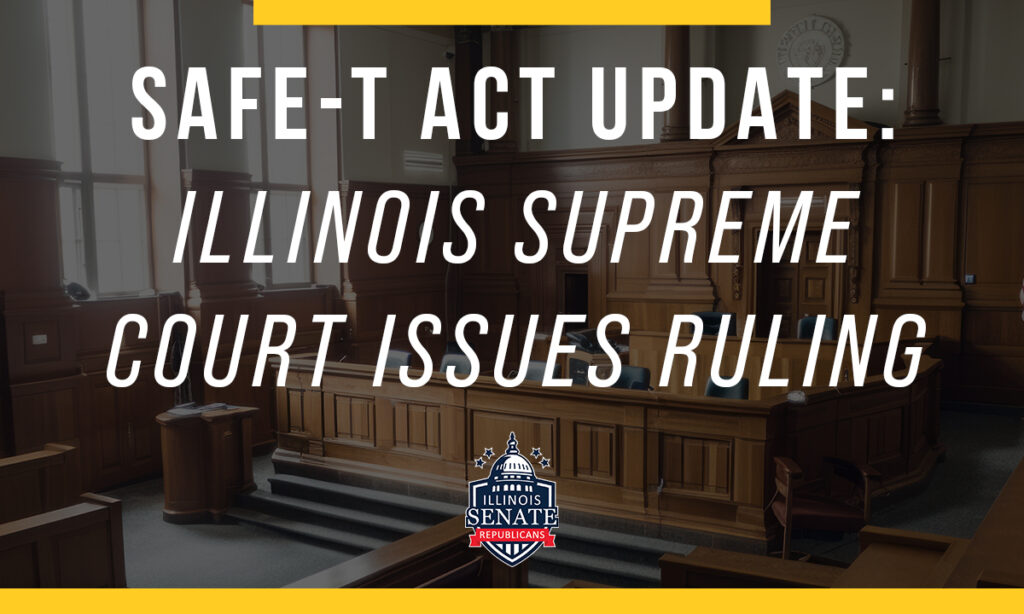 On July 18, the Illinois Supreme Court upheld the highly controversial SAFE-T Act. Despite strong opposition from law enforcement and state's attorneys across the state, the court issued a split 5-2 decision along party lines in favor of the no-cash bail provisions found within the law. Click here to read the ruling.
In its ruling, the Supreme Court is giving counites 60 days to implement the law, which will take effect statewide beginning Monday, Sept. 18. Many counties have expressed concern over the negative impact the law will have on the safety of its residents, as well as the financial impact eliminating cash bail will have on local government budgets. I believe those costs will likely be made up by an increase in property taxes, a decrease in government services, or both.
Since its infamous late-night passage on the final day of the 2021 lame-duck session, the SAFE-T Act has been highly criticized for the lack of input allowed by law enforcement, state's attorneys, and judges by the Majority Party leaders who forced the legislation through the General Assembly with little-to-no time for public scrutiny.
Upon learning of the ruling, I issued the following statement:
"I am extremely disappointed that the Supreme Court has decided it is okay for the legislative branch to interfere with a judge's right to set cash bail for defendants. Governor Pritzker donated millions to the campaign funds of some of the very justices who were charged with issuing this ruling, and it appears our state's highest court is proving to be as politicized as the purported social justice warriors who have chosen to put the rights of the accused far ahead of the rights of victims. It's a bad day for Illinois.
"Last year I called for a full repeal of the Act so we could bring all parties to the table to create fair and balanced legislation that would ensure that individuals who could not afford cash bail did not have their lives upended by overzealous judges, and that charged individuals with significant resources could not buy their way out of jail. That request was ignored by the Majority Party, and the legislation ended up being a law that enshrined Illinois' soft-on-crime agenda and disregards a crime victim's right to feel safe. There is simply no need to strip judges of the full discretion needed to ensure public safety. Through today's court ruling, the war on victims rolls on in the State of Illinois.
"Illinois has three distinct branches of government, and the framers of our State Constitution distributed unique powers to each branch. The blurring of these lines puts our state on a wrong and dangerous path. Judges are in the best position to make decisions based on the facts of the case and sweeping legislation like this limits their ability to exercise necessary discretion."
Bipartisan Oversight Committee Admonishes Pritzker Administration Officials for Poor Process on Rules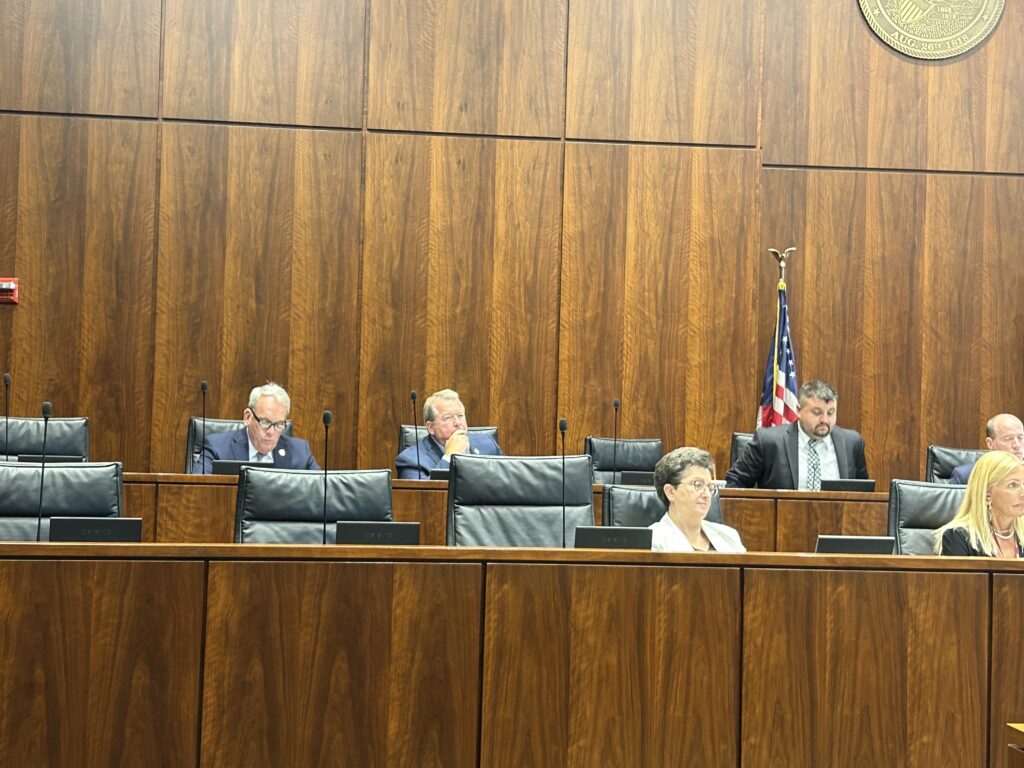 When laws are passed in Illinois, it is common that affected agencies will "write rules" that explain the process by which a new law will be implemented. The Legislature's Joint Committee on Administrative Rules (JCAR) is a committee comprised of six Republicans and six Democrats who oversee the rulemaking process by state agencies, making sure the rules abide by the original intent of legislators when laws are passed. I serve on this bipartisan and bicameral committee.
At our July meeting, representatives of the Illinois Departments of Children & Family Services (DCFS), and Healthcare & Family Services (HFS), and the Illinois Environmental Protection Agency (EPA) and Pollution Control Board were presenting rules for the implementation of a variety of programs. In each case, JCAR members expressed their disappointment in a lack of proper process in the formulation of the rules. Department heads were scolded by Republicans and Democrats alike for not engaging with affected stakeholders before bringing rules forward, and for creating "manufactured emergencies" by waiting until right before statutory deadlines to bring rules to JCAR for consideration.
Senator DeWitte to Host Mobile DMV Event in West Dundee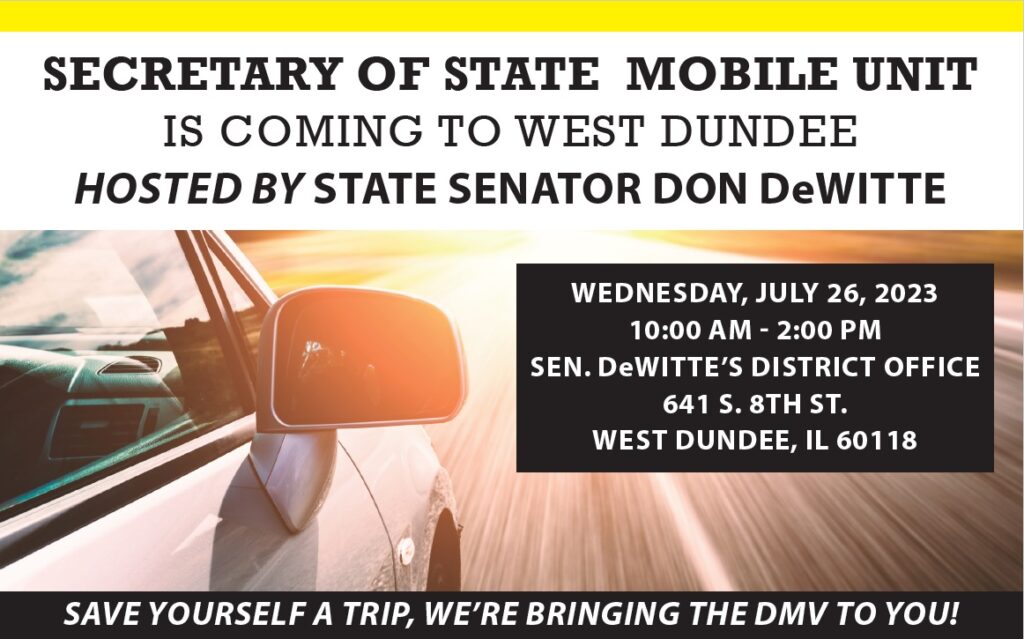 This week I am offering his constituents in the 33rd Senate District the opportunity to skip the long lines at the DMV and complete a variety of driver's license facility transactions at a mobile event that will be held at my district office in West Dundee (641 S. 8th Street, West Dundee) on Wednesday, July 26.
Services offered include:
Driver's license renewals and corrections (Real IDs now available!)
New/renewal/corrections of State ID cards (ID cards are free for seniors age 65+)
License plate renewal stickers
Voter registration with renewal of driver's license/ID
Organ donor registration with renewal of driver's license/ID
Completing change of address forms
Several identifying pieces of information are needed for the processing of a REAL ID. Click here to view a list of documents that must be brought to the event by those seeking a REAL ID.
The Secretary of State's Office will accept checks and credit cards for transactions completed at this mobile event.
Reservations are strongly encouraged for this event. To secure a time slot or for more information, please contact Sen. DeWitte's office at (847) 214-8245, or email Hannah at hseaver@sgop.ilga.gov.
Other upcoming events in the 33rd District include:
August 2, New Office Open House: 4:00 PM – 6:00 PM, DeWitte District Office, 406 Surrey Woods Drive, Suite A St. Charles


September 7, Senior Fair: 10:00 AM-12:00 Noon, Dundee Township Park District Building, 665 Barrington Ave., Carpentersville


September 19, Senior Fair: 10:00 AM-12:00 Noon, Pottawatomie Community Center, 8 North Ave, St. Charles


September 26, Fall Coat Drive: Coats can be dropped off at the DeWitte offices, 641 S. 8th Street, West Dundee, or the new St. Charles office (opens July 1), 406 Surrey Woods Drive, St. Charles


October 14, Document Shredding Event: 9:00 AM-11:00 AM, Elgin's Gail Borden Library, Rakow Branch, 2751 W. Bowes Road, Elgin


October 17, Senior Fair: 10:00 AM-12:00 Noon, Grand Oaks Recreation Center, 1401 IL-176, Crystal Lake