Senator DeWitte to Open Second District Office in 33rd District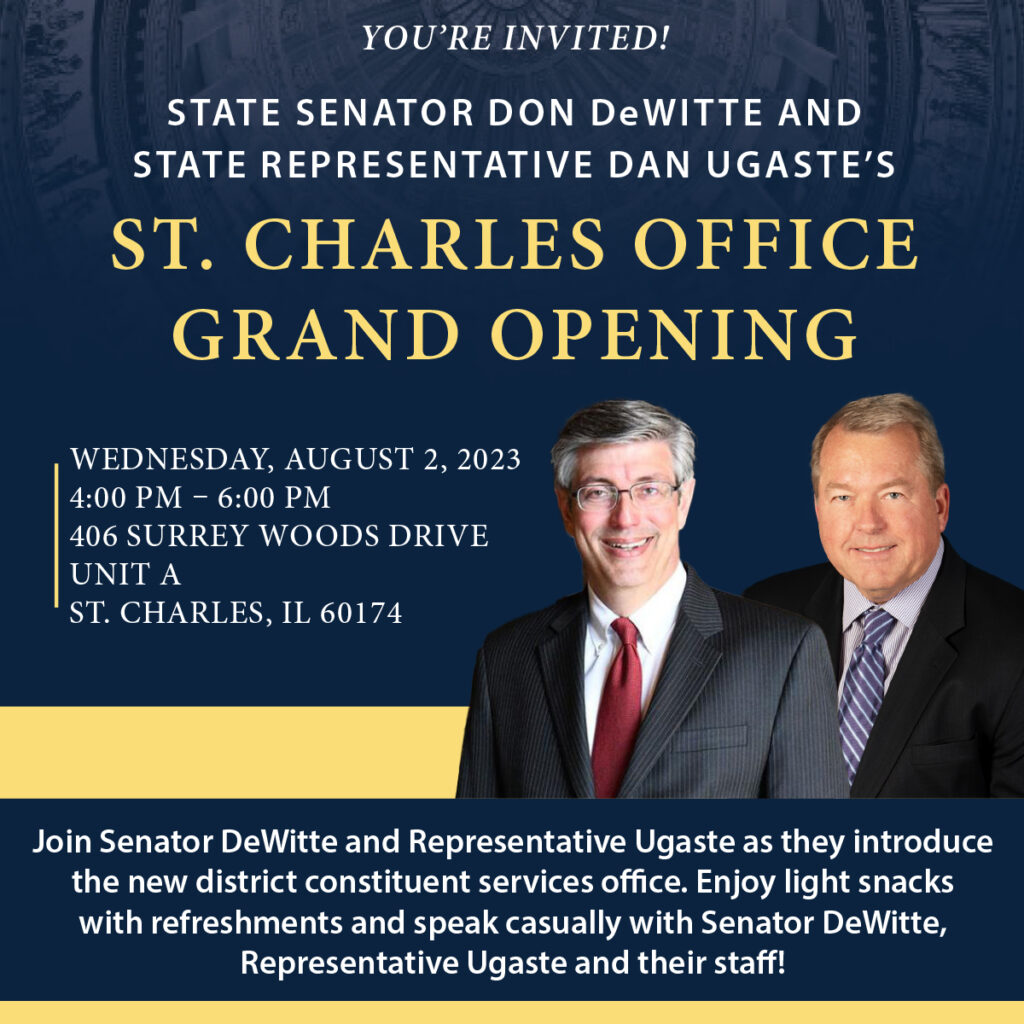 To better serve the residents of the 33rd Senate District, I'm thrilled to announce the opening of a second district office. Beginning Tuesday, July 11, constituents can receive the same quality of service they receive from my West Dundee office at a new location in St. Charles.
The 33rd Senate District is geographically quite large, and this second district office in St. Charles will better serve constituents who live in the southernmost parts of the district. This will be a shared office with State Representative Dan Ugaste, so our constituents will have the benefit of receiving assistance from either or both offices.
The new office will be open Monday through Friday from 8:30 AM until 4:30 PM, and my staff will be on-site Tuesdays, Wednesdays, and Thursdays. The original office in West Dundee will remain open Monday through Friday from 8:30 AM until 4:30 PM.
To celebrate the opening of the new office, Representative Ugaste and I will be holding a grand opening open house on Wednesday, August 2, from 4:00 PM until 6:00 PM. Please join us for refreshments and a look at the new office.
Senator DeWitte's & Representative Ugaste's New Office Open House
Wednesday, August 2
4:00 PM – 6:00 PM
406 Surrey Woods Drive, Suite A
St. Charles, IL 60174
This new office will improve accessibility for constituents, and I look forward to seeing many residents at our open house.
Grocery Prices Went Up July 1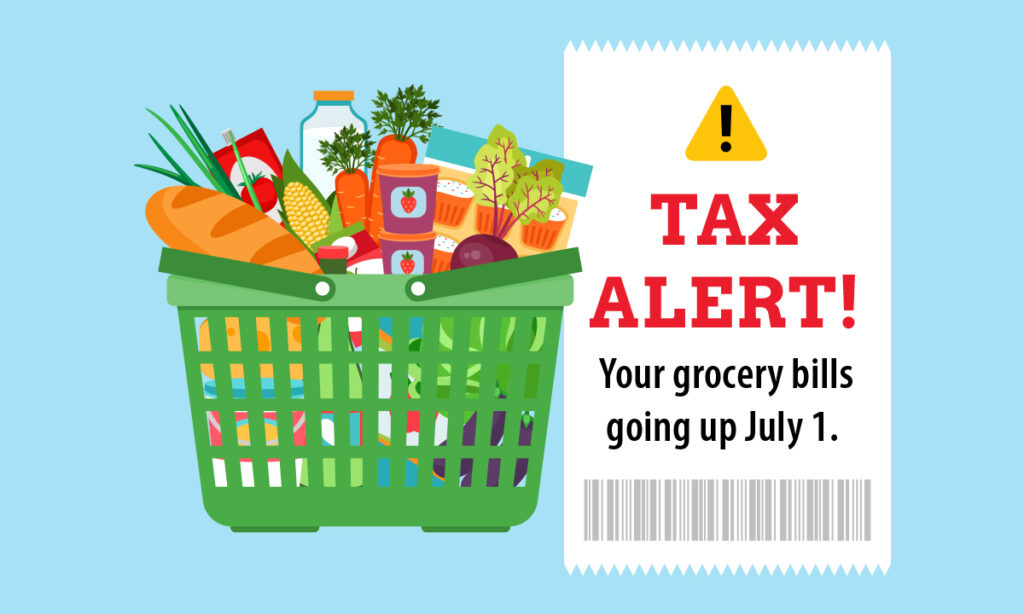 On Saturday, July 1, Illinoisans began paying more again when they checked out at the supermarket when the state's grocery tax was reimplemented. Last summer, the short-term suspension of the one percent sales tax took effect as part of a series of temporary relief measures not-so-subtly timed right ahead of a major election. While Senate Republicans advocated for permanent relief for the residents of Illinois, the Majority Party only provided election-year gimmicks.
July's tax increase on groceries comes despite legislation I sponsored this year to provide long-term relief through Senate Bill 1150, which would have made Illinois the 38th state to permanently do away with the state grocery tax. It would have also exempted prescription drugs and other medical devices from state sales tax. Democrats blocked this legislation and wouldn't even give it a hearing.
And it's not just the grocery tax that goes up on July 1. Illinoisans will also see another increase in the state's gas tax, which follows the increase back in January after Gov. JB Pritzker pushed off the July 1, 2022, tax for just six months until after his election.
While it's important to invest in our state's infrastructure and ensure Illinois remains a transportation hub for the nation, politicians shouldn't be raking in windfall revenues through an additional percentage-based sales tax on gas, especially when prices are out-of-control.
I support a proposal to cap the sales tax on gas at 18 cents, which would ensure that if the price of gas rose above $2.87 a gallon, consumers would no longer be paying sales tax on the amount above that price.
Today, the average price of a gallon of gas in Illinois is about $4.00, which means consumers would be saving money right now under that proposal, unlike the temporary, six-month gimmick relief they received right before the last election.  
Upcoming Events in the 33rd District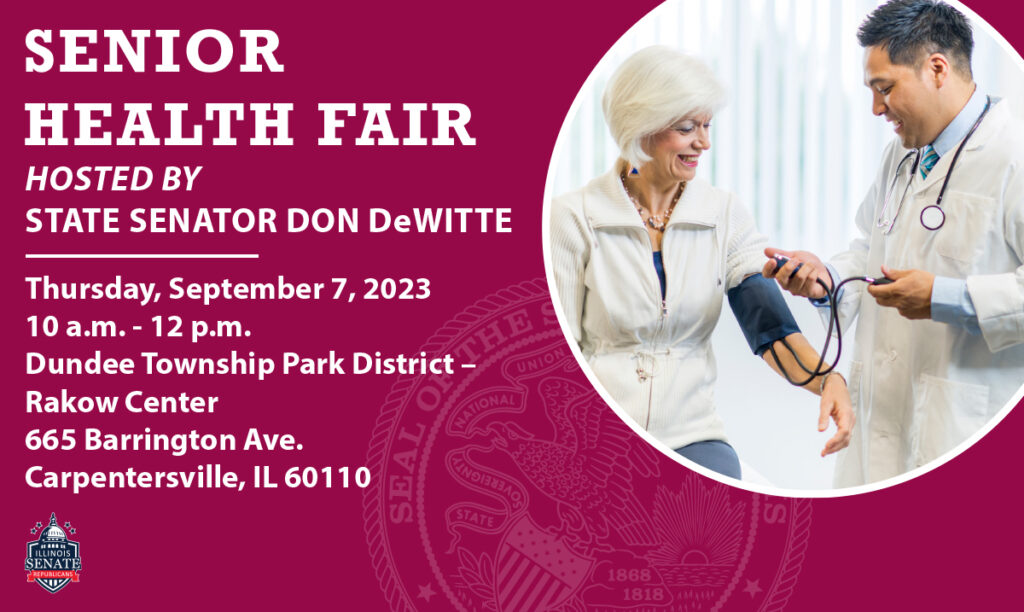 We have some great community outreach events coming up, so mark your calendars now:

July 26, Mobile DMV Event: 10:00 AM-2:00 PM, DeWitte District Office, 641 S. 8th Street, West Dundee


September 7, Senior Fair: 10:00 AM-12:00 Noon, Dundee Township Park District Building, 665 Barrington Ave., Carpentersville


September 19, Senior Fair: 10:00 AM-12:00 Noon, Pottawatomie Community Center, 8 North Ave, St. Charles


September 26, Fall Coat Drive: Coats can be dropped off at the DeWitte offices, 641 S. 8th Street, West Dundee, or the new St. Charles office (opens July 1), 406 Surrey Woods Drive, St. Charles


October 14, Document Shredding Event: 9:00 AM-11:00 AM, Elgin's Gail Borden Library, Rakow Branch, 2751 W. Bowes Road, Elgin


October 17, Senior Fair: 10:00 AM-12:00 Noon, Grand Oaks Recreation Center, 1401 IL-176, Crystal Lake
Upgraded High-Speed Rail Makes for Faster Commute
Last week, the rail service between Chicago and St. Louis upgraded to a higher-speed service. Now, trains on the Lincoln Service Route will travel up to 110 miles an hour. An increase of 20 miles per hour, this change is expected to shave from 15 to 30 minutes off the commute, making the overall trip between the two cities less than five hours.
Overall, the upgrade project took eight years of development and five years of testing and cost nearly $2 billion. Some of this money was used to help upgrade the Springfield Amtrak station and build new stations in Dwight, Pontiac, Carlinville, and Alton. Railroad crossings were also fitted with more advanced measures to prevent collisions with vehicles on the tracks.
ISP Recruitment for 2024 Is Open
The Illinois State Police Merit Board is currently processing applications for both of its 2024 classes. These two classes consist of a Traditional Cadet Class and a Fast Track Class. The Traditional Cadet Class is open to all who apply and make it through the interview section; however, the Fast Track Class was created for already certified police officers who want to train to become Illinois State Troopers. Both classes are set to begin in April 2024.
The requirements and application process for the program can all be found on the Illinois State Police Merit Board's website. There are several requirements set prior to the Training Camp, some of which include a Physical Fitness Inventory Test, Background Check, and Certification process. If interested, there is an application fee, but there is also a fee waiver if necessary.
Holiday Weekend Is Marked by Bad Air Quality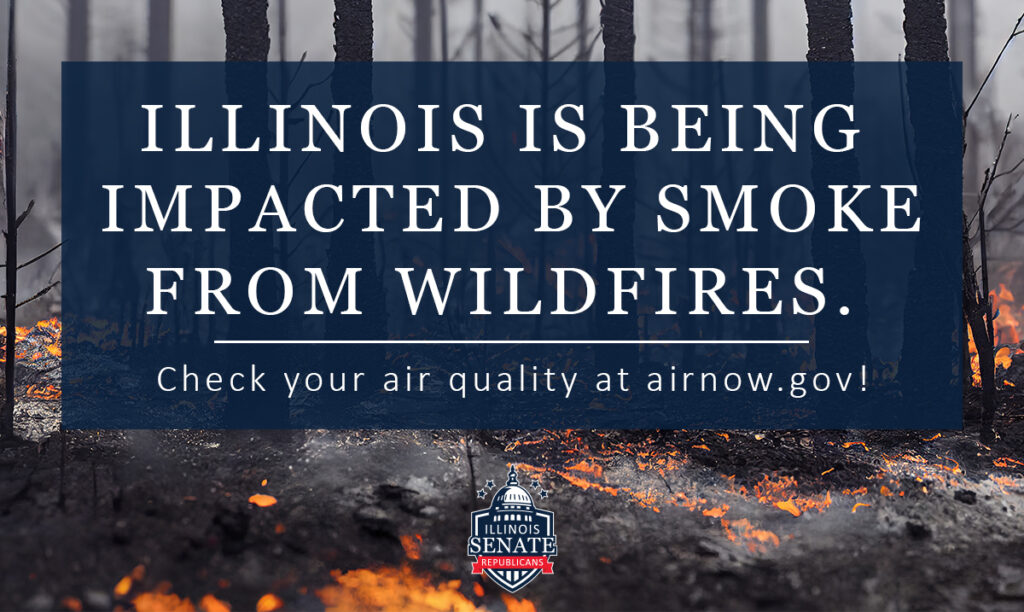 Illinois is facing an increasingly bad week of air quality heading into the holiday weekend as smoke is being blown into the state from Canadian wildfires.
Currently, air conditions remain at between "unhealthy" and "very unhealthy" levels. These levels are the third and fourth of a five-level scale but are expected to go lower as weather conditions work to improve air quality.
Right now, officials are warning that those at risk of or with respiratory issues to limit time outdoors. Furthermore, even those not at risk should be cautious outside and steer away from extended outside exercise. For current air quality data, visit AirNow to check today's air quality, as well as the next few days' forecast.