New Rule Attempts to Rein in Spending for Undocumented Immigrant Healthcare
Last week, after months of pushback by Republicans about the increasing costs of Illinois' undocumented immigrant healthcare program, the Governor's Administration filed an emergency rule attempting to rein in state spending on the program for non-citizens, which had ballooned to more than $1 billion.
While the new rule temporarily suspends enrollment to the program beginning July 1 for those ages 42-64 and sets co-pay requirements, Illinois has already sent a clear message to undocumented immigrants across the nation and the world that Illinois is the best place to come for free healthcare. I remain extremely concerned about the cost of this program, especially since taxpayers foot almost the entire bill.
Through this program, undocumented residents are receiving best-in-the-nation free healthcare, even better than Illinois residents on Medicaid. Healthcare costs for this population are four times greater than a similar citizen on Medicaid as the program hardly receives any federal dollars.
The emergency rule filed last week became effective immediately. Additionally, an identical, permanent rule was also filed and will be taken up by the Joint Committee on Administrative Rules (JCAR) in the coming months. I sit on JCAR and will have a voice in the implementation or rejection of the emergency rules.
DeWitte Named Legislator of the Year by Metro West Council of Government

Last week I joined one of my Democratic colleagues in the Senate, and together we presented a bipartisan end of session update to the members of the Metro West Council of Government. Metro West is a council of municipalities serving a population of over 750,000 in Kane, DeKalb, and Kendall Counties. It is a non-profit organization that was founded in 2004, and it serves its members by promoting excellence in local government, evaluating the impact of potential state and federal legislation, fostering intergovernmental cooperation, providing research and training, and advocating municipal positions on local, regional, state, and national issues.
During the group's summer BBQ and legislative update meeting, I was surprised and humbled to receive the organization's Legislator of the Year Award for my work in Springfield on behalf of municipalities. Metro West for 2023. The biggest issue we worked on this year was fighting to increase funding to municipalities through the Local Government Distributive Fund (LGDF). We made some progress on that issue in the Fiscal Year 2024 budget, but there is much more work to be done, and I look forward to championing that cause for the municipalities in Metro West and across the 33rd District.
Upcoming Events in the 33rd District
My staff and I are putting the finishing touches on several upcoming community outreach events.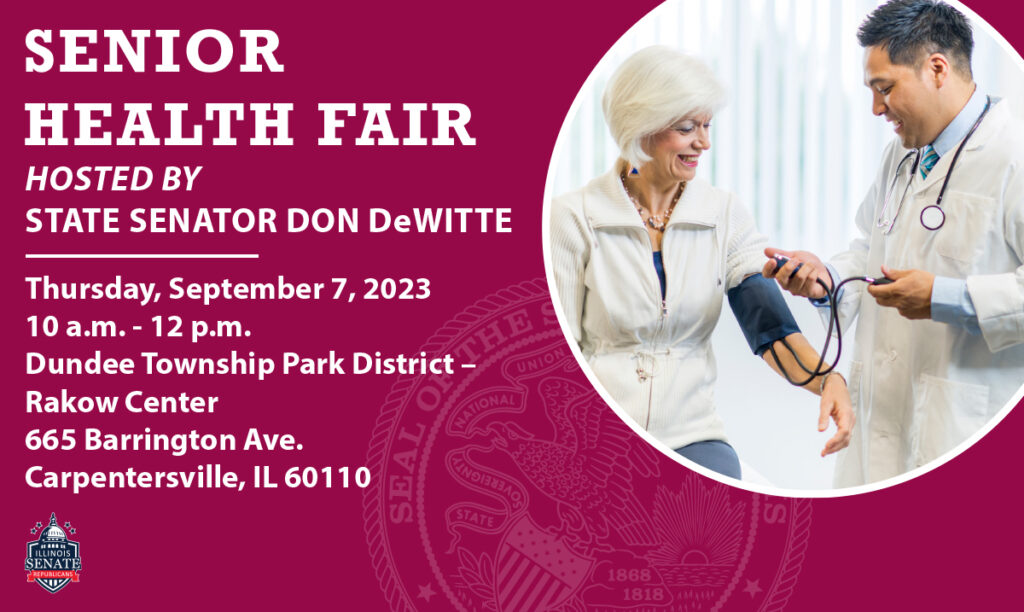 July 26, Mobile DMV Event: 10:00 AM-2:00 PM, DeWitte District Office, 641 S. 8th Street, West Dundee

September 7, Senior Fair: 10:00 AM-12:00 Noon, Dundee Township Park District Building, 665 Barrington Ave., Carpentersville

September 19, Senior Fair: 10:00 AM-12:00 Noon, Pottawatomie Community Center, 8 North Ave, St. Charles

September 26, Fall Coat Drive: Coats can be dropped off at the DeWitte offices, 641 S. 8th Street, West Dundee, or the new St. Charles office (opens July 1), 406 Surrey Woods Drive, St. Charles

October 14, Document Shredding Event: 9:00 AM-11:00 AM, Elgin's Gail Borden Library, Rakow Branch, 2751 W. Bowes Road, Elgin

October 17, Senior Fair: 10:00 AM-12:00 Noon, Grand Oaks Recreation Center, 1401 IL-176, Crystal Lake
Illinois' Preliminary May Unemployment Data Released
The U.S. Bureau of Labor Statistics has released the preliminary unemployment data from May, showing Illinois as having one of the highest state unemployment rates across the country. While there is no clear trend so far in 2023, the state measured a 4.1 percent unemployment rate.
Illinois' rate falls on the higher end of the national unemployment rate spectrum, where the national average is 3.7 percent. Individual states range from 1.9 percent to 5.4 percent. Illinois is tied for fourth place with Texas and Washington.
Some Illinois Residents Under 'No Burn' Orders
While this area received some much-needed rain over the weekend and into today, that has not been the case in all parts of Illinois. The National Weather Service has issued an alert to tell Illinois residents that with the recent dry weather, the risk of widespread fires has also risen. As such, extra care is needed when it comes to fires, and several fire agencies around Illinois have announced "no burn" orders until further notice.
All residents are advised to take caution when it comes to fires. According to fire departments, a "no burn" order includes open burnings, only excluding grills and small fire pits. Additionally, oftentimes cigarette smokers are also told to be cautious when it comes to disposing of their cigarettes and to remain vigilant about any sparks or ashes left unintentionally unattended.