Controversial SAFE-T Act undergoes changes but public safety concerns remain
In the final week of the annual fall veto session, legislators took up an amendment to House Bill 1095, which made some changes to the controversial SAFE-T Act.
The SAFE-T Act is a major criminal justice rewrite that was passed, despite bipartisan opposition, in a late-night lame-duck session on January 13, 2021. Since its passage, Senate Republicans joined state's attorneys and law enforcement personnel from across Illinois to sound the alarm on how the law threatens the safety of their communities.
One of the more controversial provisions is the elimination of cash bail, which is set to take effect statewide beginning January 1, 2023.
Despite the changes approved by the General Assembly last week, which include expanding the types of offenses that are eligible for pre-trial detention, Senate Republicans still feel the bill does not go far enough to fix the many concerns in the law. Judges still won't have the broad discretion they need to be able to hold certain dangerous people in jail ahead of their trial. Additionally, the changes found in House Bill 1095 still don't address the millions of dollars this law will cost local governments and police departments.
House Bill 1095 was approved by a strictly partisan vote and is now awaiting the Governor's action.
Bring joy to veterans this holiday season!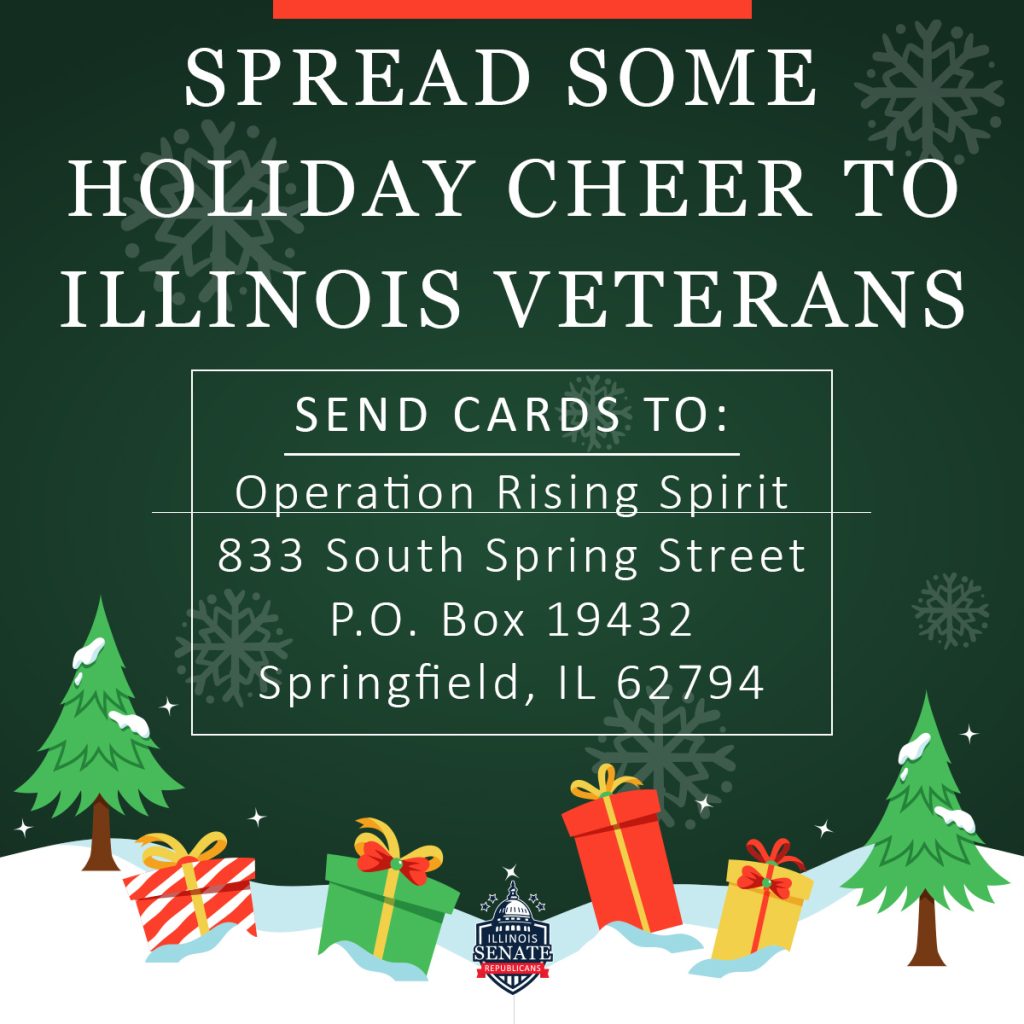 This time of year can feel especially lonely for many people, but you can help raise the spirits of our veterans by sending notes to the Illinois Department of Veterans Affairs! Notes will be distributed to the state-run veterans homes throughout Illinois.
Operation Rising Spirit is a program designed to help the residents of our veterans' homes feel appreciated through letters written by organizations, schools, communities, and individuals.
Spread the word, and help spread the cheer this year!
Please take a moment over the next few weeks to send a card or note of thanks to our veterans, so they know we are thinking of them and appreciate the sacrifices they made.
UI Trust Fund payoff will cost businesses more
An agreement between the business and labor communities was reached last week to address the outstanding loan balance to the Illinois Unemployment Insurance Trust Fund. The state took out the loan during the pandemic to help pay the unprecedented number of unemployment claims.
During the final day of the fall veto session, lawmakers voted on an agreement to pay off the remaining $1.363 billion debt using unexpected, one-time revenue the state is on pace to receive this fiscal year.
While I advocated this past spring to use federal COVID-19 dollars to fully pay off the loan, which would have prevented any tax increase on businesses, I am glad action was taken last week with new, one-time revenue to lessen the burden on businesses. Last week's action will save employers $913 million over 10 years.
Sen. DeWitte delivers STEM grant to Dundee Twp Boys & Girls Club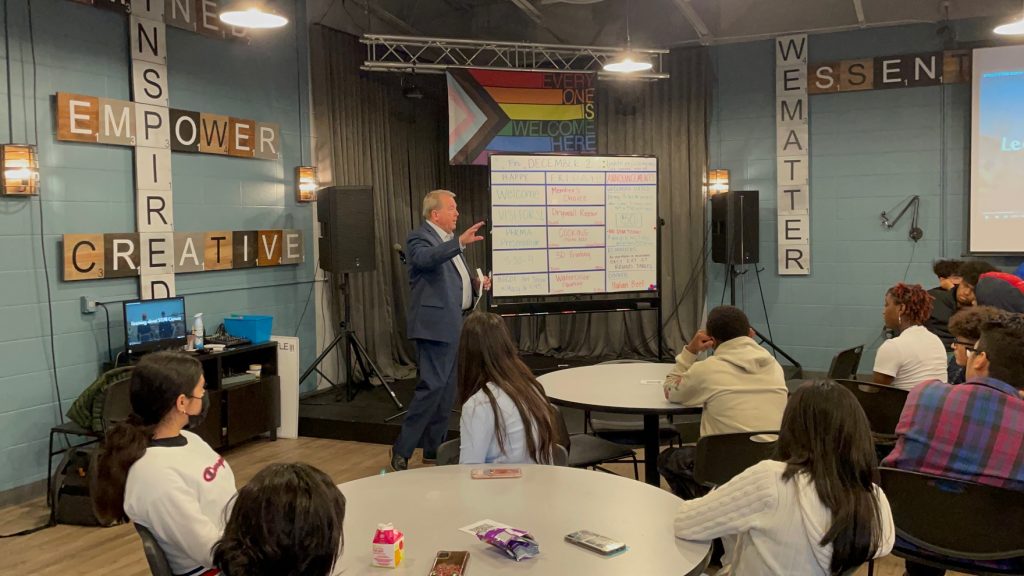 The Boys & Girls Club of Dundee Township is one of the largest clubs in the state of Illinois, serving over 1,000 members. They operate in 13 community schools within Districts 300, 220, and 15, along with one high school program location. The STEM program at Dundee Township's Boys & Girls Club features a TechLab and BuildLab, which integrates hands-on learning projects and computer science skills to help prepare young people for success in the technical workforce. Kids that participate in the STEM program receive valuable skills training, hear from guest speakers, participate in facility tours, and are able to take advantage of internships and summer job offerings.
Time to renew! License and permit extensions come to an end
Residents across the state are now required to renew their driver's licenses on the actual renewal date following an end to a two-year extension period resulting from COVID-19.
The first extension came in early 2020 because of the closure of several businesses and state agencies. Several more extensions were granted until Secretary of State Jesse White announced the final deadline extension would come to an end December 1, 2022. While the State of Illinois has ended the extension period, the Department of Homeland Security just announced the deadline for obtaining a REAL ID, a document that will be necessary for boarding domestic flights and to enter some federal buildings, has been extended two years until May 7, 2025.
The renewal deadline includes those with driver's licenses, ID cards and permits, but does not apply to commercial driver's licenses or CDL learner's permits.
Although Secretary of State offices have since reopened following the pandemic, the state agency is still encouraging people to complete the renewal process online at https://www.ilsos.gov/. Lobbies at the facilities are currently open but may require an appointment depending on its location.