SAFE-T Act Lawsuit Delayed After New Changes Signed into Law
After the Majority Party passed amendments to the SAFE-T Act during the last day of veto session, the hearing for the lawsuit challenging the law's implementation was pushed back to Dec. 20, just 11 days before the law's "no cash bail" provision is to take effect. The lawsuit was filed by more than half of the state's attorneys and sheriffs throughout the state. A ruling is now expected by Dec. 28.
Meanwhile, during the week, Governor JB Pritzker announced that he had signed the recently passed House Bill 1095, which contained the changes to the SAFE-T Act. The changes include some expansion on the types of offenses that are eligible for pre-trial detention and broadening the definition of "willful flight" to make it less burdensome on prosecutors to prove that someone is a flight risk.
Despite these changes, I believe they fall way too short and don't make the state any safer than it was before their passage. Not only is the Constitutionality of the SAFE-T Act still in question, but it does not provide the necessary judicial discretion in criminal cases.
DeWitte a Keynote Speaker at Contractors Convention

Last week I was honored to speak at this year's Associated General Contractors annual convention in Springfield. I was joined at the event by Congresswoman-Elect Nikki Budzinski to discuss the status of Transportation and the Rebuild Illinois initiatives in our state. As Federal dollars start to flow for continued asset improvements in Illinois, Congresswoman-Elect Budzinski will be a real asset and valued partner to help bring those dollars back to Illinois. Many thanks to Mark Strawn and Kevin Morphew for the kind invitation to speak at this year's conference!
REAL ID Deadline Extended Again
The Illinois Secretary of State office announced last week that the U.S. Department of Homeland Security (DHS) has given Illinois residents an additional two years to obtain the federal REAL ID. The original deadline to acquire a REAL ID was set for May 3, 2023. This new extension means that Illinoisans with a current standard Illinois driver's license or ID card can domestically travel in the U.S. until the new May 7, 2025, deadline.
Illinois residents who have not yet obtained a REAL ID are encouraged to view the Illinois Secretary of State office's online interactive document checklist at REALID.ilsos.gov. The checklist will help make it easier for Illinoisians to know what paperwork they need to bring with them to their local Driver Services facility. All first-time applicants must make an in-person appointment.
A REAL ID is not required for everyone and is only necessary to fly within the country. Individuals with a valid U.S. passport also meet the requirements for domestic air travel.
Still Time to Help Spread Holiday Cheer to our Veterans!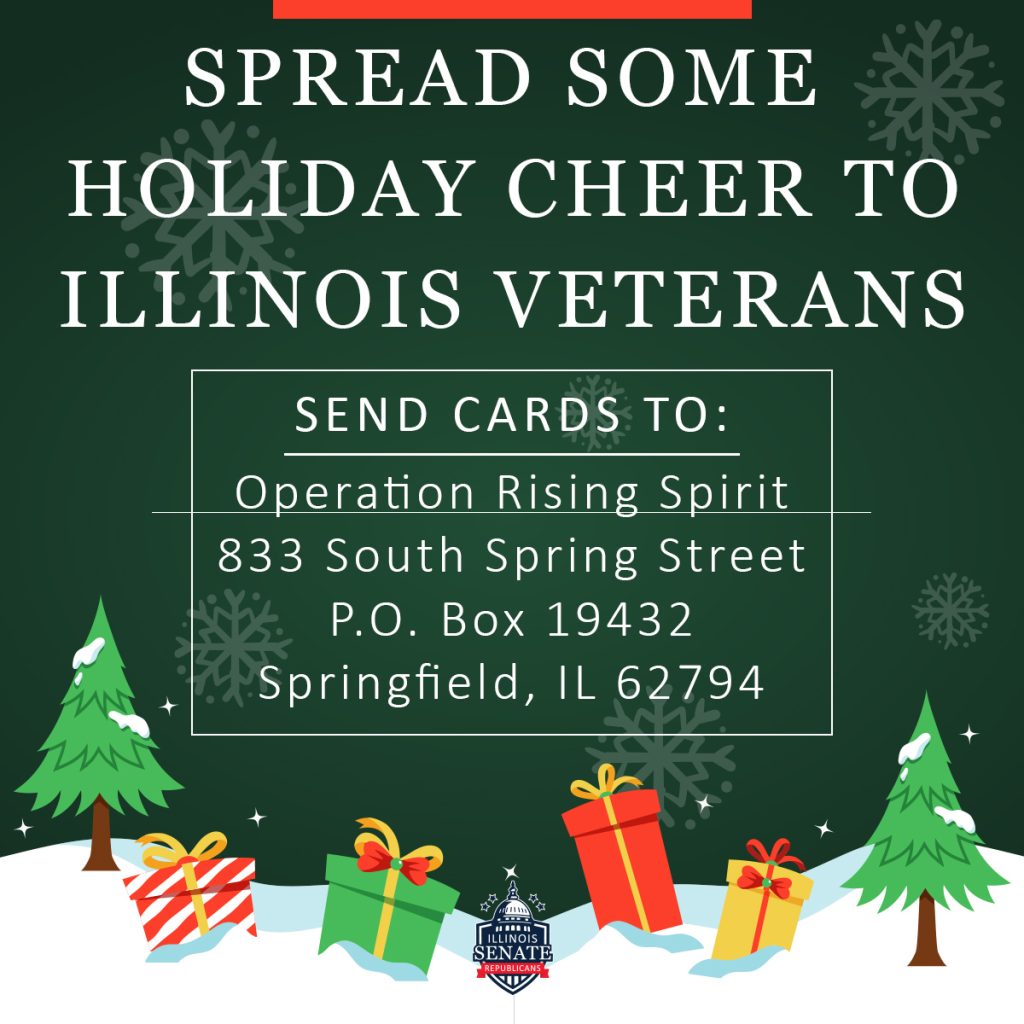 Just a reminder that this time of year can feel especially lonely for many people, but you can still help raise the spirits of our veterans by sending notes to the Illinois Department of Veterans Affairs! Notes will be distributed to the state-run veterans homes throughout Illinois.
Operation Rising Spirit is a program designed to help the residents of our veterans' homes feel appreciated through letters written by organizations, schools, communities, and individuals.
Spread the word, and help spread the cheer this year! Please take a moment over the next few weeks to send a card or note of thanks to our veterans, so they know we are thinking of them and appreciate the sacrifices they made.
Draft National Broadband Map Officially Released
On Nov. 18, the Federal Communications Commission (FCC) officially released a draft national broadband map. The map is a detailed display of locational information about broadband service availability across the United States.
I am encouraging Illinois residents to check the draft map for accuracy by Jan. 13 as the map will be used to direct funding and efforts to improve broadband access to areas that either lack broadband or don't have sufficient bandwidth.
Illinoisians can check their broadband coverage and performance through the FCC's website or free app, downloadable through either the Apple App or Google Play stores.
If a consumer finds any inaccurate information, they are encouraged to challenge the data through a link on the interactive map. Additional information, a video tutorial on how to make a challenge, and the links to the apps can be found at fcc.gov/BroadbandData/consumers.