Pritzker continues to govern by executive fiat
For more than two years, the Governor has run Illinois by invoking emergency powers, sidelining lawmakers by issuing Executive Orders to control nearly every aspect of the state's response to the COVID-19 pandemic. The Governor has given no indication when he will stop declaring successive disaster declarations for COVID-19, with his most recent being issued on July 22 and another likely coming later this month.
On Aug. 1, Gov. Pritzker issued a new emergency declaration— this time for the monkeypox virus. With this new declaration, the Governor further expanded his executive authority over the people of Illinois.
The Illinois State Constitution calls for a balance of power between the legislative, executive, and judicial branches when making decisions that affect Illinoisans. Each is a co-equal branch of equal importance. In response to the Governor's continued overreach and abuse of emergency declarations, I am a co-sponsor of Senate Bill 103, which would require the Governor to request legislative approval to reissue a disaster declaration after 30 days.
SB 103 was filed well over a year ago, but the Governor's legislative allies have refused to give the legislation a public hearing. Majority Party leaders must take a stand, or the Governor will continue to issue disaster proclamations for the foreseeable future and shut duly elected lawmakers out of the decision-making process.
Traveling office hours continue in District 33rd District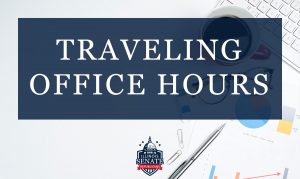 Constituent services is one of the most important benefits provided through my office. Because the 33rd Senate District is large and it is not convenient for everyone to come to my West Dundee office, we are continuing a Traveling Office Hours tour next week with an event in East Dundee. Through Traveling Office Hours, the resources of my legislative office are brought to communities across the 33rd District.
A constituent services expert from my office will be available to meet with constituents at the following events:
Thursday, August 11: Fox River Valley Library (formerly the Dundee Twp Public Library), 555 Barrington Avenue, East Dundee, 10:00 AM-12:00 noon
Thursday, August 25: Lake in the Hills Village Hall, 600 Harvest Gate, Lake in the Hills, 10:00 AM-12:00 noon
Thursday, September 8: Gail Borden Public Library Rakow Branch, 2751 W Bowes Rd, Elgin, 1:00-3:00 PM
Thursday, September 22: Geneva Public Library, 227 S 7th St, Geneva, 1:00-3:00 PM
Thursday, October 6: Gilberts Village Hall, 87 Galligan Rd, Gilberts,10:00 AM-12:00 noon
Tuesday, October 25: Charles Public Library, 1 S. 6th St, St. Charles, 10:00 AM-12:00 noon
Constituent service assistance is available to any resident of the 33rd Senate District who is having difficulty with a state agency. The types of service include:
Unemployment insurance issues with the IL Dept. of Employment Security
Issues involving the Attorney General's Office, the Office of Aging, the Department of Human Services, and the State Police
Transferring professional licenses from another state to Illinois
Secretary of State issues involving motor vehicles (DMV)
Veterans' issues
Issues involving the State Board of Education or the Board of Higher Education
Other upcoming events include:
Tuesday, August 23 Unclaimed Property Day: Representatives from the Illinois Treasurer's office will be at the Crystal Lake Library's Ames Meeting Room, 126 W Paddock St in Crystal Lake to help connect Illinoisans with more than $3.5 billion in unclaimed property and cash. One in four Illinoisans who search the state's database find items or money that is owed to them, so please take a few minutes to participate in this free event.
Wednesday, September 7 Senior Fair: Senate Minority Leader Dan McConchie and I are co-hosting a Senior Fair at the East Dundee Township Building, 665 Barrington Avenue, Carpentersville, from 10:00 AM until noon. A variety of local vendors will be on site to discuss and provide information about several local programs that benefit seniors. There will be free refreshments and health screenings.
Friday, September 16 Senior Fair: State Senator Craig Wilcox and I are co-hosting a free Senior Fair at McHenry County College, 8900 U.S. Route 14, Crystal Lake, from 9:00 AM until 11:00 AM. A variety of local vendors will be on site to discuss and provide information about several local programs that benefit seniors. There will be free refreshments and health screenings.
Saturday, October 15 Document Shredding Event: I will partner with State Rep. Dan Ugaste for a free document shredding event from 9:00-11:00 AM (or until the shred truck is full) at the Gail Borden Library' Rakow Branch, 2751 W Bowes Road in Elgin. Visitors can bring up to two boxes or bags of sensitive paper documents for shredding and should stay in their car while event volunteers take their items. Those who wish to see their documents go through the shredder may park in designated parking spaces.
Illinois to get $760 million in opioid settlement
Illinois will receive a share of funds from a national $26 billion opioid settlement against pharmaceutical manufacturer Johnson & Johnson, and pharmaceutical distributors Cardinal, McKesson, and AmerisourceBergen.
Paid out in increments over the next 18 years, Illinois' $760 million settlement will be used to fund opioid addiction treatment and prevention programs. An advisory board will be created to determine which counties and municipalities have been most affected by opioid addiction and prioritize spending for such programs.
More than 2,200 opioid-related deaths were reported in Illinois in the first three quarters of 2020, a 36 percent increase from 2019.
Back To School Tax Holiday set for August 5-14
Beginning August 5, the state sales tax on school supplies will drop from 6.25 percent to 1.25 percent. The 10-day sales tax holiday is expected to save Illinoisans $50 million on school supplies.
Qualifying clothing and footwear include school uniforms, coats, sneakers, rainwear, and winter gear with a retail selling price of less than $125 per item. Eligible school supplies like book bags, calculators, and other items used by students for studying are not subject to the $125 threshold.
More information about the "Back To School Tax Holiday" is available at https://www2.illinois.gov/rev/research/publications/bulletins/Documents/2022/FY%202022-24_N0522.pdf.
Illinois State Fair starts August 11
The Illinois State Fair features world-renowned concert artists, food, carnival rides, livestock shows, agricultural exhibits, contests, educational displays, free entertainment, harness racing, auto racing, and much more.
Scheduled for August 11-21, this year's Fair has the theme of "Grow With Us."  The lineup of entertainers scheduled at the main Grandstand can be found at https://www2.illinois.gov/statefair/entertainment/grandstand/Pages/default.aspx. A daily calendar of events can be found at https://www2.illinois.gov/statefair/info/schedules/Pages/default.aspx.
The celebration of Illinois agriculture then moves south with the DuQuoin State Fair, scheduled to run from August 26 to September 5. Information about that event is available at https://www2.illinois.gov/sites/dsf/Pages/default.aspx.