IDOT releases new six-year plan
On Friday, the Illinois Department of Transportation (IDOT) released its updated six-year plan. The full plan allocates $24.6 billion toward road projects across the state from 2023-2028, with a $3.7 billion expenditure slated for the 2023 fiscal year.
The new plan represents a 16% increase in spending over last year's plan, and the increase is largely due to an increase in federal funding. The multi-year plan also includes a new allocation of $9.96 billion for rail, transit, air, and port improvements.
The updated plan includes just under $80 million earmarked for state and local highway projects in the 33rd Senate District from 2023-2028. Of that allocation, $2.886 million is scheduled to be spent during the current fiscal year. A total of 12.74 miles within the 33rd District are slated for improvement in the plan.
The District 33 allocations can be found here, and the statewide plan can be found here.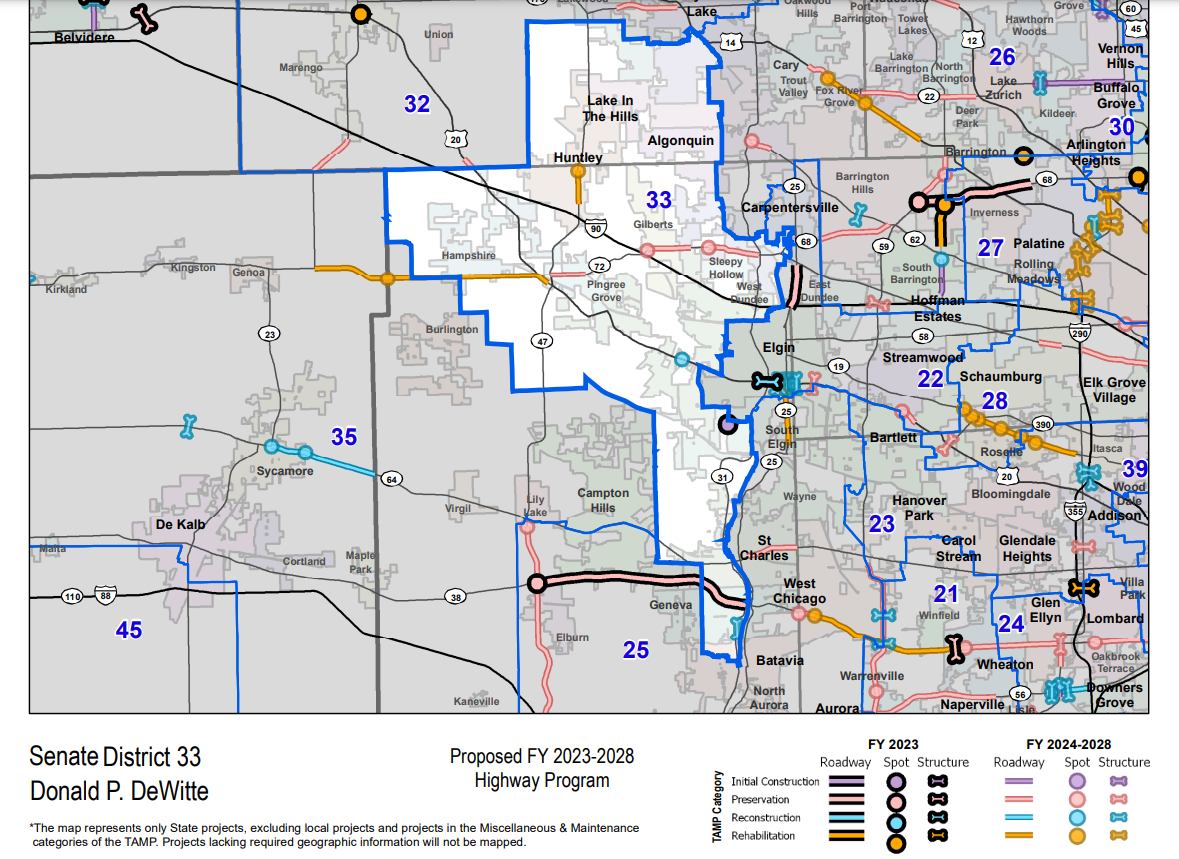 Pritzker's IDOC in federal contempt of court
A federal judge has held the Illinois Department of Corrections (IDOC) in contempt of court following the state-run agency's failure to put forth a plan to improve healthcare quality for inmates within the prison system.
Recently, a report by the federal government was released citing the abuse and mistreatment of elderly inmates and a severe shortage of healthcare providers and nurses. The report also showed poor record-keeping for the 29,000 inmates in the system.
According to a report by the Chicago Tribune Aug. 10, elderly prisoners with dementia appeared "neglected" and "abused" where in some cases inmates were not properly hydrated or given assistance in eating by medical staff. The report also cites a prisoner in poor health was left on a mattress where he soiled himself without a nurse cleaning him.
It's shameful that IDOC can't even produce a court-ordered plan to address the medical care needs of people in their care.
The report from the federal government also cited a shortage of doctors and nurses throughout the state agency. At one point, the report showed only one doctor assigned as the medical director for four facilities housing 4,711 inmates.
I find the number of people who have been severely impacted by the failed leadership within the Pritzker Administration appalling. The Governor must be held accountable for his inaction.
This order of contempt comes as the Pritzker Administration is also confronted with leadership issues within other agencies. These issues include the death of 36 veterans at the LaSalle Veterans Home and numerous children under the care of the Department of Children and Family Services, whose agency's Director has been held in contempt of court more than a dozen times this year.
DeWitte to co-host Unclaimed Property Day in Crystal Lake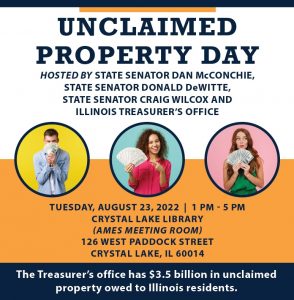 On Tuesday, August 23, I will partner with State Senators Dan McConchie (R-Hawthorn Woods), and Craig Wilcox (R-McHenry), and the Illinois Treasurer's Office for an Unclaimed Property Day where we hope to connect Illinoisans with more than $3.5 billion in unclaimed property and cash. From 1:00 to 5:00 p.m. on the 23rd, residents can meet with a counselor from the Treasurer's Office at the Crystal Lake Public Library to learn if some of the unclaimed items are theirs.
Unclaimed Property Day
Tuesday, August 23
1:00 – 5:00 p.m.
Crystal Lake Public Library, Ames meeting room
126 West Paddock Street, Crystal Lake
One in four people who search the Treasurer's Office ICash database discovers property or cash they can claim. The ICash counselors at this event can assist with a search and help people file claims. For additional information about this event, please contact Hannah at HSeaver@sgop.ilga.gov.
School enrollment numbers down since COVID
A new report this week paints a clearer picture of the damage done to Illinois' education system following a number of Executive Orders by the Pritzker Administration, which forced school closures due to COVID-19 beginning in 2020.
A report titled "The State We're In," was released on Aug. 11.  It chronicles how COVID-19 has impacted the state's education system. The report cites a dramatic impact on enrollment, specifically targeting the state's youngest learners and community college institutions.
Enrollment at the K-12 level across the state fell by three percent. For public schools, enrollment fell three percent while enrollment at private schools fell 3.5 percent. According to the report, Fall 2020 enrollment numbers at Illinois community colleges fell majorly at 14 percent.
Since the beginning of COVID-19, Senate Republicans have made several pleas for the Legislature to be a part of the decision-making process, but instead, the Pritzker Administration has acted unilaterally issuing dozens of Executive Orders for the entire state without input from the state legislature.