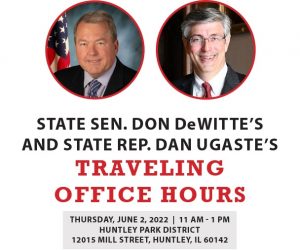 This week, State Senator Don DeWitte (R-St. Charles) and State Representative Dan Ugaste (R-Geneva) are hosting mobile office hours in Huntley. Residents from the 33rd Senate District and the 65th House District are invited to meet with district office staff on Thursday, June 2nd from 11 a.m. to 1 p.m. at the Huntley Park District (12015 Mill St., Huntley).
"These traveling office hours are open to all residents in the 33rd District. I would encourage anyone with issues with state agencies to stop by and receive assistance from our talented staff," added Sen. DeWitte. "This includes those having issues with unemployment, FOID cards and CCL licenses, professional licensing, and other issues."
"The 65th District stretches far across the Fox River valley and it may be difficult for residents to visit my district office in St. Charles," said Rep. Ugaste. "That's why my office is glad to be hosting mobile office hours to bring my district office to you! Get your questions answered, find additional information on state services, and voice your opinion at my mobile office hours in Huntley with Senator DeWitte."
Constituents can also call (847) 214-8245 or email dewitte@ilsenategop.org to access services from Sen. DeWitte's office, or call (630) 797-5530 or email ugaste@ilhousegop.org at any time to access state services from Rep. Ugaste's office.