Court Rules Prejudgment Interest Law as Unconstitutional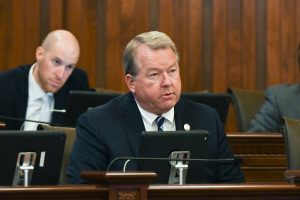 A Cook County judge has ruled a recent new law championed by Gov. JB Pritzker as unconstitutional. The law in question changed the way that interest is calculated for rewards in personal injury and wrongful death lawsuits, by starting the calculation of interest on the day a lawsuit was filed. I opposed this legislation when it was brought forward for a vote and expressed unconstitutionality concerns during the bill debate.
A wide spectrum of industry groups—including businesses, manufacturers, and even the Illinois State Medical Society—had warned of the potential consequences of the legislation, which could make it more difficult for businesses and drive up costs for consumers throughout the state.
In her ruling, the judge stated that the law created different classes of plaintiffs and defendants, by creating larger payouts in personal injury and wrongful death lawsuits compared to other types of cases. She made the ruling as part of a medical malpractice case that it would have affected. The judge also ruled the new law violated businesses' constitutional right to a trial by jury by taking the award of damages out of the hands of their peers. The ruling is currently limited to that particular case, but if the defendants appeal, it could be revisited by the Appellate Court and then taken up by the Illinois Supreme Court.
Senator DeWitte Celebrates with annual Art Contest Winners




Last week a group of student artists and their families from the 33rd Senate District gathered in St. Charles at the Colonial Cafe as I recognized the winners of my 3rd annual Art Contest. Schools were sent the following theme for this year's contest: What does the state emblem and/or symbols in the emblem represent to you? What makes you proud to live in Illinois or your community? What makes our country so wonderful? (our freedom, our cities, our state parks, our open farmlands, our right to vote).
This year's contest winners include: Nevaeh Johnson and Jordin Chanthala from Century Oaks Elementary School, Lyla Turshman, Dillon Rukel, and Charlotte Valentino from St. Patrick Catholic School, and Braelyn Wilmot, Saya Santana, Jude Cecil, and Michelle Ani from St. Catherine Catholic School. Lyla Turshman was the overall winner this year, and her artwork will be framed and displayed in my office. An additional copy of her artwork will be displayed at her school.
After recognizing each winner and showcasing their artwork, winners received a short tutorial on working with pastels from local artist John French of Side Street Studio Arts in Elgin, and then we all enjoyed an ice cream treat.
All of the entries were great this year, and I thank the students (and their teachers!) for participating. This is one of my favorite events each year, and I am always impressed by the quality of the artwork. A special thank you goes out to Anne Becker, Adjunct Eastern Illinois University Professor and former President of the IL Art Education Association, for serving as our judge.
Repeal of Parental Notification of Abortion Act takes effect in Illinois
Through legislation passed by Democrats during the Fall 2021 Veto Session, minors in the State of Illinois no longer must notify a parent or guardian before obtaining an abortion in Illinois. House Bill 370, signed into law by Gov. JB Pritzker as Public Act 102-0685, took effect this week on June 1. I voted against the legislation, and feel that in their role of protecting their children's medical and emotional health, parents and guardians should not be sidelined as children make an incredibly impactful decision that could carry lifelong emotional consequences.
The Parental Notification of Abortion (PNA) Act was approved by the General Assembly in 1995, but implementation was delayed to 2013 because of lengthy litigation. The law required notification, but not permission, prior to a minor receiving an abortion procedure.
Visitation Rights Made Stronger for Families of Loved Ones in Healthcare Facilities
For many, one of the darkest parts of the COVID-19 pandemic was the number of people who spent their last days on Earth alone, unable to see their loved ones. This was due to the Governor's emergency orders, which prevented many family members from visiting their loved ones in healthcare facilities.
A new law on the books that I was happy to co-sponsor will help ensure that families have more rights to visit their loved ones in healthcare facilities during declared disasters.
Senate Bill 1405 provides for the opportunity for at least one visitor of a patient in a hospital or long-term care facility while also maintaining the health and safety of the patients, staff, and visitors.
The legislation was filed by Senate Republican Leader Dan McConchie (R-Hawthorn Woods) on behalf of a constituent's family who was unable to visit their loved one, 91-year-old Bob McGinnis of Libertyville, during his final days.
To ensure that the health and safety of staff, patients, and visitors are not jeopardized, Senate Bill 1405 allows healthcare facilities to maintain standards including health screenings and the use of personal protective equipment.
New Law Allows DCFS Employees to Protect Themselves with Pepper Spray
Frontline DCFS employees will soon have a new option to protect themselves in potentially dangerous situations they face in the field now that the Governor has signed legislation to allow the workers to be allowed to carry pepper spray. I was proud to co-sponsor this safety measure for DCFS employees.
Pepper spray is already legal for adults to carry in public for personal defense, but DCFS regulations have not allowed their employees to carry it while on duty.
Senate Bill 1486 allows DCFS frontline workers to carry pepper spray for defensive purposes while investigating cases involving allegations of child abuse and neglect. The legislation also directs the Illinois State Police to develop a program on the proper use of pepper spray. DCFS employees will be required to complete the program to carry pepper spray in the field.
The legislation was inspired by the murders of two DCFS investigators. Deidre Silas was stabbed to death in January at a home in Thayer during the course of a child welfare investigation. In February 2018, Pamela Knight died in the hospital from injuries sustained during a brutal attack that occurred while she was trying to take a child into protective custody. The legislation was signed by the Governor on May 27.
Illinois Provides New Protections for Young Victims of Sex Crimes
A new law aims to help protect the privacy rights of victims of child sex crimes by allowing a judge to clear disinterested parties from the courtroom when the victim testifies. It's important legislation and I was happy to support it.
Under previous Illinois statute, a minor victim of a sex crime is afforded the right to testify without the presence of so-called disinterested parties. However, due to a lack of clarity within the statute, there was uncertainty on whether those privacy protections extended to victims who turned 18-years-old by the time of their trial.
Senate Bill 2942 makes it clear that judges are allowed to remove the disinterested parties even if the victim is now older than the age of 18, as long as the crimes occurred when the victim was a minor.
To safeguard the constitutional rights of defendants, the judge must find that particular parties do not have a direct interest in the case and must put their basis for that finding into the record. The new privacy protections and procedures are effective immediately.
Another protection for young victims was also recently signed into law. House Bill 4593 seeks to help victims of child sex abuse and trafficking. It puts an end to the practice of predators trying to avoid punishment by claiming that they didn't know a victim was a minor when they solicited that minor for sex.
New Law Helps Emergency Dispatchers
Emergency dispatchers will now have access to many of the same services and benefits as other first responders under a new state law.
Senate Bill 3127 amends existing state laws to include "Emergency Medical Dispatchers" as first responders. This will allow dispatchers to be recognized as first responders, enabling them to receive many of the same services and benefits.
The new law recognizes not only the role that dispatchers play, but the fact that many of them face the same issues as other responders, including post-traumatic stress disorders and other issues. I voted in favor of the bill when it came before the Senate.
Senate Republicans Aim to Help Remember Fallen Service Members with Capitol Memorial Display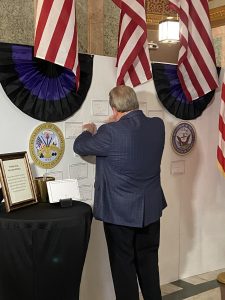 The members of the Illinois Senate Republican Caucus are inviting the public to visit the Illinois State Capitol to take a few moments to remember the service members who gave their lives in the line of duty. The Caucus recently reopened its annual Veterans Memorial Wall display in the Capitol rotunda.
The Veterans Memorial Wall has become a regular tradition at the Capitol, with the Republican Senators first launching it in 2015. The display features a large video screen with a slide show displaying the names and photos of veterans who have made the ultimate sacrifice in defense of their country, as well as a large area where visitors can honor these fallen heroes by writing and posting notes of thanks and/or remembrance.
With the Capitol once again open to the public, the Senate Republican Caucus is inviting people to come visit the Veterans Memorial Wall, learn more about the brave men and women featured there, and leave their own messages honoring those fallen heroes who have paid the ultimate price for our freedom. The Veterans Memorial Wall will remain on display until June 15. The Illinois State Capitol is open to the public from 8:00 a.m. to 4:00 p.m. Monday through Friday, and from 9:00 a.m. to 3:00 p.m. on Saturday and Sunday.
Metra offers summer deals to boost ridership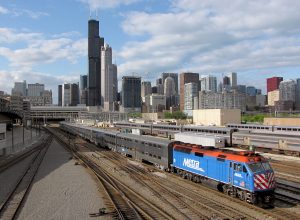 In an effort to boost ridership that dropped significantly during the COVID-19 pandemic, Metra will soon offer a super-saver $100 flat-rate monthly pass that provides for unlimited travel throughout the Chicagoland area. The pass, which will be especially beneficial to commuters, will be offered for a three-month period beginning in July. Learn more at: https://metra.com/…/metra-sell-100-flat-rate-monthly-pass.
Metra is also offering special family deals for ridership through Labor Day. New Family Fares for Metra include FREE rides for children 11 and under through Labor Day. Learn about these Metra deals at:
https://metra.com/newsroom/kids-ride-free-my-metras-family-fares-metra-adds-7-pass-memorial-day?fbclid=IwAR1m6oPtMh2GaMqAoxstyheJUuH5f6vFEp_0EWti_Z2_Xt-5PP3XEHYaqxI.