New report questions Illinois' increased spending, warns of trouble ahead

A nonprofit group that promotes responsible government spending says Illinois could face budget problems down the road because of their use of one-time revenue created by federal COVID-19 money for increased, long-term spending. I brought up this exact concern during the budget debate prior to its passage on April 9.
Working with the Volcker Alliance, Beverly Bunch, a professor at the University of Illinois Springfield's School of Public Management and Policy, warns in a report that states must take care in how they use one-time money and not earmark it for ongoing expenses. The Fiscal Year 2023 budget, signed by Gov. JB Pritzker, increases operational government spending by $2.8 billion over Fiscal Year 2022 spending.
I still have questions about how the state expects to pay for the nearly $3 billion in increased spending next year when revenues go back down to normal levels. It's this kind of irresponsible action that has led Illinois to the dire fiscal situation it has faced for years.
Sen. DeWitte hosts successful Unclaimed Property Event in St. Charles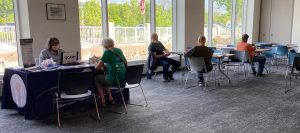 Thank you to everyone who came out to my Unclaimed Property Day event at the St. Charles Library earlier this week. During the event, 28 people who met with a representative of the State Treasurer's Office to search the state's database of unclaimed property and cash. We were able to connect a few people with unclaimed items they didn't know were owed to them, so it was a very successful event!
Looking ahead, next week on Thursday, June 2, staff from my office and the office of State Rep. Dan Ugaste will be holding joint traveling office hours at the Huntley Park District building off of Rt. 47, at 12015 Mill Street from 11:00 AM until 1:00 PM. If you need help that involves any state agency, our highly-trained staff members can help you cut through the red tape and find solutions.
My staff and I are continuing to work on a comprehensive list of summer events, and as plans come together I will be sure to post them in upcoming newsletters. Feel free to visit my website (www.senatordewitte.com) to learn more about upcoming constituent outreach events.
Fuel retailers sue the Pritzker Administration over forced advertising on gas tax freeze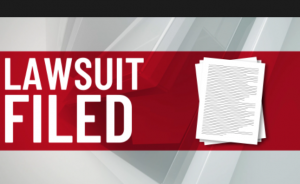 The Illinois Fuel & Retail Association and two large fuel distributors recently filed a lawsuit against the Pritzker Administration over its requirement that they post large signs at each pump advertising the Governor's election-year, six-month gas tax freeze.
The lawsuit takes aim at the measure that mandates gas stations to post 4-by-8-inch signs informing motorists of the General Assembly and Governor's action to push off the tax increase until after the election.
This mandate is nothing more than an election-year gimmick by the Governor, who is trying to trick consumers into thinking he is providing them with relief. Instead, consumers will now be faced with two tax increases in 2023—one in January and another in July.
I was a leading sponsor of an alternative plan to provide real, meaningful relief at the pump, which would save consumers about 16 cents per gallon.
Kids can ride free on Metra between Memorial Day and Labor Day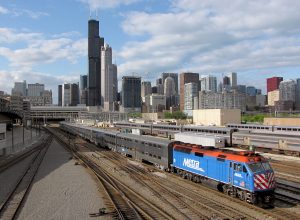 Memorial Day marks the unofficial start of summer, and Metra is offering new incentives through Family Fares on trains in and out of the City. Beginning Memorial Day on May 30 and through Labor Day on Monday, September 5, kids age 11 and under can ride free with a fare-paying adult.
Metra is also offering a $7 unlimited rides pass on Memorial Day. These two new incentives compliment Metra's already-existing deals, which include weekday $6 unlimited ride passes within three fare zones and its $10 day pass for unlimited rides across the entire Metra system. These special passes must be purchased through the Ventra App and are good from the time of purchase through 3:00 AM the next day. For weekend travel, Metra also has a $7 Saturday or Sunday unlimited rides pass for either Saturday or Sunday (not both days). A $10 weekend pass is also available for unlimited rides on both Saturday and Sunday. Learn more at www.metra.com.
Legislative Staff Intern Program offers unique experiences
The Illinois Senate Republican Caucus is seeking college graduates to apply through the Illinois Legislative Staff Intern Program (ILSIP) for a chance to gain a unique work experience within state government.
With the Capitol as both the workplace and classroom, ILSIP interns also earn four graduate credits from the University of Illinois Springfield. The paid internship runs for 10.5 months beginning in August, where interns work as a professional legislative staffer assisting senators with policy, communication, and outreach.
Previous ILSIP interns with the Senate Republican Caucus talk about their experience in an informative video, which also explains how to apply.