Three weeks remain in spring legislative session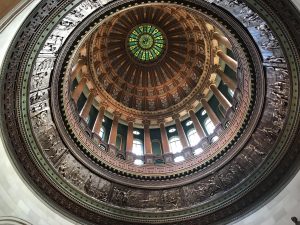 With just three weeks remaining in the spring legislative session, little to no action has been taken on key issues that continuously impact our state.
Over the course of this session, Senate Republicans have filed legislative packages on bills focused on a variety of constituent concerns. Those packages pertain to:
Ethics Reform – A legislative package seeking to tackle the state's public corruption problem by expanding the authority of a statewide grand jury's ability to investigate and indict offenses involving the corruption of a public official, among several other reforms. To learn more about the Senate Republicans Ethics Reform Package, click here.
Crime – A legislative package that includes a "Fund the Police Act," which would provide funds to assist law enforcement, provide additional training, and purchase much-needed equipment, including body cameras. To learn more about Senate Republicans Crime Package, click here.
Taxes/Inflation – A legislative package that addresses the high cost of living that is impacting families across the state. Here in Illinois, the state's high tax burden puts Illinoisans at more of a disadvantage. Senate Republicans seek to provide long-lasting tax relief that would address growing concerns of inflation and skyrocketing consumer prices by making food, gas, medicine, and property taxes more affordable. To learn more about Senate Republicans Tax Relief Plan, click here.
Legislators are scheduled to adjourn April 8, ahead of this year's June primary election. With three weeks left to go, I would like to see meaningful discussions take place on these major issues.
Senate Republicans tout traction to PRB appointment process
The Illinois Constitution requires that Prisoner Review Board (PRB) appointees be confirmed by the Illinois Senate within 60 session days. Rather than the Senate actually taking a vote on these individuals, the Governor has repeatedly pulled individual appointments just to turn around and reappoint them to reset the 60-day clock—intentionally skirting the process outlined in the Constitution.
Following a year of pleas by Senate Republicans for the Senate to take up Gov. Pritzker's unconfirmed Prisoner Review Board appointees and questions surrounding some of the Board's recent decisions to release violent criminals from prison, the Governor has decided he needs to create some cover for himself as pressure over the lack of proper process continues to mount.
Last week, Gov. Pritzker withdrew his nomination of Max Cerda, a convicted double murderer who voted in favor of releasing Ronnie Carrasquillo, a cop-killer. Cerda served a prison sentence with Carrasquillo in the '90s but failed to recuse himself from voting on Carrasquillo's potential release. The withdraw came just hours after Senate Republicans questioned Cerda's potential conflict of interest during a Senate Appropriations hearing last Tuesday.
Last week the Governor also penned a public letter to the Chair of the Senate Executive Appointments Committee, requesting that they consider his remaining pending appointees.
Senate Republicans have repeatedly inquired about the confirmation of unconfirmed nominations but have received no information as to why they have failed to consider these appointments. At one point, 10 members of the 14 members on the board had not been confirmed or vetted by the Senate. Currently, only nine board members remain—six of whom have so far escaped the constitutionally-required confirmation process.
Following the Governor's letter, the six unconfirmed appointees were posted to the Senate Executive Appointments Committee, which is scheduled for Tuesday, March 22 at 9 a.m.
Another extension of DMV services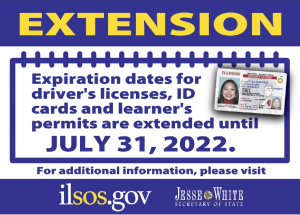 Illinois drivers who need to renew driver's licenses, ID cards, and learner's permits will now have four extra months to do so. Secretary of State Jesse White recently announced the extension from March 31, 2022, until July 31, 2022.
As a result of the extension, expired driver's licenses, ID cards, and learner's permits will remain valid until July 2022. The extension comes on the heels of COVID-19 backlogs and inclement weather. For more information on when to visit a facility or how to conduct business online, click here.
Do Illinois lawmakers need to pass a Daylight Saving bill?
You may still feel a little sluggish after losing that hour of sleep recently, but there could soon be an end in sight to the more than century old Standard Time Act, which has been adjusted numerous times over the last 100 years.
Just last week, the U.S. Senate unanimously passed a bill that would make Daylight Saving Time permanent. The bill now heads to the U.S. House of Representatives, but it's not immediately clear if the bill will pass.
However, if it does and is signed by the President, the legislation would take effect November 2023.
In recent years, several state lawmakers have filed legislation to move the state to Daylight Saving Time throughout the entire year, though none of the bills have successfully made their way through the legislative process.