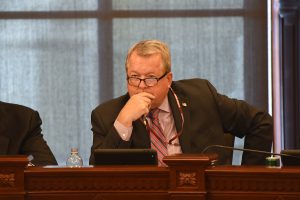 Following the resignation of chair Will Evans from the Illinois Tollway Authority, State Senators Ram Villivalam (D-Chicago) and Donald DeWitte (R-St. Charles), chair and minority spokesperson of the Senate Transportation Committee, are ready to work with the Tollway to ensure transparency and accountability in the organization's operations.
"I would like to thank chair Evans for his public service," Villivalam said. "For the last three years, the Illinois Tollway Authority has worked to provide affordable, accessible transportation to commuters while exceeding its diversity contracting goals."
Senator Villivalam introduced Senate Bill 3796 to clarify the roles of the Executive Director and chairman of the agency. The measure outlines the Executive Director is responsible for the day-to-day operations of the Tollway, and the Tollway board remains a separate oversight mechanism. Additionally, the legislation requires that the Executive Director of the Illinois Tollway Authority be appointed by the Governor with the full advice and consent of the Illinois Senate.
"Senate Bill 3796, legislation to codify what has been in practice for several years, was never aimed at one individual," Villivalam said. "I look forward to continuing our work on behalf of Illinois taxpayers with the Tollway, the Governor and the Attorney General to ensure accountability in the operations of the Tollway."
On Friday, Gov. JB Pritzker appointed Dorothy Abreu as the new chair of the Illinois Tollway Authority. Abreu is a senior vice president at PNC Bank with over 20 years of experience in financial services.
"I am pleased the Governor has finally chosen to intercede in the ongoing organizational conflict at the Illinois Tollway," DeWitte said. "While I do not personally know the governor's new designee, I look forward to robust conversations about her qualifications and goals, and a swift Senate confirmation process."
The Senate Transportation Committee held a hearing in December on the organizational changes. Senate Bill 3796 awaits consideration in the Senate Executive Committee.