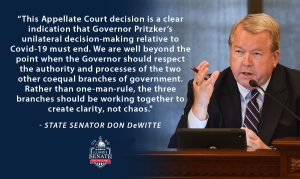 During the overnight hours of February 17-18, the 4th District Appellate Court issued a decision on Gov. JB Pritzker's appeal of a lower court's ruling that his mask, vaccine, and testing mandates for schools violated due process rights. Because the school mandate had expired and the Joint Commission on Administrative Rules (JCAR) blocked the reissuance of Pritzker's rule, the higher court deemed Gov. Pritzker's appeal to be moot. As a result, the Circuit Court ruling stands. In response to the decision, State Senator Donald DeWitte (R-St. Charles), who serves on JCAR, issued the following statement:
"This Appellate Court decision is a clear indication that Governor Pritzker's unilateral decision-making relative to Covid-19 must end. We are well beyond the point when the Governor should respect the authority and processes of the two other coequal branches of government. Rather than one-man-rule, the three branches should be working together to create clarity, not chaos.
"The court ruling is not about whether people support or oppose masks. It is about constitutional rights to due process that must be afforded to all Illinoisans, including school children and teachers. Rather than accepting that court ruling and responding accordingly, Gov. Pritzker doubled down on his desire for full power and control, and by doing so, he showed us all that due process rights are not important to him.
"The Governor needs to step back, and engage with the legislature on how to best move forward. Based on the Circuit Court's initial temporary restraining order, nearly 2/3 of Illinois schools have gone to 'mask optional.' Any attempt to reverse or stymie those local decisions will only exacerbate the chaos our schools are experiencing."