JCAR suspends rules for Pritzker's mask mandate in schools, Appellate Court dismisses case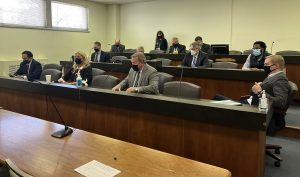 As a member of the Joint Committee on Administrative Rules (JCAR), I am part of a 12-member, evenly-balanced panel of Republicans and Democrats from all four caucuses. We review rules for how laws will be implemented that are brought forward by state agencies, and emergency rules promulgated by the Governor. During the Covid-19 pandemic, our role has taken center stage on a few occasions when we have had to take up issues that many feel represented executive overreach on the part of Gov. JB Pritzker and his administration.
Last week, the Republicans and Democrats on JCAR stood united as we blocked an attempt by Gov. Pritzker to reissue a school mask, vaccine, and testing mandate that an Illinois Circuit Court judge had ruled null and void because it violated due process rights for Illinois children and teachers. The 9-0-2 vote was significant, because Democrats who are typically loyal to the Governor did not support his effort to reinstate a mandate that the courts struck down.
During our debate, nearly every member of JCAR expressed interest in waiting until the Appellate Court ruled on Gov. Pritzker's appeal of the Circuit Court ruling, which was a temporary restraining order. In fact, we specifically asked the Governor to withdraw his rule so we could wait for the Appellate Court decision. He declined, and pressed forward.
Later in the week, during the overnight hours of February 17-18, the 4th District Appellate Court issued their decision on Gov. JB Pritzker's appeal. Because the school mandates had expired on Feb. 13 and JCAR blocked the reissuance of Pritzker's rules on the 15th, the higher court deemed Gov. Pritzker's appeal to be moot. As a result, the Circuit Court ruling stands. In response to the Appellate Court decision on Friday, I issued the following statement:
"This Appellate Court decision is a clear indication that Governor Pritzker's unilateral decision-making relative to Covid-19 must end. We are well beyond the point when the Governor should respect the authority and processes of the two other coequal branches of government. Rather than one-man-rule, the three branches should be working together to create clarity, not chaos. 
"The court ruling is not about whether people support or oppose masks. It is about constitutional rights to due process that must be afforded to all Illinoisans, including school children and teachers. Rather than accepting that court ruling and responding accordingly, Gov. Pritzker doubled down on his desire for full power and control, and by doing so, he showed us all that due process rights are not important to him. 
"The Governor needs to step back, and engage with the legislature on how to best move forward. Based on the Circuit Court's initial temporary restraining order, nearly 2/3 of Illinois schools have gone to 'mask optional.' Any attempt to reverse or stymie those local decisions will only exacerbate the chaos our schools are experiencing." 
Despite being told "no" by legislative and judicial branches during the same week, Gov. Pritzker announced on Friday that he will appeal the Appellate Court decision and take his case to the Supreme Court.
The legal battle over masks in schools comes as the Governor has already announced he plans to lift the indoor mask mandate starting Feb. 28, except for in schools and a select few other spaces.
Senator DeWitte talks with popular Springfield news host about JCAR decisions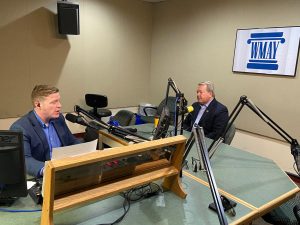 Following the JCAR vote last week, I had the opportunity to sit down with popular Springfield radio host Greg Bishop for his Bishop on Air morning radio show on WMAY. We discussed the bipartisan and bicameral nature of JCAR, and how, unlike most committees at the Capitol, this group works very well together and respects each other's points of view. We went into detail about the Circuit Court ruling on school masks, vaccines, and testing, and how that ruling influenced our decision to block Gov. Pritzker's attempt to reinstate the mandates.
Click here to watch the Bishop on Air interview.
Democrats handpick their ethics watchdog bypassing independent search process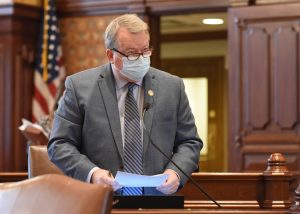 Illinois Democrats rammed through their pick for the next Legislative Inspector General (LIG) last week despite calls by Republicans to go through the unbiased citizen search committee process laid out in state statute.
Retired federal Judge Michael P. McCuskey was appointed to the post, but bypassed the thorough vetting process that the independent search committee provides. In fact, McCuskey himself indicated that he should be going through the same process that the law sets forth and that all other candidates who applied for the position went through.
McCuskey has an impressive career as a jurist, but noted that going around the law to appoint him gives the people of Illinois even more reason to not trust their state government. He's right about that.
In way of background, the LIG position was left vacant after former LIG Carol Pope announced her retirement, citing frustration with the General Assembly's inability to pass meaningful ethics reforms. Her retirement triggered the search process for her replacement, which under statute requires a citizen search committee appointed by the four legislative leaders to put forward a candidate recommendation to the Legislative Ethics Commission (LEC) for review. The Search Committee chose to present a few qualified candidates for consideration; however, Democrat members of the LEC were not satisfied with the recommendation and sought out their own candidate so they could control the appointment.
Following this latest display of unethical behavior, I issued this statement:
"Illinois is well-known as a hotbed of political corruption, so it should surprise no one that Democrats did an end-run around statutory processes and hand-picked the individual they would like to see in the role of Legislative Inspector General. They brought this candidate forward without having the individual go through the statutory vetting process, a process that Mr. McCuskey himself recognized as necessary to ensure unfettered independence and qualification.
"There was no transparency or citizen oversight whatsoever with how the Democrats rammed through their hand-picked choice for Legislative Inspector General. Illinois desperately needs an independent LIG, and what transpired in the Senate today completely undermines vital review measures that ensure our LIG is not beholden to any person or any political party."
Bipartisan legislation filed to allow DCFS workers to carry mace
Following another murder of a DCFS employee, a bipartisan panel of legislators from both the Senate and the House have filed new legislation designed to help these employees protect themselves. I am a proud co-sponsor of this legislation.
Senate Bill 4165 and House Bill 5688 both would allow DCFS employees to carry mace or pepper spray for defensive purposes while investigating child abuse and neglect. The employees would be required to complete a short training program from the Illinois State Police on the proper use of pepper spray.
The legislation is in response to the murders of two DCFS investigators. Deidre Silas was stabbed to death in January at a home in Thayer during the course of an investigation. In February 2018, Pamela Knight died in the hospital from injuries sustained during a brutal attack that occurred while she was trying to take a child into protective custody.
Lawmakers unveiled their bills at a press conference at the Illinois State Capitol on Feb. 15. They were joined by other lawmakers from across the state, along with former DCFS employees who spoke in support of the legislation.
Senators distribute 'Valentines for Seniors' Cards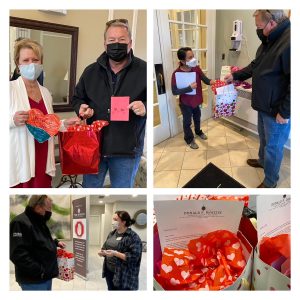 I cannot adequately express my gratitude over the success of this year's "Valentines for Seniors" Card Drive.
I asked constituents from public and private schools, church groups, scouting organizations and other groups to create homemade cards to be delivered to nursing homes, assisted living centers, and long-term care facilities across the 33rd District. My goal was to collect and distribute over 5,000 cards.
Due to the generous spirit of those living in the 33rd District, we crushed that goal, and in the end, my staff and I distributed 6,950 cards to 31 different centers. Thank you, thank you, thank you for your participation. The smiles you helped deliver were priceless!
Spring and Summer events calendar coming together
My staff and I are in the process of organizing a comprehensive list of spring and summer community outreach events. Mark you calendars now for these events, and visit www.SenatorDeWitte.com for more information as the event dates approach:
Mobile Secretary of State's Office (DMV Services): April 26, 10:00-2:00 in West Dundee
Shred Truck & Food Collection Drive: May 14, 9:00-11:00 in St. Charles
Unclaimed Property Day (I-CASH) with Treasurer's Office: May 25, 4:00-7:00 in St. Charles
Senior Fair: September 16, 10:00-1:00 in Crystal Lake
Many additional events will be added. I am also working on a Youth Advisory Council meeting in the spring, several traveling office hours events, and a First Responders Roundtable event.