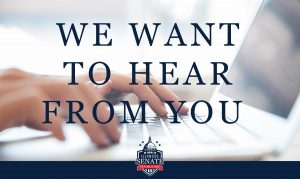 As the legislature begins vetting bills for 2022, State Senator Donald DeWitte (R-St. Charles) has created a community survey to gather input from residents of the 33rd Senate District in Kane and McHenry Counties.
"The Omicron surge has delayed the start of our in-person work at the Capitol, and I would like to take advantage of this time to connect with constituents and find out what their concerns and priorities are," said Sen. DeWitte. "I am in the process of finalizing my legislative agenda for the year, and I want to ensure my agenda aligns with the priorities that are important to the people I represent."
Constituents can access the survey digitally at https://www.ilsenategop.org/dewitte-survey-2022. Paper copies of the survey are also available and can be requested by calling the DeWitte legislative office at (847) 214-8245. The survey includes 14 multiple choice and open answer questions.
"My 2022 survey covers a variety of timely topics, and the results will help determine my support or opposition of policy initiatives that are presented to the Illinois Senate," added Sen. DeWitte. "Of course, if there is an issue that is not included in the survey that constituents want to bring to my attention, I welcome additional engagement via email."
Constituents can email Senator DeWitte's office through the contact form found in the upper righthand corner of his website, SenatorDeWitte.com.