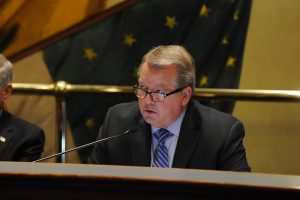 State Senator Donald DeWitte (R-St. Charles) is partnering with downstate Senator Jil Tracy (R- Quincy) on legislation that strengthens the enforcement mechanism for ethical standards by state lawmakers. In addition to serving in the Senate Republican Caucus and on the Senate Ethics Committee, Sen. Tracy is the ranking Republican on the Legislative Ethics Commission (LEC).
Senate Bill 3030 is comprehensive legislation that addresses the most glaring problems with ethics enforcement in Illinois. Among other things, SB 3030 would:
Require LEC meetings to be open to the public, and have the meetings publicly posted;
No longer allow elected officials to serve as members of the LEC; and
Provide the Legislative Inspector General (LIG) with subpoena power to investigate ethics complaints against members of the Illinois General Assembly.
"The provisions of this bill address the main reasons why Ms. Pope resigned, and will provide the next LIG with the tools needed to effectively crack down on the ethics epidemic in state government," said Sen. DeWitte. "It's time for Democrats to get serious about ethics reform and allow for real, substantive solutions that will clean up Springfield. This is not the first comprehensive ethics bill that has been filed. I hope this one is assigned a hearing and is brought to the Senate floor for an up or down vote."
The position of LIG is currently vacant in Illinois, even though outgoing LIG Carol Pope gave LEC members more than six months' notice of her intention to resign from the post. An independent, bipartisan committee brought forward a unanimous recommendation for a replacement, but Democrats on the LEC refused to support the individual. Instead, they brought forward their own hand-picked candidate for a replacement. That candidate failed to receive the support of a majority of the LEC members.
"The antics shown on the LEC over the last six months is proof of why legislators should not sit on the ethics commission," Sen. DeWitte said. "Legislators cannot police themselves. They've shown that time and time again. SB 3030 needs to be heard and voted on, and Democrats need to go on the record with their support or non-support of real ethics reform."