In-person session delayed due to Omicron surge
Lawmakers won't return to Springfield until at least February following the cancellation of eight of the first nine regularly scheduled session days for the month of January.
While in-person session won't be taking place this month, Senate committees are still scheduled virtually to allow for the hearing of legislation. I will use my Facebook page (Facebook.com/SenatorDeWitte) to keep constituents up to date on committee hearings and bills of interest, and encourage everyone to stay informed. If bills that interest you come up for a hearing, you have the ability to file witness slips in support or opposition of proposals making their way through the committee process.
Legislators are already working against a tight deadline with the spring adjournment scheduled for April 8, 2022.
DeWitte champions new ethics reform bill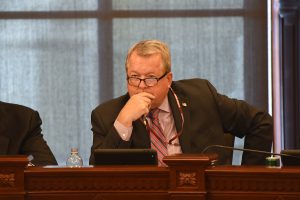 This year I am partnering with downstate Senator Jil Tracy (R- Quincy) on legislation that strengthens the enforcement mechanism for ethical standards for state lawmakers. In addition to serving in the Senate Republican Caucus and on the Senate Ethics Committee, Sen. Tracy is the ranking Republican on the Legislative Ethics Commission (LEC).
Senate Bill 3030 is comprehensive legislation that addresses the most glaring problems with ethics enforcement in Illinois. Among other things, SB 3030 would:
Require LEC meetings to be open to the public, and have the meetings publicly posted;
No longer allow elected officials to serve as members of the LEC; and
Provide the Legislative Inspector General (LIG) with subpoena power to investigate ethics complaints against members of the Illinois General Assembly.
The position of LIG is currently vacant in Illinois, even though outgoing LIG Carol Pope gave LEC members more than six months' notice of her intention to resign from the post. An independent, bipartisan committee brought forward a unanimous recommendation for a replacement, but Democrats on the LEC refused to support the individual. Instead, they brought forward their own hand-picked candidate for a replacement. That candidate failed to receive the support of a majority of the LEC members.
SB 3030 addresses the main reasons why Ms. Pope resigned, and will provide the next LIG with the tools needed to effectively crack down on the ethics epidemic in state government. This bill needs to be heard and voted on, and Democrats need to go on the record with their support or non-support of real ethics reform."
Senator DeWitte offers 2022 legislative survey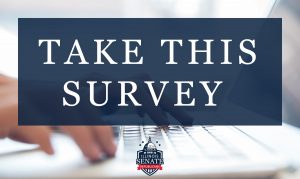 With the delay of in-person session, I have created a legislative survey that includes 14 multiple choice and open answer questions. I will read every response, so I hope you'll take a few minutes to weigh in on the variety of issues I have included in this year's survey.
You can access the survey digitally at https://www.ilsenategop.org/dewitte-survey-2022. Paper copies of the survey are also available, and can be requested by calling my legislative office at (847) 214-8245.
Of course, if there is an issue that is not included in the survey that you want to bring to my attention, you are always welcome to call my office or send me an email through the contact form found in the upper righthand corner of my website, SenatorDeWitte.com.
Valentines for Seniors card drive underway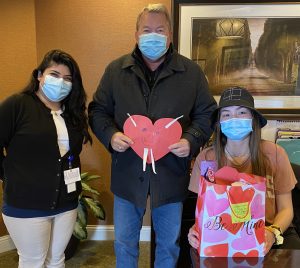 Last week I launched my second annual Valentines for Seniors card drive, and cards and well-wishes are already beginning to trickle in. I'm shown in the photo to the right delivering valentines during the 2021 drive.
Last year my staff and I delivered almost 4,000 valentines, and this year our goal is to deliver more than 5,000 cards, poems, drawings, and letters to seniors in nursing homes, assisted living facilities and long-term care centers across the 33rd Senate District. I hope you'll take a few minutes to help us reach our goal.
Valentines can be dropped off or mailed to my district office between now and Feb. 7 (641 S. 8th Street, West Dundee, IL, 60118). Thank you in advance for your participation. Let's make this Valentine's Day extra special for District 33 seniors!
Free COID-19 rapid tests available through USPS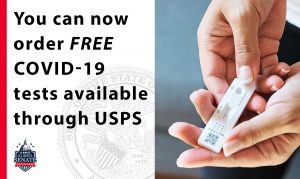 A limited number of home COVID-19 tests are now available free of charge.
Beginning January 18, Illinoisans can order four free COVID-19 home rapid tests through a program offered through the United States Postal Service. As demand for rapid tests continues to grow, people can simply fill out a short form to have four tests mailed to their address. Use this link to order your tests: COVID Home Tests | USPS.
Governor Pritzker breaks promise to Illinoisans for 5th time in signing of subcircuit court maps
On Friday evening, Jan. 7, while most people were heading home from work for the weekend, the Governor once again broke a campaign promise to Illinois voters by signing his fifth gerrymandered map into law, this time pertaining to subcircuit court maps.
On Jan. 5, the Legislature convened for one day as Democrat lawmakers rammed through a partisan gerrymander of judicial sub-districts, an action by the legislative branch of government that forces unwanted changes on a separate and co-equal branch of government.
According to news reports, Marcia Meis, Director of the Administrative Office of the Illinois Courts, sent a memo to the Illinois Chief Judges two days following the vote saying the subcircuit legislation was railroaded through the General Assembly and is an "unmitigated disaster."
DCFS nightmare continues
Problems within the Illinois Department of Children and Family Services (DCFS) continue, and the Director, Marc Smith, is now being held in contempt of court following the mismanagement of rights to children in the care of DCFS.
Three times in eight days, a Cook County Juvenile Court judge handed down a contempt-of-court order against Smith for disobeying court orders to properly place children in proper care.
DCFS could be faced with hefty fines, costing taxpayers thousands of dollars until Smith complies with the judge's orders. He was appointed to the position by Gov. JB Pritzker in 2019. Sadly, this is yet another failed commitment by the Pritzker Administration.
Tax Time! Where's my money?
Illinoisans can begin filing their 2021 tax returns at the end of this month. This year's tax filing season will begin Jan. 24, which is 17 days earlier than last year.
The IRS is warning with the resurgence of COVID-19, there could be some refund or processing delays. To try and avoid delays, IRS Commissioner Chuck Rettig says to:
Avoid filing a paper return and set up a way to have your refunds directly deposited.
Report COVID-19 Economic Impact and advance Child Tax Credit payments. Doing this correctly you can avoid delays.
The deadline for filing individual tax returns is April 18. The IRS says they anticipate most taxpayers to receive funding within 21 days of electronically filing.