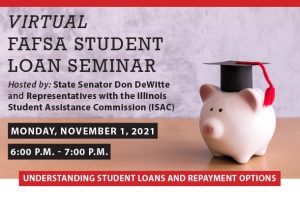 State Senator Donald DeWitte (R-St. Charles) is partnering with the Illinois Student Assistance Commission (ILAC) on November 1 for a free online seminar on applying for federal and state student financial aid and options for repaying student loans. The one-hour webinar starts at 6:00 PM.
"College is expensive, and this online seminar provides valuable information to help students and families make those costs more manageable," said Sen. DeWitte. "This event is tailored for current college students, high school students exploring their collegiate options, and families that want to learn more about available financial aid."
Specifically, the webinar outlines the financial aid process and provides insight on how financial aid works, how to apply for it, student eligibility, and how it can be used to help pay for college. It introduces the Free Application for Federal Student Aid (FAFSA) and the Alternative Application for Illinois Financial Aid, along with summarizing state and federal aid programs for undergraduate and graduate-level students.
Because this is an online event, registration is required. Information on how to join the webinar will be sent to registrants prior to the November 1 event. To register, please visit: https://www.ilsenategop.org/sen_dewitte_virtual_fafsa_student_loan_seminar.
For additional information about this free webinar or for assistance with registration, please contact Senator DeWitte's office at (847) 214-8245, or contact Paige at PBuente@sgop.ilga.gov.