Court ruling supports JCAR Republicans' claim of Pritzker, ISBE overreach on school recognition status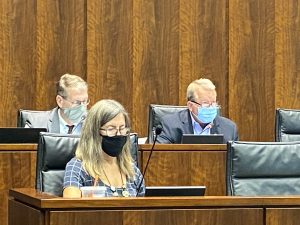 As you may recall, during the September meeting of the legislature's Joint Committee on Administrative Rules (JCAR), the committee expressed serious concerns over the lack of due process afforded to nonpublic schools prior to ISBE stripping a school of its recognition status. Whereas public schools that reject the Governor's pre-K-12 mask mandate are placed on probation and provided with a timeline to respond and/or comply, nonpublic schools can be stripped of recognition status without any due process.
Democrats and Republicans who serve on the panel were unanimous in our September directive that ISBE place their policies for mask enforcement in administrative rule and that ISBE provide clarifying rules that outline processes the agency will utilize prior to the revocation of a school's recognition status.
A court ruling out of Kendall County last week supports our assertion that it is inappropriate for ISBE to strip nonpublic schools of their recognition status without due process. The ruling, handed down by Kendall County Judge Stephen Krentz, orders ISBE to temporarily reinstate Yorkville's Parkview Christian Academy's state recognition while their challenge to the mask mandate works its way through the court system. Click here to read Judge Krentz' ruling.
In the case of Parkview Christian Academy, state recognition was stripped on the same day the school received notification of non-compliance with the Governor's mask mandate. Loss of state recognition leads to consequences such as the revocation of students' ability to participate in the Invest in Kids scholarship program and the suspension of a school's ability to participate in Illinois High School Association and Illinois Elementary School Association sanctioned sports, among others.
Our job on JCAR is not to set policy. It is to ensure that agencies are implementing laws through administrative rules that follow the intent of lawmakers when bills are passed, or in this case, when a mask mandate for schools is handed down by the Governor. Our oversight over the rulemaking process ensures agencies do not arbitrarily enforce the provisions of a law or mandate, and act within legislative intent and within the boundaries of state statute.
With regard to the pubic/nonpublic school issue, this is not a debate about masks; it is about process. We need to ensure that all schools and school children are treated equally and fairly, and that school recognition outcomes are not dependent upon what school a child attends.
JCAR's next meeting is scheduled for Tuesday, October 19. At this meeting we expect to see clarifying rules that provide for due process for nonpublic schools brought forward by ISBE, because school students and their families deserve a level playing field.
Senator DeWitte enlists help from two FBI cybercrimes experts for Cybersecurity Town Hall

On Thursday, Oct. 14, I am partnering with two cybercrimes experts from the FBI to present a free online session on how to keep individuals and families safe online.
Cybercriminals are always finding new ways to take advantage of people of all ages, so I'm bringing together agents with decades of cybersecurity expertise to provide helpful tips. Topics to be discussed include social media exploitation, common online scams and hacking schemes, protecting children online, and how to spot and prevent online security threats. A period for Q & A will also be provided.
Expert presenters include:
Jay Patel: as a Supervisory Special Agent (SSA) with the FBI, Patel has over 15 years of cyber security experience and has investigated complex National Security Cyber intrusion investigations involving US Government, Nuclear Power Companies and Defense Contractors.  SSA Patel also has experience leading high profile international counterterrorism investigations involving homegrown violent extremists. Prior to becoming an SSA, Patel provided a wide range of management consulting services to various business sectors in New York.  Some of the services provided were penetration testing, internal and external audits, and implementation of enterprise-wide IT security and governance framework to identify and mitigate risks. He holds a Master's of Science degree from Stevens Institute of Technology and a Bachelor's of Science degree in Computer Engineering from New Jersey Institute of Technology.
Matt Osegard: as an agent in the FBI since 2004, Osegard has worked on and led a wide variety of Counterintelligence and Cyber matters as a Special Agent and Supervisory Special Agent. He is currently the Supervisor of FBI Chicago's Criminal Cyber squad; FBI Chicago's Cyber Task Force; and FBI Chicago's Regional Computer Forensics Laboratory. Prior to this assignment, he served as the Unit Chief of the FBI's National Counterintelligence Task Force at FBI Headquarters.
Registration is required for this virtual event, and instructions for how to join the Zoom meeting will be shared with participants prior to the Oct. 14 event. Registrations can be made at https://www.ilsenategop.org/sen_dewitte_virtual_cybersecurity_town_hall, or by calling my office at (847) 214-8245.
Senate Republican Caucus launches listening tour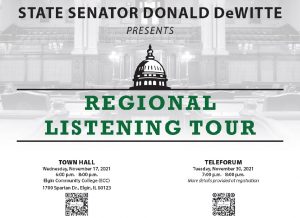 The Senate Republican Caucus is continuing its statewide listening tours with several October and November dates across the state. Illinoisans will have an opportunity to attend a regional event in or near their home town, and will also be offered an opportunity to participate in a regional teleforum featuring Senators from their area.
I will be hosting a town hall meeting on Wednesday, November 17 at 6:00 p.m. at Elgin Community College. Senate Minority Leader Dan McConchie and Deputy Senate Minority Leader Sue Rezin will be joining me at this event. In addition to the town hall meeting, we will co-host a teleforum on Tuesday, November 30 at 7:00.  RSVPs for these events are appreciated. To reserve a spot at the town hall meeting click here, and to RSVP for the teleforum, click here.
Still time to apply for small business Back to Business grants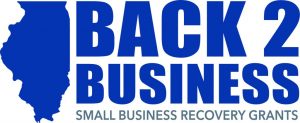 Last week I hosted a Back to Business grant assistance event at my West Dundee office. Grant experts from the Illinois Department of Commerce & Economic Opportunity (DCEO) met one-on-one with local small business owners and helped them put their applications together. It was a great event and I appreciate those who took advantage of the free assistance. My thanks also go out to the DCEO employees who came to my office to provide the help to my constituents.
The deadline for receipt of grant applications is quickly approaching, so DO NOT DELAY in getting those applications submitted! Small business owners who want a share of $250 million in Back to Business grant funds must submit an application to DCEO by October 11. The first group of grant recipients was announced this week, and I'm pleased to announce that five businesses within the 33rd Senate District have already been approved to receive funds. Congratulations to BG Hospitality Group, LLC, Livia-Italian Eatery, LLC, Nuova Italia West Corp, Elgin Hospitality Group, LLC, and Gruppo F4 Inc. Together, these small businesses received over $400,000 in grant funds.
The following documentation is required when submitting an application:
Business owner ID (ITIN business owners eligible)
Business 2019 AND 2020 federal tax returns
Two (2) business bank statements— one from the period April through December 2020, and also the most recent bank statement
Grants range from $5,000-$150,000 per business, and can be used to cover a wide range of operations/staff/overhead costs. Hotel grants can be as high as $250,000.
For full eligibility requirements and other additional information about the program, visit: https://www2.illinois.gov/dceo/SmallBizAssistance/Pages/B2B.aspx?gclid=Cj0KCQjws4aKBhDPARIsAIWH0JUFi916f2tsk3xhor_ghzZt1-18wsJsj3fYSDo3tyvnJZHcosUdeJwaAtuKEALw_wcB