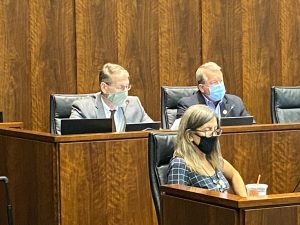 A court ruling out of Kendall County this week supports a recent assertion by Republican members of the Joint Committee on Administrative Rules (JCAR), who say it is inappropriate for the Illinois State Board of Education (ISBE) to strip nonpublic schools of their recognition with the state without due process.
The ruling by Kendall County Judge Stephen Krentz, which ordered ISBE to temporarily reinstate Parkview Christian Academy's state recognition, comes as schools across Illinois are losing state recognition for implementing different rules than those under the Governor's executive orders.
"During our September JCAR meeting, the committee expressed serious concerns over the lack of due process afforded to nonpublic schools prior to ISBE stripping a school of its recognition status," said State Senator and JCAR member John Curran (R-Downers Grove). "Public schools are placed on probation and are given a defined timeline to respond, yet nonpublic schools are not given that same consideration. This is not about masks; it is about process. We need to ensure that all schools and school children are treated equally and fairly, and that school recognition outcomes are not dependent upon what school a child attends."
In the case of Parkview Christian Academy, which operates two campuses in Yorkville, the schools' official recognition was stripped on the same day it received notification of non-compliance with the Governor's mask mandate. Loss of state recognition leads to consequences such as the revocation of students' ability to participate in the Invest in Kids scholarship program and the suspension of a school's ability to participate in Illinois High School Association and Illinois Elementary School Association sanctioned sports, among others.
"You cannot hold nonpublic schools to a different standard than public schools—that's just simply not fair to those students," said State Senator and JCAR member Donald DeWitte (R-St. Charles). "This is the same Governor who took aim at nonpublic schools earlier this year when he tried to significantly reduce funding to the Invest in Kids tax scholarship program, which allows kids in underperforming public schools to attend a higher-achieving nonpublic school. And now, through this latest example of overreach, the Governor and ISBE are once again attacking these schools and their students by denying them due process. It's just plain wrong."
At its September meeting, members of JCAR asked ISBE to bring amended rules to the panel that afford due process to nonpublic schools before removal of recognition takes place. JCAR's October meeting is set for Tuesday, October 19.
"To simply take away a school's status overnight with no warning is not acceptable," said Senate Republican Deputy Leader and JCAR member Sue Rezin. "The Governor's continued mismanagement and overreach of our schools has gotten out of hand. In the coming weeks, I hope to see new rules from ISBE that level the playing field for public and nonpublic schools."