Revised energy legislation passes in Senate and is signed into law
As the majority party negotiated energy legislation that makes Illinois a cleaner energy state and allows our nuclear fleet to remain operational, I hoped the bill that ultimately came before us achieved our clean energy goals without becoming an overly political tool to gain favor with specific constituencies. Unfortunately, in the end, ratepayers took a distant back seat to the powerful lobbies of environmentalists and union labor. No one could pin down what the actual rate hike will be. The Governor suggested 80 cents per month, other groups suggested the monthly increase could be in the $4 to $7 per month range, and AARP estimated the cost to ratepayers could be as high as $15 per month.
Through Senate Bill 2408, which was passed in the Senate on Monday and signed into law on Wednesday, ratepayers will be on the hook for the largest utility rate increase in the history of Illinois, and municipalities that participate in the Prairie State coal plant co-op, including St. Charles, Geneva, and Batavia in the 33rd District, will be stuck paying twice for energy in the future— once for debt payments for their investment in Prairie State even though that plant will be closed, and second, for energy that will have to be purchased elsewhere. Every resident of the 33rd District who relies on ComEd for energy will see a rate hike through SB 2408, and an estimated 81,000 of my constituents who live in the tri-cities will be paying twice for energy.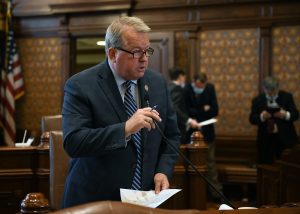 Still, my "no" vote was a difficult one for me, because I fully support a cleaner energy future for Illinois. But as the voice for the 33rd District, I could not support a bill that completely ignored the financial realities for people who live in Kane and McHenry Counties. The final bill goes too far, and clearly was written to placate the environmental and union labor lobbies at the expense of ratepayers and municipalities in the Prairie State co-op. I shared my feelings about the bill on the Senate floor during the debate, and you can listen to my comments here.
I am also extremely alarmed by a provision in SB 2408 that gives private companies the power to invoke eminent domain in nine Illinois counties. Eminent domain was never meant to be extended for private use, and its inclusion in SB 2408 sets a very dangerous precedent. The bill also cherry-picks which utilities are subject to heightened ethics regulations and which ones are not. Given everything we've learned about the ComEd pay-to-play scandal, so shouldn't ethics within our energy institutions be strong and equal across the board?
Finally, through this bill, the use of fossil fuels are eliminated, which is an admirable goal. However, the legislation provides no plan to backfill that energy source so that blackouts/brownouts can be prevented in the future.
Senator DeWitte to provide free application assistance to small businesses for Back to Business grants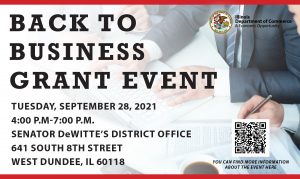 Small business owners wanting to apply for their share of $250 million in Back to Business grant funds must submit an application to the Illinois Department of Commerce & Economic Development (DCED) by October 11. To assist small businesses in the 33rd District with getting paperwork submitted, on Tuesday, September 28 I will be hosting a B2B grant assistance event at my West Dundee office. Small business owners can simply walk in between 4:00-7:00 p.m. to receive one-on-one assistance from a grant expert from DCED. Representatives from DCED can help ensure applications are in proper form and include all required documentation.
The following documentation (digital copies are preferred) is required for the application and should be brought to the assistance event:
Business owner ID (ITIN business owners eligible)
Business 2019 AND 2020 federal tax returns
Two (2) business bank statements— one from the period April through December 2020, and also the most recent bank statement
Grants will range from $5,000-$150,000 per business, and can be used to cover a wide range of operations/staff/overhead costs. Hotel grants can be as high as $250,000.
For full eligibility requirements and other additional information about the program, visit: https://www2.illinois.gov/dceo/SmallBizAssistance/Pages/B2B.aspx?gclid=Cj0KCQjws4aKBhDPARIsAIWH0JUFi916f2tsk3xhor_ghzZt1-18wsJsj3fYSDo3tyvnJZHcosUdeJwaAtuKEALw_wcB
Senate Republicans on JCAR push for clarity from ISBE on school recognition revocations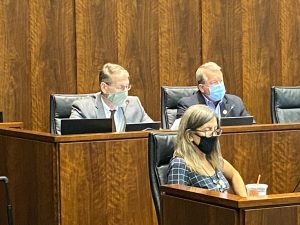 I sit on the Joint Commission of Administrative Rules (JCAR), a legislative oversight panel that includes six Republicans and six Democrats. This week we had an opportunity to question the Illinois State Board of Education (ISBE) about their perceived authority to revoke a school's recognition status and withhold state funding for non-compliance with mask mandates. As ISBE representatives were questioned, Kristen Kennedy, Deputy Legal Officer for ISBE, said the agency did not plan to participate in JCAR's rulemaking process, and instead would rely on authority she believes exists through a court decision that found that executive orders for mask mandates at school were lawfully issued and are enforceable.
Our job on JCAR is to ensure that agencies are implementing laws through administrative rules that follow the intent of lawmakers when bills are passed, or in this case, when a mask mandate for schools is handed down by the Governor. Our oversight over the rulemaking process ensures agencies do not arbitrarily enforce the provisions of a law or mandate, and act within legislative intent and within the boundaries of state statute. It is also important to note that our discussion with ISBE was not about masks. It was about process and how ISBE is enforcing the Governor's executive order.
Through our deliberations, we determined there is a concern that policy outside of rule may exist, and I joined other members of the panel in asking ISBE to place their policies for mask enforcement in administrative rule. Specifically, ISBE was asked to provide clarifying rules that outline processes the agency will utilize prior to the revocation of a school's recognition status. ISBE was asked to update JCAR within 30 days.
I made a statement regarding the issue at the start of the meeting. You can listen to my remarks here.
Ethics bill clears final hurdle
During the spring session, members of the Senate and House sent an ethics reform bill (Senate Bill 539) to the Governor. Rather than sign the bill, the Governor issued a narrow amendatory veto, which the Senate accepted during a session day over the summer. The House, however, failed to garner to 2/3 majority vote required to accept the amendatory language, which would ordinarily kill the bill. However, during a motion to reconsider that vote last week, the House did accept the veto language. Upon the acceptance of the amendatory veto language by the House, HB 539 was returned to the Governor for certification.
I supported SB 539 during the spring session and voted to accept the amendatory veto, but admit there is much more work to be done. While the provisions of SB 539 will hold elected officials to a higher ethical standard and will empower the Legislative Inspector General (LIG) to independently initiate investigations of alleged misconduct, additional reforms should include providing the LIG with subpoena powers, a provision that allows the Illinois Attorney General the ability to use a statewide grand jury to investigate, indict, and prosecute public corruption crimes, and an even stronger legislator-to-lobbyist revolving door.
Senate Republican Caucus launches listening tour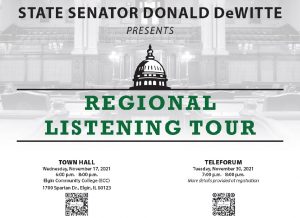 The Senate Republican Caucus is kicking off a statewide Listening Tour with September dates set in Dixon, Peoria, Morton, and Quincy. Other regional listening tours are scheduled for October and November across the state.
Illinoisans will have an opportunity to attend a regional event in or near their home town, and will also be offered an opportunity to participate in a regional teleforum featuring Senators from their area.
I will be hosting a town hall meeting on Wednesday, November 17 at 6:00 p.m. at Elgin Community College. Senate Minority Leader Dan McConchie and Deputy Senate Minority Leader Sue Rezin will be joining me at this event. In addition to the town hall meeting, we will co-host a teleforum on Tuesday, November 30 at 7:00.  RSVPs for these events are appreciated. To reserve a spot at the town hall meeting click here, and to RSVP for the teleforum, click here.