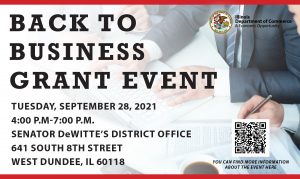 State Senator Donald DeWitte (R-St. Charles) invites small business owners from the 33rd District to receive free help filling out applications for the state's Back to Business grant program.
"Small businesses are still struggling to recover from the devastation they endured during the height of the COVID-19 pandemic, and these grants can help our small business owners get back to serving their customers," said Sen. DeWitte. "The application deadline for Back to Business grants is Monday, October 11, so business owners should not delay in applying for these funds."
Senator DeWitte's Free Back to Business Grant Application Assistance Event
Tuesday, September 28
4:00-7:00 PM
Senator DeWitte's District Office
641 S. 8th Street, West Dundee
Business owners can walk in and meet with an expert from the Illinois Department of Commerce & Economic Development to receive individualized assistance with applying for a grant. The following documentation (digital copies are preferred) is required:
Business owner ID (ITIN business owners eligible)
Business 2019 AND 2020 federal tax returns
Two (2) business bank statements— one from the period April through December 2020, and also the most recent bank statement
"Small business owners should not pass up this opportunity to receive hands-on assistance in getting this paperwork in order and applying for the Back to Business grant," added Sen. DeWitte. "A total of $250 million in recovery funds are available for distribution to hard-hit businesses."
Grants will range from $5,000-$150,000 per business, and can be used to cover a wide range of operations/staff/overhead costs. Hotel grants can be as high as $250,000.
Additional grant information:
$250 million to small businesses across the state that experienced losses in 2020 due to COVID-19, including the following set-asides:

$100 million – Businesses located in Disproportionately Impacted Areas
$30 million – Arts and Entertainment businesses that didn't receive Shuttered Venue Operators grants
$25 million – Restaurants and taverns that didn't receive assistance from the Restaurant Revitalization Fund
$25 million – Hotels
$25 million – Businesses that didn't receive a BIG grant due to exhaustion of funds
For full eligibility requirements and other additional information about the program, visit: https://www2.illinois.gov/dceo/SmallBizAssistance/Pages/B2B.aspx?gclid=Cj0KCQjws4aKBhDPARIsAIWH0JUFi916f2tsk3xhor_ghzZt1-18wsJsj3fYSDo3tyvnJZHcosUdeJwaAtuKEALw_wcB