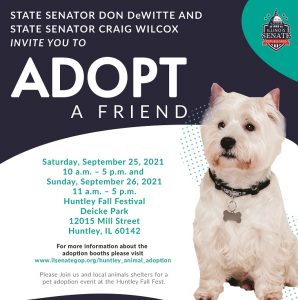 State Senators Donald DeWitte (R-St. Charles) and Craig Wilcox (R-McHenry) are partnering for a two-day pet adoption event this weekend during the Huntley Fall Festival in Huntley. Volunteers from the Huntley Animal House Shelter will join the Senators and help connect pets with their new forever homes.
Senator DeWitte and Senator Wilcox's Pet Adoption Event at Huntley Fall Fest
Deicke Park, intersection of Route 47 and Mill Street, Huntley
10:00 a.m. – 5:00 p.m. Saturday, Sept. 25
11:00 a.m. – 5:00 p.m. Sunday, Sept. 26
"The Huntley Animal House Shelter is a well-known animal shelter in this region, and I'm pleased to be partnering with them for this pet adoption event," said Sen. DeWitte. "I would invite anyone who is considering getting a pet to visit our booth at Huntley Fall Fest."
Animals up for adoption will be available to see and enjoy at the event, and prospective new pet owners can learn about the adoption process. Pets will not leave with new owners on the day an application is submitted.
"As the owner of a rescued Lab/Whippet mix myself, I know firsthand how wonderful an adopted pet can be," Sen. DeWitte said. "In our case, our Rikki rescued us every bit as much as we rescued him. He is a beloved member of our family."