Gov. signs DeWitte legislation that strengthens reporting requirements for teachers convicted of felony crimes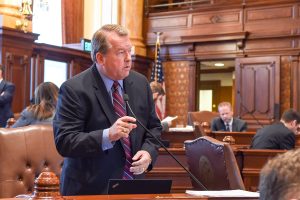 Legislation I sponsored this year that strengthens reporting requirements for teachers convicted of felony crimes was signed by the Governor on Friday. Prior to being signed, Senate Bill 2357 earned unanimous approval in the Senate and House.
As the statutes are currently written, the onus falls to the State Superintendent to alert the Teacher Retirement System (TRS) when they learn that an educator has been convicted of this type of crime. It makes more sense that this responsibility falls to the local level and to local school boards, where there is a much better chance that none of these cases falls through the cracks. It is an important step we can take to help ensure we're putting quality teachers in our classrooms, and reaffirms that having a high-quality teacher workforce is of paramount importance in the State of Illinois.
Official Census numbers don't align with Democratic-drawn maps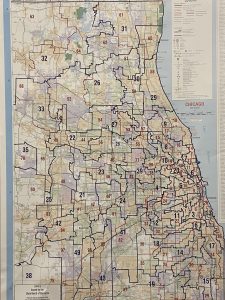 Earlier this year, instead of waiting to use accurate U.S. Census data to draw legislative maps, Democrats forged ahead with partisan-drawn maps by using population estimates from the American Community Survey (ACS). These estimates have been proven to be unreliable for the tedious and complex map-drawing process. When official U.S. Census Bureau data was released last week, Senate Republican's claims were confirmed—the Democrat-drawn legislative redistricting maps violate the U.S. Constitution and federal law, as well as comparable provisions of the Illinois Constitution.
The statutes require individual legislative districts to be relatively uniform in population. Ideally, since there are 59 individual Senate districts, the population of the state should be divided by 59 to create the number of people who should live in each Senate District. Along those same lines, since there are 118 House Districts, the state's population should be divided by 118 to create the estimated population of each House District.
An analysis of the maps shows a 30 percent population deviation between some districts, which is three times the maximum allowable limit according to federal law (the law allows for a 10% swing). The data also show underrepresentation of minority populations in several Illinois communities. I believe these flaws render the maps unlawful and unusable. Republicans have filed a lawsuit, McConchie v. Illinois, asking the courts to rule the maps as unconstitutional. With this new data, it is clear the maps violate federal law.
Senate and House Republican Leaders file motion for summary judgment on maps lawsuit
Following the release of official U.S. Census data that prove the Democrat-drawn legislative maps are unconstitutional, on Friday Senate Republican Leader Dan McConchie (R-Hawthorn Woods) and House Republican Leader Jim Durkin (R-Western Springs) filed a motion in federal court for summary judgment on their maps lawsuit.
The motion for summary judgment outlines that the facts and evidence presented in the case are so overwhelming that no real dispute still exists and requests an immediate ruling because a trial is no longer necessary to determine the case. If the summary judgment motion is granted by the court, the legislation Governor Pritzker signed that includes the maps as drawn by the majority party (HB 2777) will be declared unconstitutional and void without a lengthy trial. The nullification of the maps provides an opportunity for the process to go to a bipartisan commission.
While the court continues to consider the case, Senate and House Democrat leaders have called legislators back to Springfield on Tuesday, August 31 to "fix" the maps. However, they do not have the legal authority to redraw the maps because:
The June 30 deadline has passed; therefore, under the Constitution, the process should now head to a bipartisan commission; and
Since the original map was already signed into law, the General Assembly loses jurisdiction to amend the map.
Governor Signs Prior Authorization Health Care Bill Co-Sponsored by DeWitte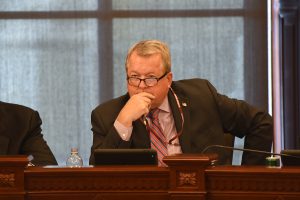 There are bad actors within the insurance industry who take advantage of loopholes in prior authorization rules to delay or deny paying for services their clients are entitled to. This week, bipartisan legislation I co-sponsored that reforms health care prior authorization requirements and leads to faster access to health care was signed into law. As signed by the Governor this week, the provisions of House Bill 711 also hold insurance companies accountable through timelines for approvals, disciplinary action for bad practices, and improved transparency. The provisions of HB 711 take effect on January 1, 2022.
Specifically, HB 711 includes the following reforms:
Improves approval timelines by providing that prior authorization approvals will remain valid for six months, and 12 months for chronic and long-term diseases to ensure continuity of care for patients.
Establishes a robust system for prior authorization denials which includes the reasons for the denial and instructions on how to appeal.
Sets guidelines for individuals designated to review prior authorization applications. Determinations must now be done by physicians with the same or similar areas of medicine.
Establishes discipline measures for infractions.
Increases transparency by requiring insurers to maintain a list of services for which prior authorization is required.
Reduces the number of medically necessary services that are subjected to prior authorization requirements.
Requires that a decision must be made no later than 5 calendar days after obtaining the necessary information.
Summer events continue in 33rd District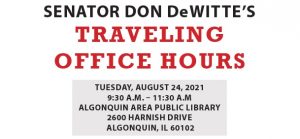 My staff is continuing to put the finishing touches on a comprehensive calendar of summer and fall events in the 33rd Senate District. Mark your calendars now for these upcoming events:
Tuesday, Aug. 24: Traveling Office Hours, Algonquin Public Library, 2600 Harnish Drive, Algonquin, 9:30-11:30 AM
Thursday, Sept. 16: Cybersecurity and Online Safety Event, 6:30- 8:30 PM, additional details coming soon
Tuesday, Sept. 28: Traveling Office Hours, Lake in the Hills Village Hall, 600 Harvest Gate, Lake in the Hills, 9:30-11:30 AM
Tuesday, Oct. 18, Traveling Office Hours, St. Charles Public Library, 1 S. 6th Ave, St. Charles, 9:30-11:30 AM
Friday, Nov. 12: Senior Fair, McHenry County College, 9:30-11:30 AM, additional details coming soon
Tuesday, Nov. 16, Traveling Office Hours, Gail Borden Library's South Elgin Branch, 127 S. McLean Blvd, South Elgin, 10:00-12:00
CDC now recommending COVID booster shot
The U.S. Centers for Disease and Prevention is now recommending people with weakened immune systems who have had the Pfizer or Moderna COVID-19 vaccine get a booster shot.
CDC officials say the third shot is driven by concerns about the delta variant. According to the Illinois Department of Public Health (IDPH), individuals who are receiving treatment for cancer, taking medications that weaken the immune systems, organ or stem cell transplant recipients, individuals with advanced or untreated HIV infection, and other conditions, are eligible.
Federal health officials are preparing to roll the third shot out in September. Individuals should get the same brand of vaccine that you received for your first and second shots. To see if you qualify for the booster shot, a full list of conditions and guidelines can be found here.
Jobs! IDOT to open application process for Snow Bird Program
The Illinois Department of Transportation (IDOT) is looking for qualified individuals to apply for their annual "snowbird" program. Each year, several seasonal snow-and-ice removal positions open up for temporary full-time employment to help keep the roads cleared throughout the winter.
Snowbirds are required to promptly respond to emerging weather situations and stay alert to work in emergency conditions at any time, including nights, weekends, and holidays. Applicants must have a commercial driver's license and submit to a criminal background check. Each winter, IDOT has approximately 1,800 plows to put into service, providing coverage to nearly 16,000 miles of roads statewide. For more information on the program, and how to apply, click here.
Application window now open for new small business grant program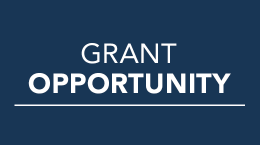 Illinois small business owners can now apply for COVID-19 recovery assistance through the new Back to Business (B2B) grant program. The grants are funded by the federal American Rescue Plan Act (ARPA).
The new $250 million rolling grant program builds on last year's Business Interruption Grant (BIG) program. Within the new program, $100 million is earmarked for businesses in areas disproportionately affected by the pandemic, $30 million for entertainment and art businesses, $25 million for restaurants and taverns that did not receive grants through the Restaurant Revitalization Fund, $25 million for hotels, and $25 million for small businesses that did not receive funds through the BIG program.
To be considered for a grant between $5,000 and $150,000, applicants must demonstrate they had a reduction in revenue in 2020 when compared with 2019, and annual revenues of no more than $20 million in 2019. Hotels with $35 million or less in 2019 revenues are also eligible.  As part of the application, businesses must also provide two bank statements, a business owner ID, and federal tax returns for 2019 and 2020.
For more information on how to apply and where to access small business assistance, please visit https://www2.illinois.gov/dceo/Pages/default.aspx.
Illinois State Fair comes to a close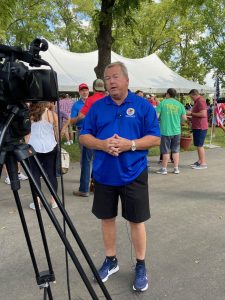 After a full week of family fun, the Illinois State Fair in Springfield will come to a close for the 2021 year on Sunday. The fair this year marked a return following the 2020 cancellation due to COVID-19. Entertainment at year's fair featured performers like Kane Brown, Toby Keith, the I love 90's tour, and Brett Young.
I spent the day Thursday at the fair and enjoyed touring the agriculture area, visiting the building that houses the famous butter cow, and sampling some of the great foods offered at the Illinois State Fair. Here's a short video that highlights the day.
The final weekend of the fair will be topped off with car racing featuring drivers from across the country at the historic Springfield Mile. The DuQuoin State Fair is scheduled to take place Aug. 27–Sept. 6.