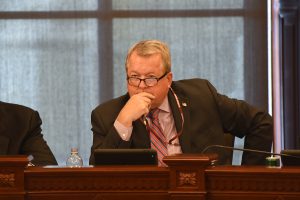 Legislation co-sponsored by State Senator Donald DeWitte (R-St. Charles) that reforms health care prior authorization requirements and leads to faster access to health care has been signed into law. As signed by the Governor this week, the provisions of House Bill 711 also hold insurance companies accountable through timelines for approvals, disciplinary action for bad practices, and improved transparency.
"There are bad actors within the insurance field who take advantage of loopholes within prior authorization rules to delay paying for services their clients are entitled to," said Sen. DeWitte. "Through HB 711, loopholes are closed and processes are improved to ensure Illinoisans have access to health care they need in a reasonable timeframe."  
Specifically, HB 711 includes the following reforms:
Improves approval timelines by providing that prior authorization approvals will remain valid for six months, and 12 months for chronic and long-term diseases to ensure continuity of care for patients.
Establishes a robust system for prior authorization denials which includes the reasons for the denial and instructions on how to appeal.
Sets guidelines for individuals designated to review prior authorization applications. Determinations must now be done by physicians with same or similar areas of medicine.
Establishes discipline measures for infractions.
Increases transparency by requiring insurers to maintain a list of services for which prior authorization is required.
Reduces the number of medically necessary services that are subjected to prior authorization requirements.
Requires that a decision must be made no later than 5 calendar days after obtaining the necessary information.
"This is important legislation that will provide Illinoisans with peace of mind as they seek medical care," added Sen. DeWitte. "When people register for a health care plan, they need to know that when illness or injury strikes, they won't be taken advantage of by bad actors within the insurance system."
HB 711 is effective January 1, 2022.