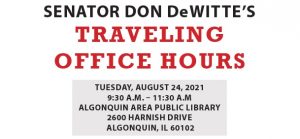 State Senator Donald DeWitte's traveling office hours tour continues this month with an August 24 event scheduled in Algonquin.
A member of Sen. DeWitte's staff will be at the Algonquin Area Public Library, 2600 Harnish Drive, Algonquin, from 9:30-11:30 AM on Tuesday, Aug. 24 to assist constituents with issues involving state agencies and departments.
"My highly-trained staff can help constituents navigate state agencies and find solutions to a variety of issues," said Sen. DeWitte. "Whether it is FOID or CCL delays, unemployment problems, certification issues, or other state-related problems, my staff is available to help. I recognize it is not convenient for residents in the northern part of the 33rd District to travel to my West Dundee office for assistance, so I hope any constituents requiring help will take advantage of these traveling office hours in Algonquin."
Additional traveling office hours are scheduled for the following dates and locations in the 33rd District:
Lake in the Hills: Tuesday, Sept. 20, 9:30-11:30 AM, LITH Village Hall
Charles: Monday, Oct. 18, 9:30-11:30 AM, St. Charles Public Library
South Elgin: Tuesday, Nov. 16, 10:00 AM – 12:00 PM, Gail Borden Public Library- S. Elgin branch
The Senator attends traveling office hours as his schedule permits.