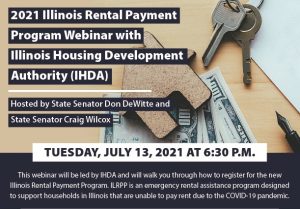 The Illinois Housing Development Authority (IHDA) is now accepting tenant applications for the state's rental payment program, and on July 13th, State Senators Donald DeWitte (R-St. Charles) and Craig Wilcox (R-McHenry) will partner with IHDA for an online seminar to help rental tenants navigate the application process.
"The emergency rental assistance program is designed to support Illinois renters who are unable to pay their rent for reasons tied to the COVID-19 pandemic," said Sen. DeWitte. "Anyone who has lost wages and struggles to meet their rent obligation is encouraged to participate in this free online event."
The window for applications is open now through 11:59 PM on Sunday, July 18. Those who wish to start an application may do so at https://ilrpp.ihda.org.
"Participants in our virtual event will learn about eligibility requirements, receive tips on how to fill out the form, and receive information for completing a form when a landlord is unresponsive," added Sen. Wilcox. "Presenters from IHDA will also share the answers to frequently asked questions and provide time for participants to ask their own questions."
The seminar will be held on Zoom, and those who wish to participate must register. When an individual registers for the event, information for how to join the Zoom event will be sent via email. Participants can register at this link.
To learn more about this event, please email Kelsey at KTorbik@sgop.ilga.gov, or call Sen. DeWitte's office at (847) 214-8245, or Sen. Wilcox's office at (815) 455-6330.