PTELL Bill Sent to Governor
This year I sponsored legislation that improves local taxing bodies' ability to properly budget based on property assessment data provided by local assessors. Senate Bill 508 earned nearly-unanimous support in the Senate and House and has been sent to Gov. Pritzker for his signature.
SB 508 is a technical change to Property Tax Extension Limitation Law (PTELL) that will make a big difference for our local taxing districts, like schools, that rely on assessment data to properly budget and plan for issues such as programming and staffing. Governmental entities depend on those revenues to provide important public services that we rely upon.
Unfortunately, in recent days this legislation has been misinterpreted by some, including a few reporters, as a tax increase. This measure is not a tax increase; it simply closes a loophole that has created unanticipated revenue reductions for taxing bodies. One reporter referred to the bill language as an opportunity for school districts to approve a supplemental levy. This is false. There is no language in SB 508 that provides taxing bodies with an opportunity to approve a supplemental levy.
When taxing bodies set their levies, they do so based on Equalized Assessed Valuation (EAV) data provided by township assessors. However, due to human error, appeals and other issues, the amount of revenue that ultimately arrives is less than what was committed. When the funds that arrive are less than what was expected, it throws budgets out of balance. My bill guarantees the calculated assessment value committed by assessors, and pushes assessment changes and the extension shortfalls to the next tax year's assessed valuation.
It is a highly technical bill, and I am happy to discuss it with constituents who have questions. I carried the bill on behalf of Huntley School District 158.
Illinois' credit score two steps away from junk status
This week, the Pritzker Administration claimed victory after Moody's Investor Services upgraded the state's bond rating by one notch, putting Illinois two steps above a junk-bond rating. The Pritzker administration is hoping Illinoisans don't realize this rating is largely reflective of the massive influx of federal funding over the last year. The state's long-term fiscal outlook is still dire.
As an example, Illinois is still saddled with an unsustainable pension system. Taxpayers remain on the hook for $140 billion in unfunded liabilities for the five state retirement systems, assets for the Chicago pension system are set to run out in six years, and nearly 25 percent of the General Funding in the Fiscal Year 2022 budget goes toward state pension payments. Additionally, rather than displaying fiscal discipline, majority party leaders stuffed the current budget with more than a billion dollars in pork programs and projects.
When the federal money dries up, the people of Illinois will still be stuck with budget structural issues that the Governor and Democratic majorities not only refuse to address, but are unwilling to even acknowledge.
Summer outreach events scheduled for July
I want to thank everyone who attended recent outreach events, including my first vaccine clinic, the town hall meeting I held with Representative Ness, and my office's traveling office hours in Geneva. My July calendar is full of additional events for the people of the 33rd Senate District.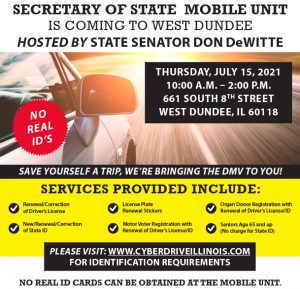 Upcoming events include:
July 13 Coffee & Conversation with Algonquin Village President Debby Sosine: 7:30 AM, Syrup, 2555 Bunker Hill Road, Algonquin
July 15 Mobile Secretary of State DMV event: 10AM – 2PM, 661 S. 8th Street, West Dundee
July 17 Second Dose Vaccine Clinic with Elgin Boys & Girls Club: 10:00 AM – 3:00 PM, 355 Dundee Avenue, Elgin
July 20 Coffee & Conversation with Hampshire Village President Mike Reid, Jr: 7:30 AM, Rose Garden Family Restaurant, 199 S. State Street, Hampshire
July 27 End of Session Town Hall Meeting with Senate Republican Leader Dan McConchie and Senator Craig Wilcox: 6:30-8:00 PM, Crystal Lake City Hall, 100 W. Woodstock Street, Crystal Lake
July 29 Traveling Office Hours in Elgin: 9:30 – 11:30 AM, Gail Borden Public Library, 70 N. Grove Avenue, Elgin
IDES fails to report fraud claims ranking among worst in the nation
As COVID-19 restrictions ease in Illinois, the doors of the Illinois Department of Employment Security (IDES) offices remain closed even as fraud claims continue to spike. Most recently, CBS 2 Chicago reported Illinois ranks among the worst in the nation in reporting unemployment fraud to the federal Department of Labor and elected officials.  The lack of transparency raises questions on what's being hidden and how large the scope of the problem is.
More than a month ago, lawmakers overwhelmingly passed a bipartisan resolution calling for the reopening of IDES offices. Four weeks have since passed and no movement has been made on opening the facilities. This situation raises questions on how much money is being siphoned in fraudulent claims and what's taking so long to rectify the problem for fraud victims.
What Phase? Another extension on COVID-19 Executive Orders
This year I co-sponsored Senate Bill 103, which would prohibit the Governor from endlessly extending a disaster declaration without approval by the General Assembly. This legislation was never even assigned to a committee this last spring session.
It's been 15 months since the start of the COVID-19 pandemic, and while the state has moved to Phase 5, infection rates are extremely low, and vaccination rates continue to increase, Gov. Pritzker is still extending Executive Orders by issuing disaster proclamations. Since last March, more than 80 Executive Orders have been issued with no input from the General Assembly. Most recently, this week an Executive Order was filed to extend a moratorium on evictions and reissue more than two dozen other Executive Orders.
Senate Republicans have continued to advocate for improved transparency to the Administration's COVID-19 response efforts, and for the Governor to end his unilateral approach and engage the members of the General Assembly in the decision-making process.
Five new Republican-sponsored bills signed into law
Throughout the 2021 spring legislative session, Senate Republicans advanced a variety of bills, many of which have recently been signed into law. These new laws cover everything from public safety and education, to government and health, and I was proud to support each of the following Republican-sponsored bills:
Driver's license & ID card extensions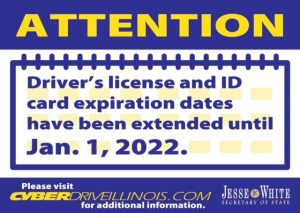 The Illinois Secretary of State's office announced this week a five-month extension on expired driver's licenses and state identification cards. The new deadline will allow expired licenses and ID cards to remain valid until Jan. 1, 2022.
The extension is designed to reduce issues with long lines, which would force people to stand out in the heat due to social distancing rules, which limit the number of people in facilities. The extension does not apply to commercial driver licenses (CDL) and CDL learner permits.
Stay safe this Fourth of July weekend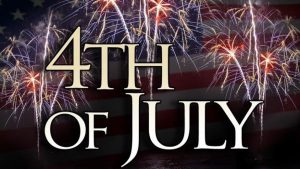 Lastly, many Illinoisans will gather this weekend to celebrate Independence Day on Sunday. For many families, the Fourth of July means barbecues, parades, concerts, and fireworks. As we commemorate the signing of the Declaration of Independence, please use caution at gatherings, especially when fireworks are present.
More than 66 percent of firework-type injuries happen around the July 4th holiday. The U.S. Consumer Product Safety Commission says in order to prevent firework-related injuries and deaths, you should follow these safety tips.
Never allow young children to play with or ignite fireworks.
Always have an adult supervise firework activities, including sparklers. Sparklers burn at about 2,000 degrees, hot enough to melt some metals.
Never place any part of your body directly over a firework device.
Back up to a safe distance immediately after lighting the firework and never try and re-light the firework if it didn't fully ignite.
Keep a bucket of water or garden hose nearby.
Once the firework is done burning, douse the device with water before discarding it.
Make sure fireworks are legal in your area before using them.
The most injured body parts from firework-related injuries are your eyes, head, face, and ears, along with your hands and fingers. Click here to find a listing of public fireworks displays in McHenry County, and here for a list of displays in Kane County.