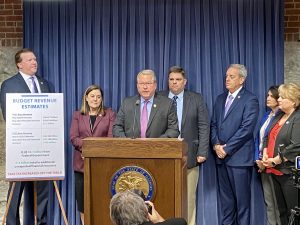 Pointing to $16.1 billion in unanticipated revenue in the state's coffers, State Senator Donald DeWitte (R-St. Charles) joined several of his Senate Republican colleagues on Thursday to reiterate that no new taxes or cuts to job-creating incentives should be on the table as the Fiscal Year 2022 budget takes final form.
During his budget address earlier this year, Governor JB Pritzker expressed a desire to eliminate pro-jobs incentives he agreed to in 2019 as part of bipartisan negotiations on the Rebuild Illinois Capital Program. These incentives included, among other things, the Blue Collar Jobs Act, reinstatement of the manufacturer's purchase credit, and elimination of the franchise tax. These incentives, which the Governor pledged to support in 2019, he is now calling "loopholes" that must be closed.
"When I came to the Illinois Senate, one of the first things I learned was the importance of being an honest broker. When you pledge your support or opposition to an initiative, colleagues need to know they can take that pledge to the bank," said Sen. DeWitte. "I was there when the Governor signed the bipartisan legislation, and remember vividly how he hailed the job-creating, economy-boosting incentives, and praised the bipartisan negotiations that led to the agreement. He needs to keep his word now and keep those incentives in place."
According to data from the Commission on Government Forecasting and Accountability (COGFA) and the Governor's Office on Management and Budget (GOMB), revenues from income and sales taxes for the current fiscal year and upcoming year are $8 billion higher than anticipated. When coupled with the additional $8.1 billion that is coming to Illinois through new federal COVID-19 COVID-19 relief funds, the state has $16.1 billion more in revenue than expected.
"The Governor's change of heart on incentives he previously agreed to shows us just how insatiable his party's appetite is for more revenue and increased spending," added Sen. DeWitte. "Keep in mind that since the tax hikes of 2011 and 2017, Illinois taxpayers have handed over more than $65 billion in new revenue to the State. There is simply no need to have any tax increases or cuts to job-creating incentives on the table right now."
According to DeWitte, the Governor also wants to eliminate a biodiesel tax credit that saves farmers and the agriculture community millions, and significantly reduce a tax credit scholarship fund that allows children from low-income households whose public schools are failing them to receive scholarships to attend a private school. Additionally, the Governor is proposing making cuts to or sweeping funds from the Local Government Distributive Fund (LGDF), road and mass transit funds, school infrastructure grants, and capital project funds.
"Again, these items were all negotiated. The Governor still has time to do the right thing and keep his word. People need jobs and a vibrant economy, and removing incentives that spur job creation and allow kids an opportunity to attend a better school is wrong, especially at a time when revenues are over-performing at levels never before seen in our state."