Document shredding and food collection event set for this weekend on Saturday


This weekend on Saturday, May 8 I am co-hosting a residential document shredding event with State Representative Dan Ugaste (R-Geneva). Residents can bring up to 2 boxes of paper documents they would like shredded to the event that will run from 9:00am—11:00am at the former St. Charles Police Station, 211 N. Riverside Ave (one block south of St. Charles Municipal Center). At the event, we will also be collecting non-perishable food donations for the Northern Illinois Food Bank. Please dig out those old bank statements, checkbook registers, receipts, and other sensitive documents so they can be safely destroyed. While this is a drive-through event, parking is available for those who would like to see their items fed into the shredder. If you have any questions about the upcoming event, please contact my office at (847) 214-8245.
Still time to show appreciation of men and women in blue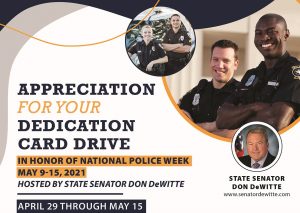 National Police Appreciation Week is May 9-15, and there is still time to participate in my "Appreciation for your Dedication" Card Drive. I'm hoping residents throughout the 33rd Senate District will help send a hearty thank you to law enforcement for the work they do to keep communities safe. Especially during National Police Appreciation Week, our men and women in blue deserve to know they are valued and appreciated.
If you are able to participate, please mail or drop off cards, handwritten notes, encouraging and uplifting stories, drawings, etc. by Thursday, May 13 to my district office in West Dundee (641 S. 8th Street, West Dundee, 60118). My staff and I will personally deliver the notes/drawings to police officers throughout the 33rd District. While I hope to collect a lot of cards, drawings, and well-wishes, there are a lot of other ways people can show their appreciation to local police officers. In addition to making a card, I would encourage people to display blue outdoor lights on their front porches during the week of May 9-15, and to personally thank members of law enforcement they encounter when out and about in town.
DeWitte joins colleagues and law enforcement for annual Police Memorial event in Springfield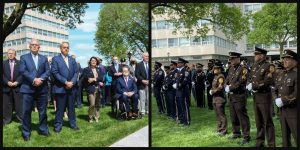 On Thursday it was a distinct privilege to join many of my Senate Republican colleagues and hundreds of members of law enforcement from across the state at the annual Police Memorial event at the State Capitol. During this yearly event, those from law enforcement who lost their lives in the line of duty during the previous year are honored and recognized for their dedicated service and ultimate sacrifice.
Election reform legislation seeks to bring standardization and transparency
Senate Republicans are teaming up with county clerks on major election reform legislation. The Election Standardization Act, contained in Senate Bill 1326, came from an Election Reform Working Group. A panel of local and state election officials developed a series of reforms to improve the election process through increased transparency and uniformity within the state's current election system.
The Election Standardization Act does the following:
Standardizes election judge training by requiring election authorities to use specific guidelines provided by the State Board of Elections.
Requires election authorities to post on their websites the reason for any reporting delay that is five hours past close of polls.
Requires the State Board of Elections to audit the post-election vote-by-mail processing requirements and procedures of five percent of the state's election authorities.
Requires election authorities to post on their websites the procedures for processing vote by mail ballots.
Proponents of the legislation say these reforms will help to ensure voters have better access to information regarding the election process, as well as provide them with consistency every time they vote.
Sen. DeWitte discusses Springfield happenings on Capitol Connections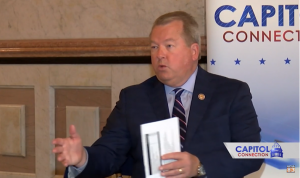 I recently had an opportunity to sit down with WCIA's Mark Maxwell to film a segment for his Sunday morning political news feature "Capitol Connections." We had a nice conversation about the importance of being an honest broker in Springfield- that is, keeping one's word once support or opposition to an initiative is pledged. We discussed the importance of tax incentives the Governor pledged to support in 2019 and is now threatening to eliminate, despite the fact that eliminating these incentives-like the Blue Collar Jobs Act- would deepen Illinois' unemployment problems. We also discussed how federal COVID-19 relief funds should be used in the state, and efforts by the Pritzker administration to sweep funds earmarked for specific purposes in the upcoming Fiscal Year 2022 budget.
Click here to watch the video of our conversation.
Redistricting hearings continue to raise concerns about accountability and fairness
Gov. Pritzker was called out during the week by both Illinois and national publications for his recent statements on the idea of "fair maps." On May 2, Champaign News Gazette columnist Jim Dey likened the Governor's promise not to support a partisan map as "doubling-dealing." Dey wrote: "Gov. J.B. Pritzker last week made it clear that his previous pledge to oversee a fair legislative map-drawing process and veto an unfair map is now inoperative. It is, in fact, so inoperative that he's now pretending he never made the promise in the first place."
Meanwhile, a recent Wall Street Journal editorial noted how Gov. Pritzker walked back his "pledge to veto" a partisan, gerrymandered map. The Editorial Board wrote about the Governor: "He insisted on 'an independent commission to handle creating a new legislative map… But as the partisan pens meet paper, Gov. Pritzker now says he'll be satisfied with a map drawn by his legislative allies."'
The editorial also noted Illinois Republicans have proposed to create a balanced, bipartisan redistricting commission to draw new maps to ensure fair maps.
Redistricting, as Illinois conducts it, is a highly partisan process, and that was very evident during a May 1 hearing. Republicans on the committee asked several times about which source of data was being used to allow Illinoisans to draw proposed legislative maps on a website established and run by the Senate Democrat Caucus.
After being repeatedly told the source of data was not known, a citizen witness subsequently asked the same question, and received a direct answer that statistics from the American Community Survey (ACS) were being used for the map-making. ACS data is considered a mere "snapshot" of the kind of detailed demographics needed to draw accurate and fair maps.
Since the redistricting hearings began, Senate Republicans have insisted on waiting to draw new legislative and congressional boundaries until the full and complete U.S. Census Bureau data on the 2020 Census are available. That report is expected to be released late this summer.
Have Your Voice Heard: Submit witness slips
Have you ever wondered how you can get more involved in the legislative process? One of the easiest ways to do so is by filing a witness slip. Witness slips are filed on bills that are being heard in committee and you can file a slip either in opposition of a bill or as a proponent of a bill. Best of all, ANYONE can file a slip and have their opinions logged into the official record. Watch our tutorial below to learn how so you can have your voice heard!
Click here to view a quick and easy-to-follow video outlining how to submit a witness slip. There are some good bills out there worthy of your support, and unfortunately a lot of really terrible bills out there that could use your opposition.
COVID financial help for Illinois restaurants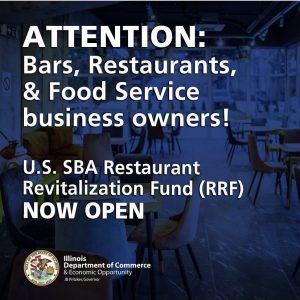 The Illinois Restaurant Association is encouraging restaurants still suffering from the economic fallout of COVID-19 to begin applying for Revitalization Fund grants from the U.S. Small Business Administration. The program launched on May 3. According to the Association, the fund will prioritize applications from women, veterans, and socially and economically disadvantaged individuals, during the first 21 days. For more information, including links to apply for the grants, visit the Illinois Restaurant Association website at www.IllinoisRestaurants.org.
Illinois economy in need of pro-jobs/pro-business leadership
Once again, CEO Magazine ranks Illinois as one of the worst states in its annual "Best States for Business" report. Only New York and California rank lower. Chief executive officers were asked to grade states in which they do business on business climate – including taxes and regulations – workforce and quality of life.
Senate Republicans believe Illinois has a lot to offer, but recognize governmental burdens make business expansion and job creation more difficult. Lowering taxes and minimizing regulations would help lift up Illinois' economy, which continues a years-long struggle.
I believe Illinois has all the ingredients it needs for economic success. The transportation system of interstates, rail, and airports are among the busiest corridors in the country. The education system – including top-flight colleges and universities – are incubators for cutting-edge innovation, and Illinoisans have always displayed a strong work ethic. However, the level of taxation imposed by the state and local governments, and business regulations such as Workers' Compensation rates, are among the most burdensome in the country.