Bipartisan legislation that addresses social isolation in nursing homes earns unanimous Senate approval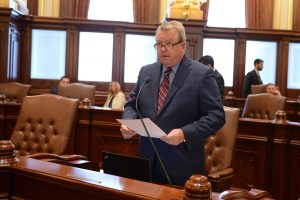 This last year was incredibly difficult for seniors in nursing homes who were unable to touch or hug their loved ones during the COVID-19 pandemic, and I'm proud to announce that bipartisan legislation that addresses social isolation experienced by these seniors received unanimous approval in the Illinois Senate yesterday. I am the Chief Co-Sponsor of Senate Bill 2137, and it was a pleasure to work with Chief Sponsor Senator Collins (D-Chicago) on the passage of this important bill. To watch the speech I gave on the Senate floor prior to the bill's unanimous vote, click here.
SB 2137 requires all long-term care facilities in Illinois to adopt and implement written policies and procedures to help prevent social isolation of nursing home residents, including making technology available for online visits with loved ones. The legislation sets forth specific requirements for addressing social isolation prevention, and mandates that inspections of facilities include a determination of whether facilities are in compliance with social isolation prevention protocols. Adherence to the social isolation prevention policies would be a condition of licensure.
This bill comes in the wake of 2020 research that shows alarming consequences that isolation and loneliness have on a long-term care facility resident's quality of life: a 50% increased risk of developing dementia, a 32% increased risk of stroke, and a nearly fourfold increased risk of death among heart failure patients.
Under SB 2137, facilities would adopt and implement policies to combat social isolation of residents in a variety of ways:
Virtual visitation would be considered in addition to existing in-person visitation policies.
Technology and assistive equipment may be funded through federal Civil Monetary Penalty (CMP) Funds and/or other state and federal resources.
Cleaning and sanitizing of equipment and the development of a resident's individualized visitation schedule would be included in a facility's virtual visitation policy.
Facilities would be permitted to train volunteers and staff to assist residents in virtual visitation.
A resident's right or use of personal devices would not change.
Penalties for nursing homes not in compliance would go into effect in 2023; one year after the stated distribution of CMP funds in Illinois.
IL Department of Public Health shall adopt social isolation prevention policies within 60 days after effective date of the Act; rules will take into account a facility's barriers to connectivity and Internet bandwidth limitations.
The passage of this bill represents bipartisanship at its best. I appreciate the full support of the Senate and look forward to the bill's passage in the House in the coming weeks.
DeWitte passes legislation that strengthens reporting requirement for teachers convicted of crimes
Last week I passed legislation that strengthens reporting requirements for teachers that have been convicted on any crime tied to the abuse or neglect of a child. As the statutes are currently written, the onus falls to the State Superintendent to alert the Teacher Retirement System (TRS) when they learn that an educator has been convicted of this type of crime. It makes more sense that this responsibility falls to the local level and to local school boards, where there is a much better chance that none of these cases fall through the cracks.
Prior to moving to the Senate floor for final action, SB 2357 was approved unanimously by the Senate Education Committee on April 20. SB 2357 received unanimous support in the Senate and is now pending in the Illinois House, where State Representative Fred Crespo (D-Hoffman Estates) is serving as the Chief House Sponsor.
Senator Donald DeWitte to host appreciation card drive for local police officers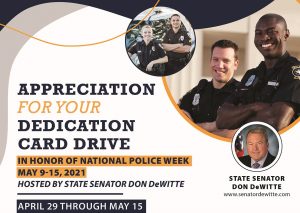 National Police Appreciation Week is May 9-15, and I'm hoping residents throughout the 33rd Senate District will help send a hearty thank you to law enforcement for the work they do to keep communities safe. Our dedicated members of law enforcement work hard to keep communities safe for individuals and families, and especially during National Police Appreciation Week they deserve to know they are valued and appreciated.
If you are able to participate, please mail or drop off cards, handwritten notes, encouraging and uplifting stories, drawings, etc. by Thursday, May 13 to my district office in West Dundee (641 S. 8th Street, West Dundee, 60118). My staff and I will personally deliver the notes/drawings to police officers throughout the 33rd District. While I hope to collect a lot of cards, drawings, and well-wishes, there are a lot of other ways people can show their appreciation to local police officers. In addition to making a card, I would encourage people to display blue outdoor lights on their front porches during the week of May 9-15, and to personally thank members of law enforcement they encounter when out and about in town.
Document shredding event set for May 8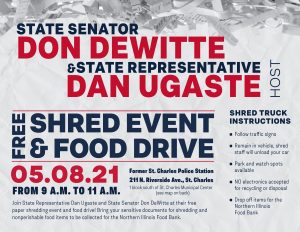 Mark your calendars now for a May 8 residential document shredding event I'll be co-hosting with State Representative Dan Ugaste (R-Geneva).
Residents can bring up to 2 boxes of paper documents they would like shredded to the event that will run from 9:00am—11:00am at the former St. Charles Police Station, 211 N. Riverside Ave (one block south of St. Charles Municipal Center). At the event we will also be collecting non-perishable food donations for the Northern Illinois Food Bank. If you have any questions about the upcoming event, please contact my office at (847) 214-8245.
IG Report Points to Massive Incompetence at Dept. of Veteran's Affairs & LaSalle Veterans' Home
The Illinois Inspector General's report on massive failings within the state's Department of Veterans Affairs with regard to the deadly COVID-19 outbreak at the LaSalle Veterans' Home was released this morning. The detailed report reveals utter incompetence at nearly every level of the Department of Veterans Affairs. Thirty-six veterans died as a result of widespread failures to first prevent, and then control, the spread of COVID-19 at the facility. The contents of this report are infuriating. We have a responsibility to look after our Veterans, and this report outlines failure after failure.
In the independent investigation, the Inspector General found incompetence and mismanagement all the way from a largely absent and uninvolved Director of Veteran's Affairs, to members of her staff, and down to facility leadership and employee level. The report states that while serving as director (and collecting that salary), then VA Director Linda Chapa LaVia "abdicated" most of her responsibilities to a Chief of Staff with no medical training or understanding, and who stood on the sidelines and allowed each of the state's Veterans' Homes to essentially manage itself. The report also points to widespread failures to follow strict COVID-19 regulations, the issuance of confusing and contradictory health guidelines, and a lengthy delay in seeking and accepting assistance from the IL Department of Public Health once the outbreak occurred and grew in scope. It took more than 10 days for IDPH to do a LaSalle site visit once the outbreak was identified. During those days, infections spread throughout the facility, ultimately leading to 36 deaths.
Pritzker chooses political insiders over Illinois families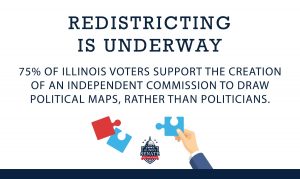 This week I joined my Senate Republican colleagues in renewing our call for Governor Pritzker to make good on his campaign promise to support an independent redistricting process. Public polls have shown more than 75 percent of Illinois voters support an independent process that puts citizens in control of drawing election districts instead of politicians.
Pritzker has publicly stated his support of independent redistricting on numerous occasions. Senate and House Republicans have introduced the People's Independent Maps Act that would create a truly independent commission to draw maps and take insiders out of the process. Senate Bill 1325 uses identical language from SJRCA 4, a constitutional amendment for an independent redistricting commission introduced by State Sen. Julie Morrison (D-Lake Forest) in 2019. That resolution garnered 37 co-sponsors in the Senate, including 18 Democrats. A similar independent commission amendment co-sponsored by House Speaker Chris Welch (D-Hillside) passed the House in 2016 with 105 "Yes" votes.
The Chicago Tribune has also added its voice to the call for an independent redistricting process instead of what it terms "The unsubtle duping of Illinois voters on redistricting reform." Click here to read the Tribune editorial.
Continued population loss means Illinois will lose seat in Congress
Years of population decline mean that Illinois will lose one of its 18 United States House of Representative seats for the next decade. Illinois' population, as determined by the 2020 decennial census, dropped in the past decade from 12,830,632, to 12,812,508. That's a loss of 18,124 between the 2010 and 2020 census.
Not surprisingly, many of the factors that cause people to leave Illinois are related to its government. According to a 2016 survey by the Paul Simon Public Policy Institute at Southern Illinois University, "Taxes are the single biggest reason people want to leave, the weather is next, followed by government and jobs. Specifically, 27 percent cite taxes as the motive for departing, 16 percent say weather, 15 percent cite government and 13 percent name jobs and education."
Skepticism over Pritzker's proposed tax changes
A bipartisan group of senators on April 23 pushed back against portions of Gov. Pritzker's budget proposal to eliminate several business incentives—many of which he signed into law and championed during his first year as Governor.
In February, Pritzker outlined changes he would make to the corporate tax code, which he says would generate $932 million in revenue for the state. Some of his proposed tax changes include implementing new caps on corporate net operating, reversing the 2019 repeal of a corporate "franchise tax" and removing a tax exemption for manufacturers.
During a joint hearing of the Senate Revenue and Appropriations committees on April 23, both Democratic and Republican members voiced concerns about the Governor's plan.
State Sen. Chapin Rose (R-Mahomet) was critical of Pritzker for his plan to eliminate a manufacturing and equipment exemption the Governor had included in the 2019 Blue Collar Jobs Act. Democrat senators joined in on the concerns specifically mentioning the benefits of the machinery equipment tax exemption, proposed changes to the corporate franchise tax, and the "add on income tax credit" for construction job payroll expenses. Now is certainly not the time to be hitting businesses, which are already struggling to recover from the pandemic and government-ordered shutdowns.