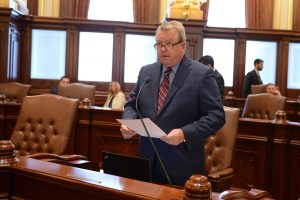 Bipartisan legislation that addresses social isolation experienced by seniors in nursing homes received unanimous approval in the Illinois Senate on Thursday. State Senator Donald DeWitte (R-St. Charles) serves as the primary Chief Co-Sponsor of the bill.
Senate Bill 2137 would require all long-term care facilities in Illinois to adopt and implement written policies and procedures to help prevent social isolation of nursing home residents, including making technology available for online visits with loved ones. The legislation sets forth specific requirements for addressing social isolation prevention, and mandates that inspections of facilities include a determination of whether facilities are in compliance with social isolation prevention protocols. Adherence to the social isolation prevention policies would be a condition of licensure.
"It was a pleasure to work with Senator Collins (D-Chicago) on the passage of this important legislation," said Sen. DeWitte. "This last year was incredibly difficult for seniors who were unable to touch or hug their loved ones during the COVID-19 pandemic, and SB 2137 will ensure that moving forward we place more of a balance between physical and social-emotional health."
The proposed bill comes in the wake of 2020 research that shows alarming consequences that isolation and loneliness have on a long-term care facility resident's quality of life: a 50% increased risk of developing dementia, a 32% increased risk of stroke, and a nearly fourfold increased risk of death among heart failure patients.
Under SB 2137, facilities would adopt and implement policies to combat social isolation of residents in a variety of ways:
Virtual visitation would be considered in addition to existing in-person visitation policies.
Technology and assistive equipment may be funded through federal Civil Monetary Penalty (CMP) Funds and/or other state and federal resources.
Cleaning and sanitizing of equipment and the development of a resident's individualized visitation schedule would be included in a facility's virtual visitation policy.
Facilities would be permitted to train volunteers and staff to assist residents in virtual visitation.
A resident's right or use of personal devices would not change.
Penalties for nursing homes not in compliance would go into effect in 2023; one year after the stated distribution of CMP funds in Illinois.
IL Department of Public Health shall adopt social isolation prevention policies within 60 days after effective date of the Act; rules will take into account a facility's barriers to connectivity and Internet bandwidth limitations.
"The passage of this bill represents bipartisanship at its best," said Sen. DeWitte. "I appreciate the full support of the Senate and look forward to the bill's passage in the House in the coming weeks.