DCFS under fire from bipartisan group of lawmakers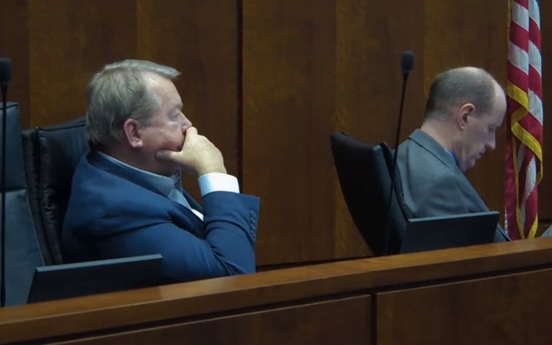 DCFS continued to receive negative headlines last week. In just the past month, the Agency received a scathing audit highlighting its failures and mismanagement in protecting Illinois children, its troubled Director announced his resignation and a conviction was handed down to a former DCFS employee over the death of a young boy.
Now, most recently, the Department is under scrutiny by a bipartisan group of legislators on the Joint Committee on Administrative Rules (JCAR) regarding a proposed rule regulating daycare operations. I sit on JCAR and can attest that our frustration with DCFS seems to grow by the day.
The contentious rule, similar to the one that was partially suspended over the summer by JCAR, limited how long daycare assistants could monitor rooms of children younger than age two. Citing childcare shortages, members of the committee have been displeased with the rule and were anticipating DCFS to present a new rule that was agreed upon by childcare stakeholders. Instead, DCFS filed a rule that members say was not approved by childcare providers.
Members of the Committee were once again left frustrated, exchanging concerns about DCFS' lack of transparency and honesty throughout the rulemaking process. Ultimately, JCAR approved the controversial rule, saying that they were left with no choice because given the timeline, the rule either needed to be accepted or there would be no rule at all, which would have left daycares with even more confusion on how to run their facilities.
Senate Republicans have continuously called for structural changes within the Department and say that this latest incident is just another example of the dysfunction at the Agency.
"Assault Weapons" registration rule needs more clarity, ISP to hold public hearings
Confusion over the state's "assault weapons" ban registration process has prompted the Illinois State Police to hold a series of public hearings.
Following this week's Joint Committee on Administrative Rules (JCAR) meeting, where members expressed concern over the lack of clarity found in the rules, including what specific firearms are subject to registration, the Illinois State Police agreed to hold three hearings to answer the public's questions and comments.
Complicating matters further are pending lawsuits at the federal level over the constitutionality of the new law, worrying law-abiding gun owners about what happens to their information if the law is eventually overturned.
The law, enacted earlier this year, requires those who owned the now-banned firearms prior to January 10, 2023, to register them by January 1, 2024, in order to possess them legally without facing criminal penalties. Registration of those firearms began October 1.
The Illinois State Police announced its first hearing scheduled for Thursday, November 2 at 9:30 a.m. in Room D1 of the Stratton Building in Springfield. The other two dates and locations have not yet been set. I am pushing for one of the three hearings to be held in the Kane-McHenry-Lake County region so that gun owners from this region have nearby access to a hearing where they can hear from ISP and ask questions.
Whirlwind week of events concludes in the 33rd District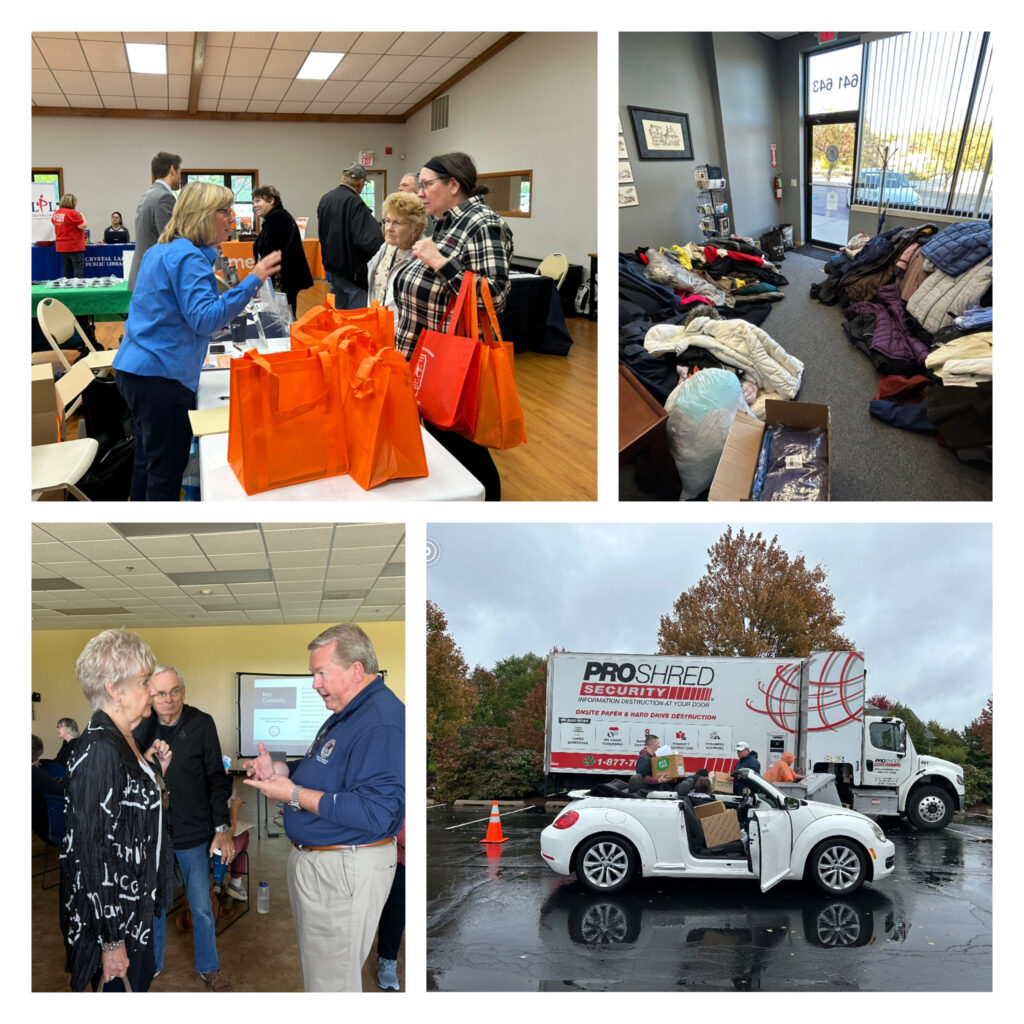 A free document shredding event and non-perishable food drive was held on Saturday, Oct. 14, and a Fall Coat Drive wrapped up on Monday, the 16th. I held a Senior Fair in Crystal Lake on Tuesday, the 17th, and a Senior Fraud Prevention event in Lake in the Hills on Wednesday, the 18th.
All of the events were well-attended, and I want to extend a special thank you to the individuals who donated food items at the shred event and to those who donated new or gently-used coats to my coat drive. The generosity of those in the 33rd District never ceases to amaze me!
Up next for Team DeWitte is a Prescription and Over-The-Counter Drug Drop-Off Event on Saturday, October 28 in Elburn. I will be partnering with the Elburn Police Department for this event, where people can drive through and give their unused or expired human and pet medications and vitamins to event volunteers. The items will be safely destroyed by the Elburn Police Department. Let's all do our part to keep unused and expired drugs out of the hands of potential abusers and out of the water supply!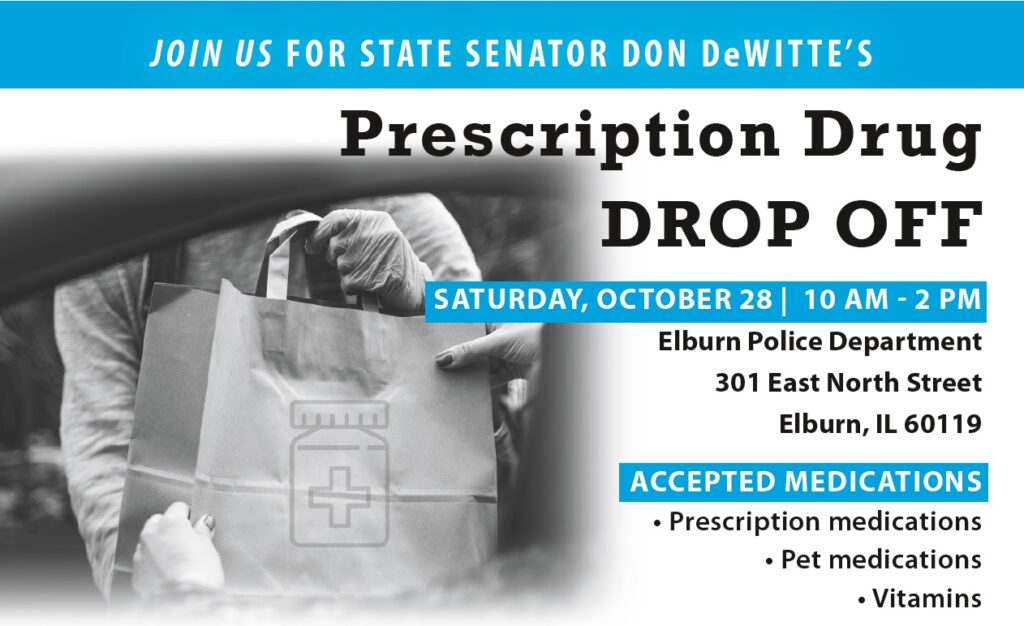 Drug Drop-Off Event
Saturday, October 28
10:00 AM – 2:00 PM
Elburn Police Department
301 East North Street
Elburn, IL 60119
Liquids, creams, needles, and illegal drugs will not be accepted.
Over 220 coats collected and distributed through DeWitte Fall Coat Drive
The results of my second annual Fall Coat Drive exceeded all expectations, with 220+ new and gently-used coats being collected during the two-week collection period. Coats are still being dropped off at my West Dundee office, and I wouldn't be surprised if we hit 240 or 250 by the end of the month. If you have a coat to donate we will gladly still take it and make sure it makes its way to an individual who needs it.
The coats will be distributed over the next few weeks to Kids in Need-McHenry County, Lazarus House in St. Charles, the Elgin Wayside Center, and the Salvation Army. All of these helpful organizations have expressed a need to provide coats to families in need, and I am glad to help replenish their supplies.
I cannot thank the people of the 33rd District enough for their generosity. Through these donations, many people of all ages will have a warm coat now that the weather is changing.
Illinois benefits from federal grant for regional clean hydrogen hub
Illinois is set to benefit from the recent announcement that the Midwest Alliance for Clean Hydrogen's (MachH2) bid to create a regional hydrogen hub has been awarded a billion-dollar grant from the U.S. Department of Energy (DOE).
The MachH2's Midwest Hydrogen Hub will be located throughout Illinois, Indiana, and Michigan, and will be utilized for decarbonization purposes through strategic hydrogen uses including steel and glass production, power generation, refining, heavy-duty transportation, and sustainable aviation fuel. The Midwest Hydrogen Hub plans to produce hydrogen by leveraging the region's diverse energy sources, including low-cost nuclear, natural gas, and renewable energy. Given Illinois' vast and diverse energy portfolio, including being a national leader in nuclear energy production, Illinois will likely play a vital role in the hub's hydrogen production.
The hub is also expected to create more than 12,000 good-paying jobs throughout its construction and roughly 1,500 permanent skilled jobs.
The Midwest Hydrogen Hub is one of seven regional clean hydrogen hubs that were selected to receive a total of $7 billion in Bipartisan Infrastructure Law funding to accelerate the domestic market for low-cost, clean hydrogen.