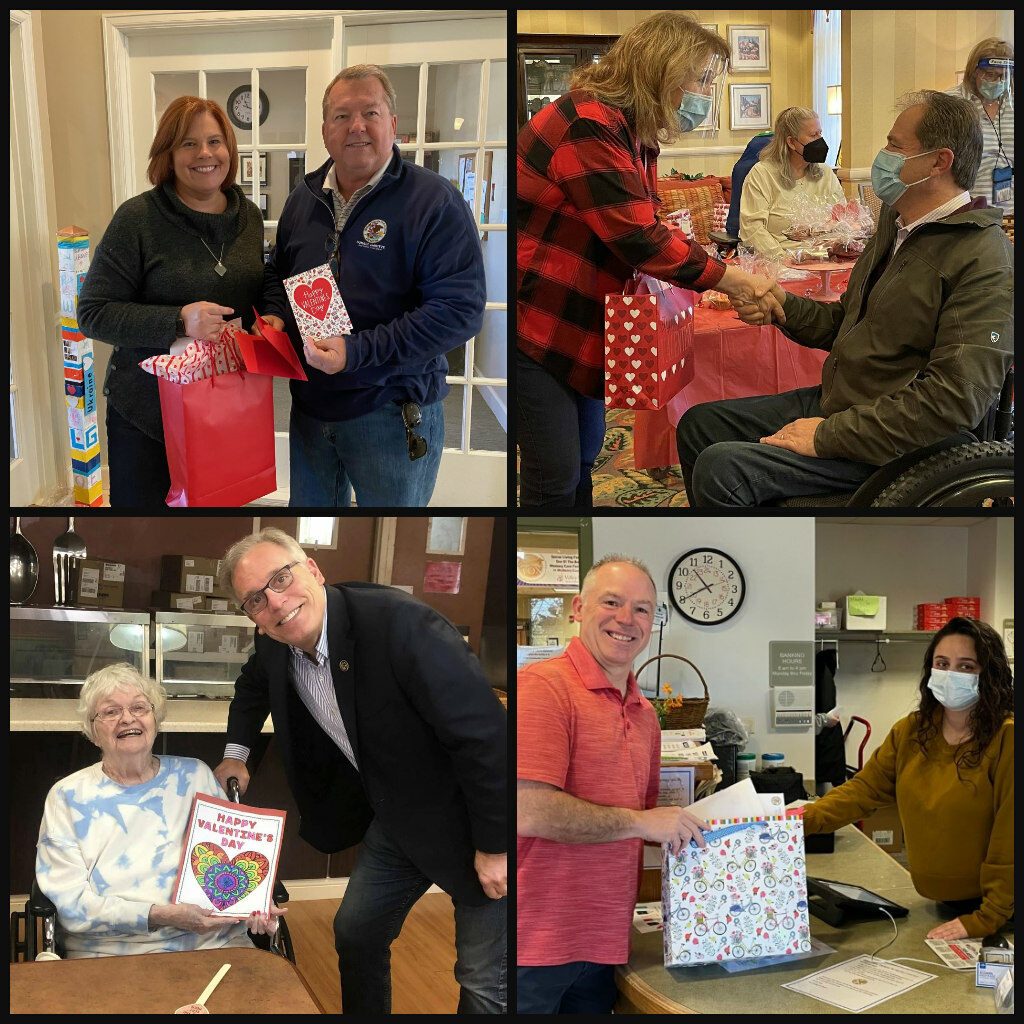 In the days leading up to Valentine's Day, three McHenry County Senators delivered a combined 20,000 valentines to seniors living in nursing homes, assisted and memory care centers, and long-term care facilities. The program was part of the Illinois Senate Republican Caucus' third annual "Valentines for Seniors" program.
"This caucus-wide outreach program gets bigger and better every year, and this year Senate Republicans delivered just under 60,000 valentines statewide," said State Senator Don DeWitte (R-St. Charles), who made deliveries to 19 different facilities in the 33rd Senate District. "The smiles on the seniors' faces were priceless, and it was wonderful to bring joy to people who are often at risk of experiencing loneliness."
For the "Valentines for Seniors" program, Senators reach out to school, scouting, church, and other groups to seek homemade valentines, well-wishes, or other cards and words of encouragement that are delivered to seniors. The program is also promoted on individual Senators' social media pages and through media releases, which leads to many individual donations as well.
"We wanted to ensure our seniors were not forgotten this year," said State Senator Dan McConchie (R-Hawthorn Woods), who made deliveries to 25 different locations. There's no doubt that those living in long-term care facilities have had a difficult few years and we should remind them that they are cared for and that we are thinking of them. This is just a small way to spread a little love and joy this time of year. I am thrilled to see so many people in our community participated."
"Children and adults from the 32nd Senate District really stepped up and participated at levels we hadn't seen before," said State Senator Craig Wilcox (R-McHenry). "It was extremely heartwarming to see the response in the region, and I was honored to drop cards off at 22 nursing home and assisted living centers in my district. Seniors were all smiles, and it was evident they felt appreciated and valued."
"I want to thank all of the schools, families, and businesses that donated so generously this year so we could spread joy to so many seniors," said State Senator Dave Syverson (R-Cherry Valley). "This is such a valuable program, and it's a privilege to participate every year."
All four Senators who cover portions of McHenry County said the program will continue to be an annual event, and that delivery locations will change year to year so more seniors can be reached.