COVID-19 Disaster Declarations to End May 11
Gov. JB Pritzker announced this week that he will finally be ending his continued COVID-19 disaster declarations on May 11, 2023. This announcement coincides with the decision by the White House to end the federal emergency declarations on that date.
Illinois' disaster declaration has been in place since March 9, 2020. Since then, the Governor has issued the disaster declaration every 30 days, which has allowed him to order statewide mandates and restrictions at his discretion.
Illinois remains one of only eight states that still have a disaster declaration in place, and it's the only state in the Midwest currently under a declared state of emergency.
Deadline to submit Valentines for Seniors Approaching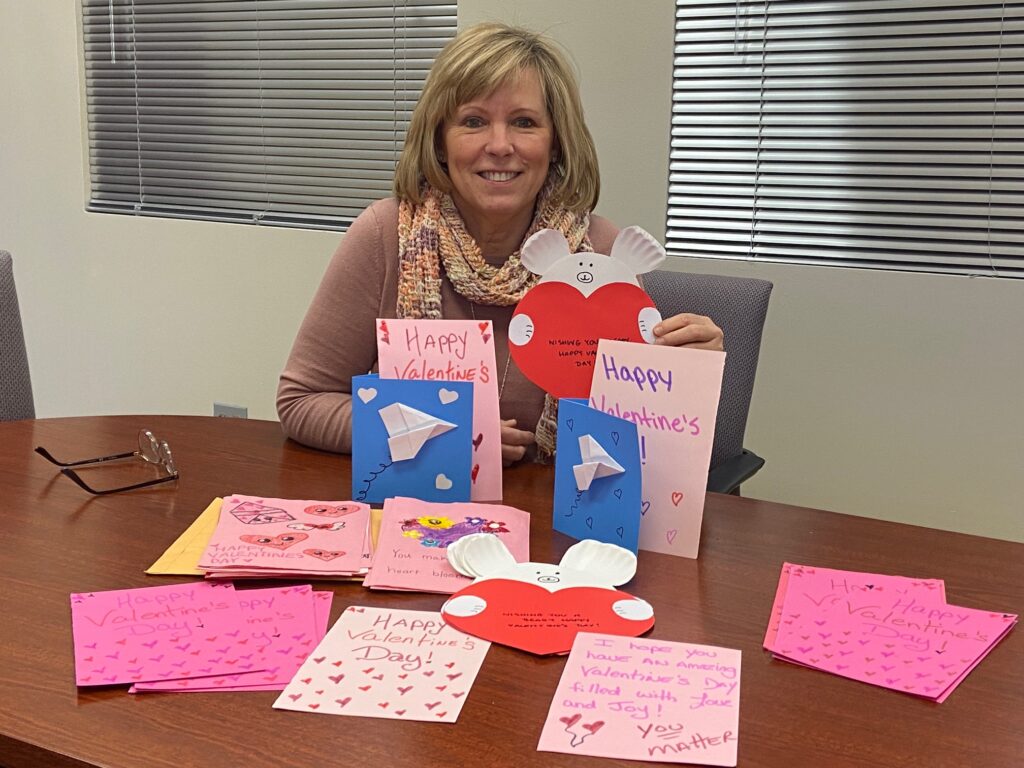 This Tuesday, February 7 marks the deadline to submit valentines and notes for my Valentines for Seniors program. Beautiful valentines continue to arrive at my West Dundee office, but we could use your help if we are to set a new record for the number of valentines distributed in the 33rd District.
To help reach that goal, I'm hoping students from public and private schools, church groups, Scouting organizations and other groups will participate and create homemade cards that will be delivered to seniors on or before Valentine's Day.
Last year we dropped off well-wishes to almost 25 different locations, and the seniors' smiles were priceless. The cards really made the seniors feel appreciated.
Cards and other items can be dropped off or mailed between now and Feb. 7 at my West Dundee office, located at 641 S. 8th Street in West Dundee. Those dropping off cards in person can place them in the Valentine box located inside the office door during business hours from 8:30 a.m. to 4:30 p.m., or in a small mailbox that will be placed outside of the office during off-hours.
Unclaimed Property Event Coming to 33rd District on Feb. 15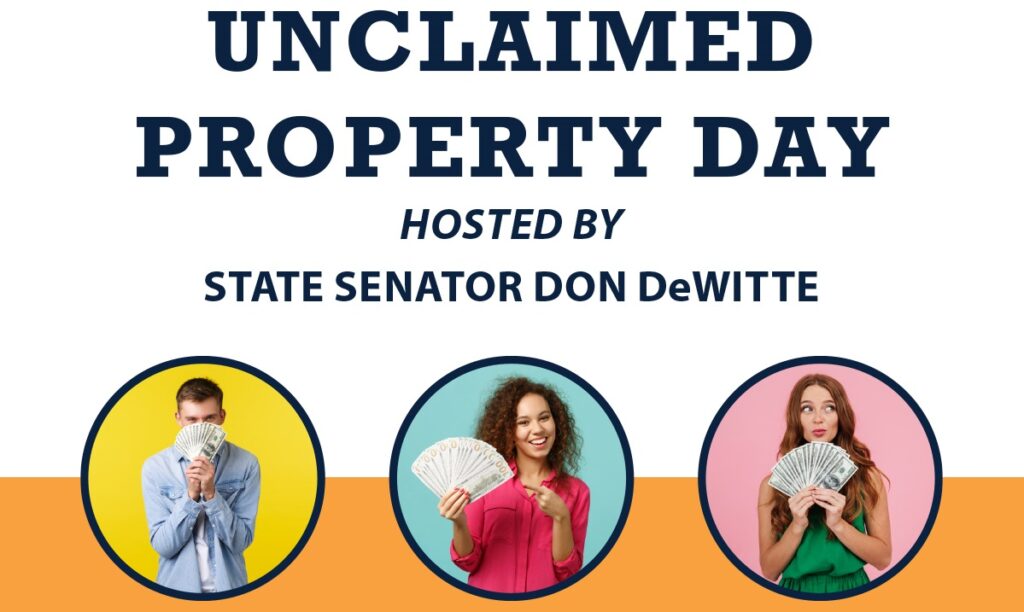 Mark your calendars now for an Unclaimed Property Event that will be held on Feb. 15 from 10:00 AM until 2:00 PM at the Gail Borden Public Library's South Elgin Branch, 127 S. McLean Boulevard, in South Elgin.
Representatives from the Illinois Treasurer's office will be on hand to help connect Illinoisans with more than $3.5 billion in unclaimed property and cash. One in four Illinoisans who search the state's database find items or money that is owed to them, so please take a few minutes to participate in this free event.
Sen. DeWitte to Maintain Leadership Roles on Transportation & Revenue Committees in 103rd GA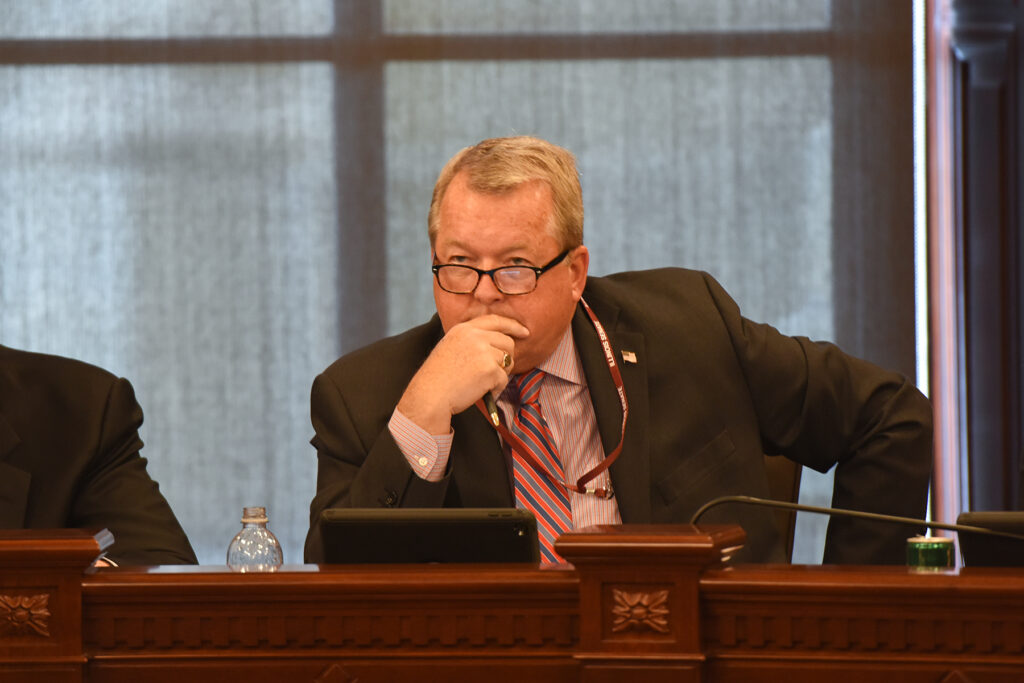 As the vetting process for bills begins for the 103rd General Assembly, I'm pleased to announce that I will maintain positions of leadership on two of the Legislature's most influential committees, Transportation and Revenue. I served as the ranking Republican on the Transportation Committee in the 101st and 102nd General Assemblies (2019-2022), and on the Revenue Committee in the 102nd General Assembly (2021-2022).
It's a privilege to continue my work on the Senate Transportation Committee. Alongside Committee Chair Ram Villivalam, we will carry forward our tradition of working collaboratively on this state's most pressing transportation infrastructure issues. The Revenue Committee is also a very important assignment, and I look forward to having a leading voice as the committee discusses vital issues surrounding the state's finances.
In addition to the leadership roles, I will also serve on the Appropriations, Human Rights, and State Government Committees.
In addition to these roles, I will also continue to serve on the Legislature's Joint Committee on Administrative Rules (JCAR), a bipartisan and bicameral oversight panel of 12 lawmakers who oversee the rulemaking process by state agencies, making sure the rules abide by the original intent of legislators when laws are passed.
JCAR is a little-known but extremely influential panel of Republicans and Democrats who work very well together. JCAR is a prime example of how members of both parties and both chambers can set aside personal philosophical differences and do good work that is beneficial to policymaking and all Illinoisans.
In September of 2021, when it came to light that the IL State Board of Education was using its own set of rules to implement mask mandates for public vs private schools, it was JCAR that forced ISBE into compliance through official JCAR rulemaking. Then, in February of 2022, JCAR blocked an attempt by the Pritzker administration to reissue a school mask, vaccine, and testing mandate after the judicial branch ruled his mandate violated students and teachers' rights to due process. Later that year in August, after the Highland Park shooting, the Illinois State Police worked with JCAR to tighten rules for the use of "Clear and Present Danger" reports for unstable Illinoisans seeking to purchase a firearm.
It is a privilege to be chosen for all of these positions. Illinois faces some incredibly tough hurdles, and I look forward to having a seat at the table as Senate Republicans promote good policy and fight back against legislative proposals that do not chart a better future for our state.
Illinois Unemployment Rate Continues to Trail the Nation
The federal Bureau of Labor Statistics released its December unemployment statistics, and Illinois remains among the worst in the nation with an unemployment rate at 4.7%. The only state with a higher rate than Illinois was Nevada.
In December, Illinois' 4.7% unemployment rate meant that at that time 303,000 Illinoisans were unemployed. This rate is higher than its neighboring states, where the highest rate is 4.3% in Michigan and the lowest is 2.8% in Missouri. Additionally, Illinois' unemployment rate stands significantly higher than the national average rate of 3.5%.
While Illinois' December rate still shows a 0.4% decrease in the unemployment rate from December 2021, it still marks a trend of slight increase over the past few months. In 2022, unemployment had been slowly decreasing in the first half of the year, but from August 2022 on, the data showed a steady increase for the first time since April 2020.
State Employee Retirees Notified of Tax Withholding Mistake
In an email notification, state retirees were informed that their January pension checks were accidentally increased this month, as the State Employee Retirement System (SERS) failed to withhold the correct amount for federal taxes. Currently, SERS is leaving it to the retirees to correct this mistake but has offered a FAQ document on its website to help address concerns and questions.
In the SERS pension plan, withholding is used to withdraw a set amount of money from each paycheck or retirement pension that is used toward paying taxes. Thus, if a month is skipped, the annual amount withheld will be less than what taxpayers set for themselves. This means that state retirees will end up having to either pay more in taxes or receive a lower tax return when they file their taxes.
Despite this mistake, SERS will not be withholding any additional taxes in February that might compensate for the January error. They are recommending that state retirees either set aside the amount that should have been withheld from their January check personally, submit a modified W-4P form that will authorize SERS to withhold additional federal tax from future months, or contact a tax advisor to come up with another solution. In order to find out how much should have been withheld in January, retirees can check through their SERS Member Services account. Furthermore, SERS cautions that any changes in withholding may not take effect until March.