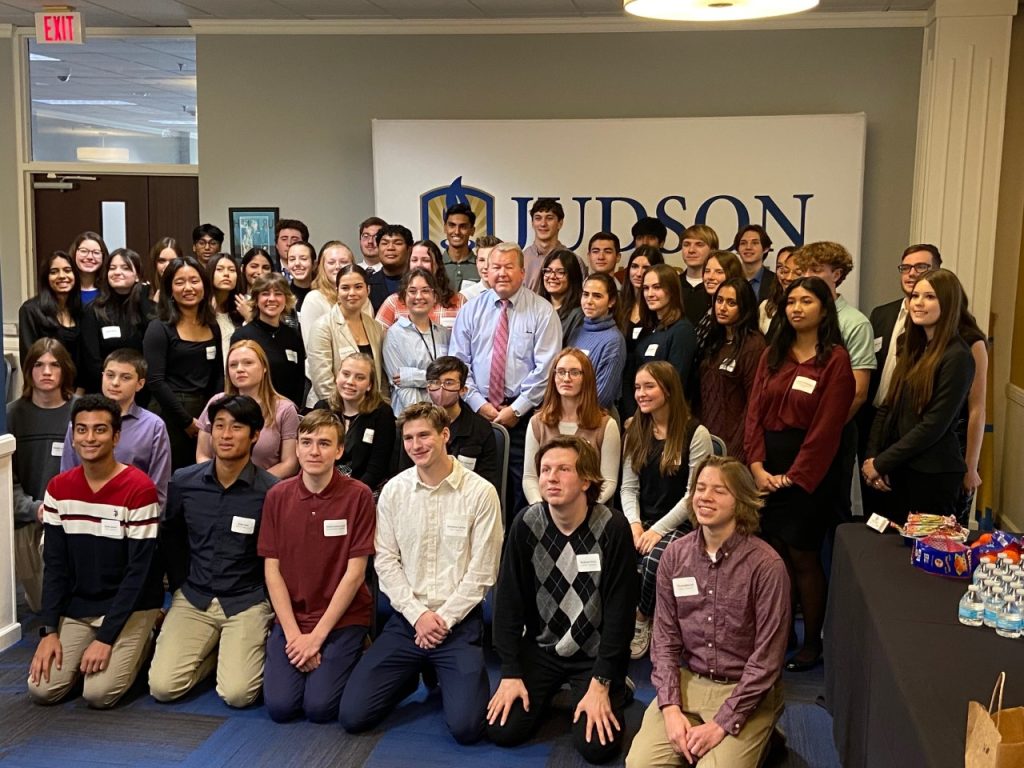 Over 50 students from seven high schools in Kane and McHenry Counties recently gathered at Judson University in Elgin for State Senator Don DeWitte's annual Youth Advisory Council (YAC).
High School Sophomores, Juniors, and Seniors met for a full day to learn about the legislative process, about jobs in the public and private sectors that relate to lawmaking, and to learn how a bill becomes a law. Students from Huntley Hampshire, Geneva, St. Charles East and North, Central, and Jacobs High Schools and Compass Academy participated.
"This was an engaged group of bright students," said Sen. DeWitte. "They asked some very good questions and really participated fully in the day's activities."
Students heard from three guest speakers, who discussed their jobs and spoke about how students can identify their strengths and leverage them toward a future career. Circuit Judge Susan Clancy Boles of the 16th Judicial Circuit outlined her path, which began with a Communications Degree at Vanderbilt University and her eventual decision to go to Law School at Indiana's Valparaiso University. Students also heard from Dr. John Burkey, Executive Director of Illinois' Large Unit District Association (LUDA) and former Superintendent of Huntley's School District 158. Burkey talked with students about his desire to be an educator, and how he continually sought new challenges and became a principal, a superintendent, and then a statewide lobbyist for K-12 education issues.
Advisory Council members also heard from Judson University President Dr. Gene Crume, Jr, who spoke about his professional experiences in the fields of Public Relations and Communications, and how those skills eventually brought him to Judson University.

"All three speakers have very interesting backgrounds, and they were able to show students that a variety of professional opportunities are available to those who are willing to work hard," Sen. DeWitte said. "I found it very interesting that all three started college on a specific path, but grew into different professional roles during their working careers. That is good information for students to know, especially as they grapple with decisions regarding their next steps after high school."
During the afternoon session, students took a piece of legislation and held a mock committee hearing. YAC members were broken into groups, with some acting as bill sponsors, others as voting members of a committee, and still others as lobbyists, general citizens who supported or opposed the bill, and even members of the media. Testimony was heard, and a vote taken.
"The students exceled at the mock committee exercise, and I believe they learned a lot too," added Sen. DeWitte. "We definitely have some remarkable future leaders in this group."
The YAC members will travel to Springfield in the spring for a second full-day legislative experience. During this visit they will see the Legislature up close and in person as real bills work their way through the process at the Capitol, and they will do more roleplaying with legislative proposals.