Pritzker Touts Unemployment Payment, Leaves Businesses and Employees on the Hook for $1.3 Billion
Governor Pritzker recently held a press conference to tout a fund sweep of $450 million in Illinois business tax dollars to the state Unemployment Insurance (UI) trust fund. The Illinois UI trust fund was severely depleted during the pandemic due to large numbers of unemployment claims, including hundreds of millions in unemployment fraud that the Pritzker Administration failed to effectively combat.
After the recent payment, the trust fund still faces a debt of $1.3 billion, leaving Illinois as one of only five states still owing money on its UI trust fund loan.
Illinois received $8.1 billion from the federal American Rescue Plan Act of 2021 (ARPA). Thirty-one states used their ARPA money to eliminate their UI trust fund deficits and replenish their fund balances. Instead of following suit, Pritzker and his legislative allies waited for ARPA funds to be depleted by other proposals and programs, including personal pork projects for Democratic lawmakers.
The situation leaves businesses and employees on the hook for the remainder of trust fund deficit, which will likely mean higher taxes. If the debt isn't repaid by November 10, Illinois employers will lose part of the Federal Unemployment Tax Act credit for 2023. This would mean that unemployment tax per employee would increase next year from $93.96 to $173.28 for a minimum rate-taxed employee, and from $988.20 to $1,326.72 for a maximum rate-taxed employee.
Huge Response for DeWitte Coat Drive, Extended Another Week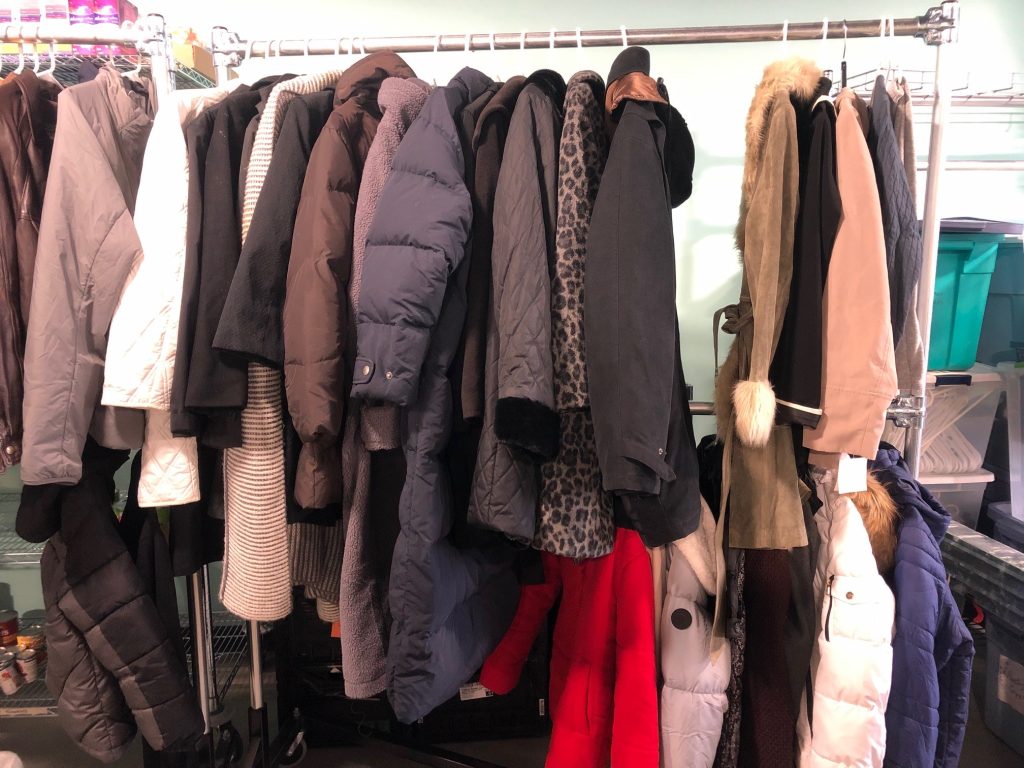 The response to my winter coat drive has been phenomenal. The people of the 33rd District have shown great care for their community by donating new and gently used coats at the four locations where we have collection bins. We have had a few requests to extend the coat drive for another week, so the collection bins will remain at the Lake in the Hills Village Hall and the St. Charles Municipal Building and St. Charles Salvation Army through Wednesday of this week. We will continue to collect coats for two more weeks at my West Dundee office, located at 641 South 8th Street.
Coats collected through this drive will be delivered to Lazarus House in St. Charles, the Elgin Wayside Center, and St. Charles Salvation Army to be distributed to families in need across the area. Thank you to all that have made donations so far, and I'm hoping we can collect even more coats before the weather turns too cold.
Shred Event and Prescription Drug Drop-Off Events Coming Soon
During the month of October, I am partnering with colleagues for two popular community outreach events: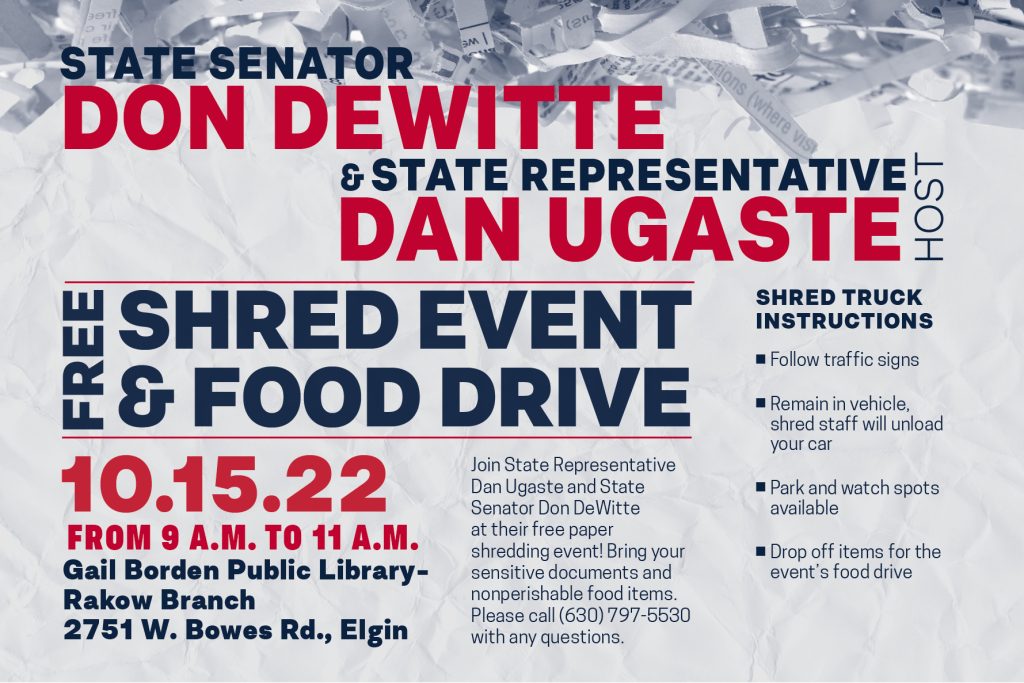 Saturday, October 15, Free Document Shredding event and food collection drive with State Rep. Dan Ugaste: Representative Ugaste and I will be at the Gail Borden Public Library Rakow Branch, 2751 W. Bowes Road, Elgin, from 9:00-11:00 a.m. Residents are welcome to bring sensitive documents for shredding, and non-perishable food items that will be distributed to local food pantries. Visitors are asked to follow the traffic flow signs and remain in their vehicles while staff unloads their items. Those who want to watch their sensitive documents go through the shredder can park in a designated area with a view of the shred truck.


Saturday, October 29, Prescription Drug Drop-Off Event with Senate Minority Leader Dan McConchie: Leader McConchie and I will be co-hosting a prescription drug drop-off event from 10:00 a.m. until 2:00 p.m. at the Algonquin Police Department, 2200 Harnish Drive, in Algonquin. Prescription and over-the-counter medications for humans and pets will be accepted. Items that will NOT be accepted include needles/creams, liquid medications, and illegal substances.
IDOT on the Hunt for Snowbirds
Looking for some extra winter work? The Illinois Department of Transportation (IDOT) is hiring Snow Removal Operators and Winter Salaried Highway Maintainers. The jobs, which are often referred to as snowbirds, involve operating IDOT snowplows to help clear the roads during winter weather. The department is responsible for maintaining more than 45,000 lane miles.
If you are interested in applying, you can do so online at the state's job portal at https://illinois.jobs2web.com/.
IDOT is also hosting open houses to help people submit applications. You can find more information at https://www.illinois.gov/news/press-release.25480.html.
Watch Out for Farm Equipment on the Roads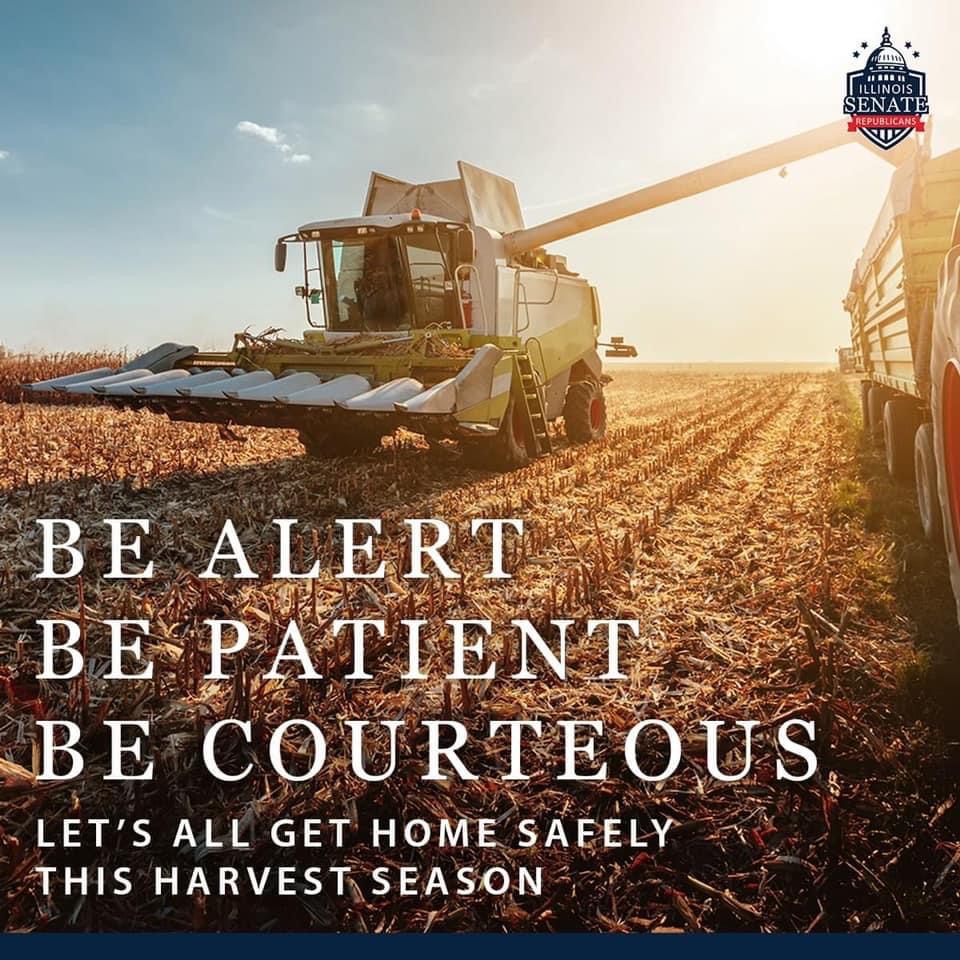 The cooler weather of fall signals a busy time for Illinois farmers. As the state's corn and soybean producers get underway harvesting their crops, rural roads and even some city streets will be seeing a major uptick in farm equipment traffic.
Drivers should be aware that most ag equipment will be travelling much more slowly than car traffic. According to the University of Illinois Extension Service, a car travelling at 55 mph takes five seconds to brake 300 feet, the length of a football field, to avoid rear-ending farm equipment travelling at 15 mph.
Most pieces of farm equipment are very large and the operators have limited visibility, especially at the rear of the equipment, so exercise caution when approaching them on the roadway. The extension service recommends that motorists assume that the driver of the implement cannot see them, and should slow down when they see farm equipment, giving themselves plenty of space, being prepared to stop, and making sure the farmer is not preparing to turn before attempting to pass them.
According to the United States Department of Agriculture's National Agricultural Statistics Service, only 6 percent of the state's corn has been harvested, along with just 2 percent of soybeans. But the agency says that 47 percent of the Illinois corn crop is considered mature, along with 63 percent of soybeans. This means that farmers will soon be hitting the fields hard.
Nominations Open to Honor Outstanding School Board Members
The Illinois State Board of Education (ISBE) is asking members of the public to nominate outstanding school board members for the Thomas Lay Burroughs Award.
The annual award is presented every year to an outstanding member of an Illinois school board.
According to ISBE, the award is designed to honor members for outstanding accomplishment in one of three areas, including:
Personal leadership in improving student learning, closing achievement gaps, and supporting educational excellence; and/or
Personal leadership in expanding educational opportunities for underserved students; and/or
Personal leadership in resolving a crisis or major difficulty with the result of more equitable outcomes for students.
If you know of someone who has provided outstanding leadership in one of those areas, ISBE is encouraging you to nominate them for the award.
You can find our more information, as well as nominate someone online at https://www.isbe.net/Pages/thomas-lay-burroughs-award.aspx.