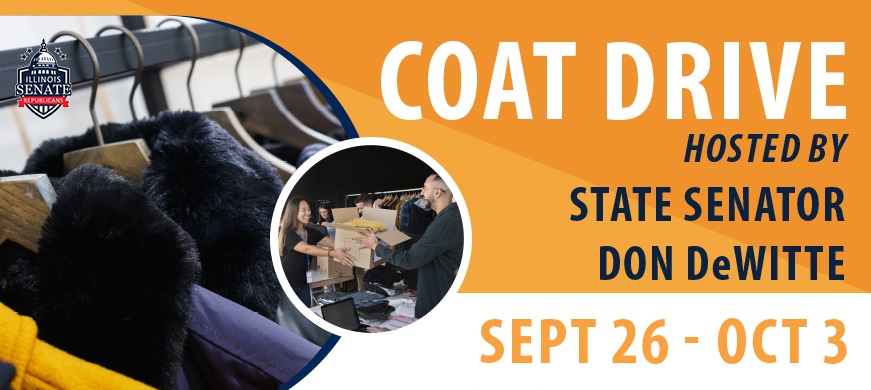 Just in time for the cooler weather, Senate Assistant Minority Leader Donald DeWitte (R-St. Charles) is hosting a coat drive to collect new and gently used coats that will be distributed to people in need of all ages.
"The Farmers' Almanac is predicting a colder-than-normal winter this year, and the 33rd District is home to many people who will not have adequate outerwear when the weather turns," said Sen. DeWitte. "I'm hoping people will look through their closets and donate new or gently used coats that will be given to those who could really use them."
New and gently used coats will be collected from September 26 through October 3 in bins at the following locations:
Sen. DeWitte's District Office: 641 South 8th Street, West Dundee (8:30AM-4:30PM, M-F)
St. Charles Municipal Building: 2 E. Main Street, St. Charles (8:00AM-4:30PM, M-F)
Salvation Army of St. Charles: 1710 S. 7th Avenue, St. Charles (8:00AM-4:00PM, M-F; also open 5:00PM-7:00PM on Tu; 10:00AM-12:30PM, Su)
Lake in the Hills Village Hall: 600 Harvest Gate, Lake in the Hills (8:30AM-5:00PM, M-F)
"The coats we collect will be distributed to Lazarus House in St. Charles, the Elgin Wayside Center, and the Salvation Army," added Sen. DeWitte. "All of these helpful organizations have expressed a need to provide coats to families in need, and I am glad to host an event to help replenish their supplies."
For additional information about this event, please call the DeWitte office at (847) 214-8245 or contact Hannah at hseaver@sgop.ilga.gov.