Politically-motivated tax rebate payments on the way
Most Illinois taxpayers will soon receive checks in the mail or direct-deposited from the State of Illinois as part of the "Illinois Family Relief Plan" approved by the General Assembly during the abbreviated spring session. Governor Pritzker, who claims the rebate checks are not politically motivated, announced this week that money will arrive in the mail or in accounts over the next eight weeks. With rebates starting on Monday, September 12, delivery is scheduled to be complete by Monday, November 7, the day before the 2023 General Election. This is no coincidence.
Income tax rebate checks will be sent to those who were Illinois residents in 2021 with an adjusted gross income under $200,000 for individual filers, and under $400,000 for joint filers. Single filers will receive $50 and joint filers will receive $100, and those with dependents can receive a maximum of $300, based on $100 per dependent.
Property tax rebates will be sent to Illinoisans who paid state property taxes in 2021 for their 2020 residency. Those who earned less than $250,000 as an individual and under $500,000 as a joint filer will be eligible for the rebate, which will be equal to the amount of the property tax credit filers claimed on their 2021 tax form, to a maximum rebate of $300.
Illinoisans who received an income tax refund based on their 2021 filing will receive their rebate the same way they received their refund, and those who did not receive a refund should receive a check mailed to the address listed on the tax return.
During the spring session, Senate Republicans pushed for more permanent tax relief, but those efforts were blocked by the Majority Party. I voted in favor of the Democrats' temporary relief but called it an "election year gimmick" that ignores Illinoisans' need for real, permanent tax relief. But make no mistake. Having checks arrive during early voting and right up to Election Day is a clear attempt by the Pritzker Administration to ingratiate Democrats with voters.
Opposition to SAFE-T Act continues across Illinois

As the January 1, 2023, implementation date for many of the provisions within the SAFE-T Act approaches, more and more state's attorneys are voicing their concerns about serious flaws in the Act that will make it incredibly difficult for many violent offenders to be held in pre-trial detention.
The SAFE-T Act was approved in the middle of the night during a Lame Duck session of the General Assembly, with zero Republicans voting in favor of the bill. During the bill debate, Senate Republicans warned that the provisions of the Act would make communities less safe. With the implementation date less than four months away, Senate Republicans are renewing their call for the removal of the most dangerous portions of the bill, which tie the hands of judges and severely limit their ability to hold many individuals accused of violent crimes in pre-trial detention.
I am a co-sponsor of Senate Bill 4158, which would repeal changes to the Bail Reform Act contained in the SAFE-T Act. Democrats refused to consider the bill, and never assigned it for a hearing. I also have a petition that Illinois residents can sign that would ask for a repeal of the bill. Click here to access my petition.
The Senate Republicans' public safety bill package can be found at https://www.ilsenategop.org/publicsafety.
Local Veterans invited to free appreciation luncheon and expo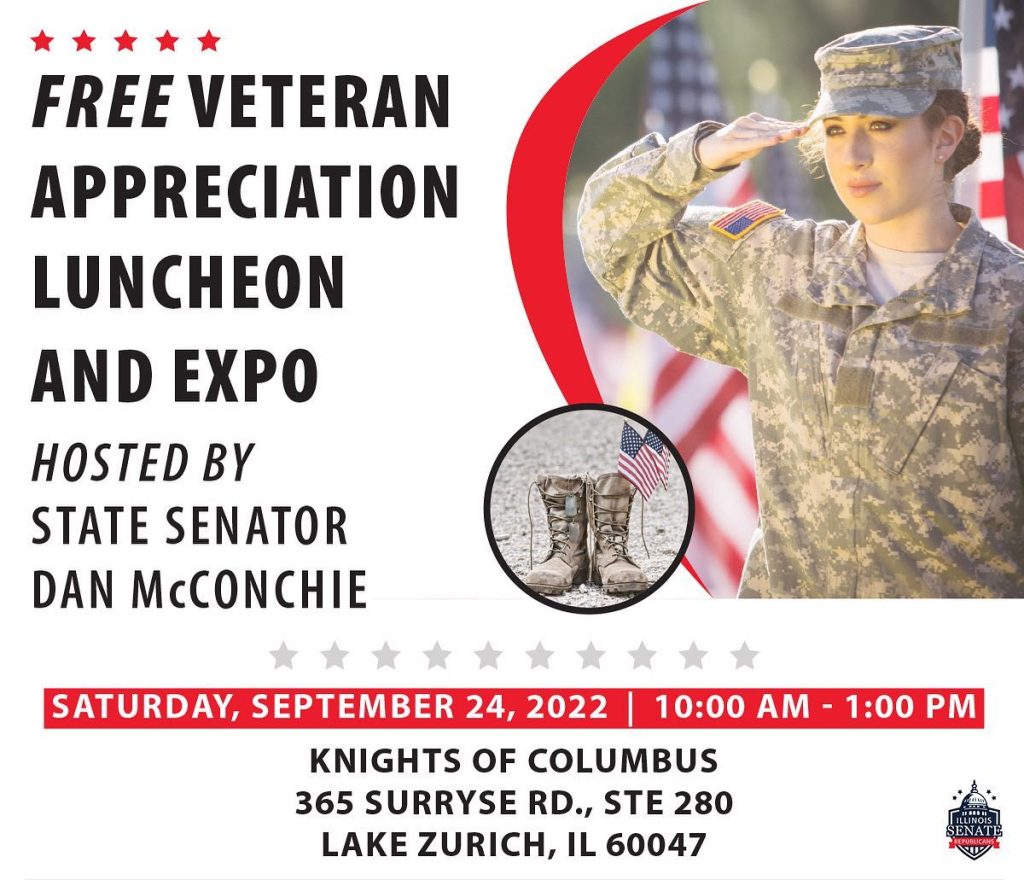 Veterans and their families from the 33rd District are invited to attend a complimentary luncheon and expo to honor their service. The expo will provide a reliable place where area veterans and their families can make connections and receive information on many different types of veterans' programs and resources. There will also be entertainment.
Again, this event is open to all veterans and their families. If you would like to attend or would like some additional information, please contact Hannah at hseaver@sgop.ilga.gov.
Supreme Court Chief Justice Anne Burke announces retirement
Illinois' highest ranking Supreme Court Justice has announced she will retire from the bench on November 30.
Illinois Supreme Court Chief Justice Anne Burke has served on the Supreme Court for 16 years, and First District Appellate Justice Joy Cunningham has been chosen to fill the vacancy on the Court. Supreme Court Justice Mary Jane Theis has been chosen to succeed Burke as the Supreme Court's next Chief Justice. She will be sworn in as Chief Justice in November.
Chief Justice Anne Burke's retirement takes place approximately one full year before her husband, Chicago Alderman Ed Burke of the 14th Ward, goes on trial for federal racketeering, bribery, and extortion charges.
Energy providers warn of door-to-door scams
Illinois energy providers are warning customers to beware of a new door-to-door scam that involves imposters claiming to work for their energy provider, who want to steal personal information, financial information, or even people's belongings.
The Better Business Bureau has received complaints from consumers who claim scammers approached their home or business posing as an energy company or tree service company. The scammer then attempts to lure the resident or business owner outside to discuss work the imposter claims needs to be done. While the individual is outside, an accomplice will enter the home or business and steal valuables and documents that contain personal or financial information. Others have gone to homes and asked for a recent utility bill with the goal of stealing personal information or switching the owner's energy supplier without permission. Still others are calling consumers and trying to get personal or financial information over the phone.
Energy providers will never call or come to a home or business and demand immediate payment with a prepaid cash card, cryptocurrency, or through a third-party payment app, and will never ask a consumer to divulge personal or financial information.